Lower inflation numbers for June 2021 and abrupt rise in cannabis stocks triggered a notable jump in the Canadian main index on Wednesday, June 28.
The Canadian healthcare sector climbed 9.95%, mainly fueled by Tilray Inc. (TSX: TLRY), which hiked around 25.1% post earnings release, Aurinia Pharmaceuticals (TSX: AUP), which jumped 23.3%. The base metals sector recorded gain of 2.19%, where Fortuna Silver Mines and Lithium Americas stocks soared 4.1% and 4.6%, respectively.
The TSX gain was slightly negated by underperforming industrials (0.38%) and technology (0.21%) sectors.
The S&P/TSX composite index traded in the green territory for the second consecutive trading session, up 57.05 points or 0.28% to close at 20,230.40.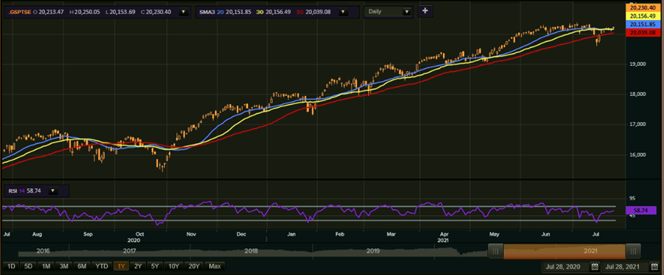 1-Year Price Chart. Analysis by Kalkine Group
Gainers and Losers
Actively Traded Stocks
The most actively traded stocks on the TSX on Tuesday were Suncor Energy Inc., with a trading volume of 5.16 million, followed by Tilray Inc., with that of 4.56 million, and Cenovus Energy Inc., with that of 4.39 million.
Wall Street Update
After the US Federal Reserve indicated that it plans to keep interest rates around zero and maintain its entire range of instruments to promote the economic recovery during the pandemic, US indexes finished mixed on Wednesday.
The Dow fell 127.59 points to 34,931, the S&P 500 remained unchanged at 4,401, while the NASDAQ was up by 102.01 points at 14,763.
Commodity Update
Gold remained silent at US$ 1,799.70, down 0.01%.
Crude tried to gain some momentum and traded on a positive note, where Brent Oil increased by 0.35% to US$ 74.74/bbl, while WTI Crude Oil gained 1.03% to US$ 72.39/bbl.
Currency News
On Wednesday, the Canadian Dollar gained some ground against the U.S. Dollar, while USD/CAD ended lower at 1.2527, down 0.58%.
The U.S. Dollar index fell for the third straight session day against the basket of major currencies and closed at 92.26, down 0.19%.
Money Market:
The U.S. 10-year bond yield ended in red on Wednesday at 1.238, down 0.14%.
The Canada 10-year bond yield, on the other hand, stood firm and closed at 1.170, with no change from the previous day's close.