On Tuesday, November 30, the TSX Composite Index saw another day of big losses, that ultimately undid the gains it experienced throughout the month. Fed Chairman Jerome Powell said the central bank is considering speeding up the bond tapering process by a few months than was originally discussed.
The stock market began dropping after his statement and between that and the Omicron scare, Canada's benchmark index has lost nearly 1,000 points, 4.5 per cent, in the last three trading sessions alone.
On Tuesday, after falling by 489.01 points, 2.31 per cent, it ended November at 20,659.99, a monthly loss of 1.8 per cent. Only January, September and November have seen losses this year but November also saw its all-time high of 21,796.16.
The two big players, financials and energy, each lost about three per cent Tuesday. Healthcare, Industrials and IT fell over two per cent, each. Birchcliff Energy Ltd saw a 7.2 per cent fall.
Mr. Powell felt that the economy is strong and inflation needs to be addressed, so much so that the Fed is also considering raising interest rates if there's no respite.
One-year price chart (November 30). Analysis by Kalkine Group
Volume actives
Tuesday's trade also saw comparatively larger volumes, perhaps indicative of an exercise in de-risking. B2Gold Corp saw 79.86 million shares traded, making it the most active stock and it was followed by Yamana Gold Inc that saw 68.3 million shares switch hands and Manulife Financial Corporation saw 34.49 million shares traded.
Movers and laggards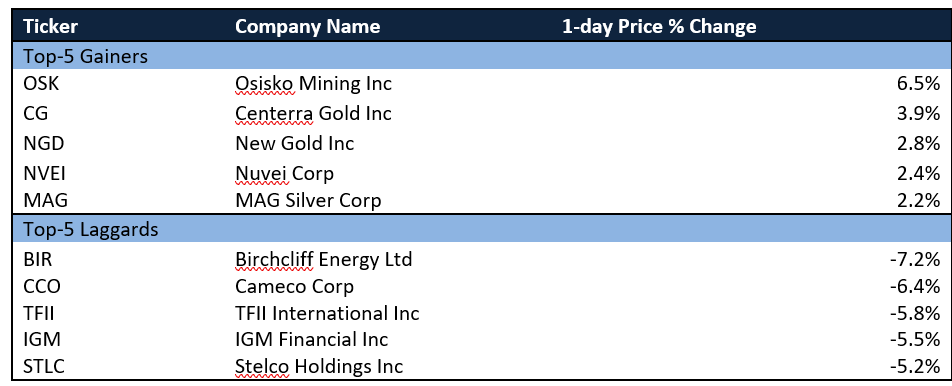 Wall Street hit after Mr. Powell's comments
Not dissimilar to its northern neighbor, the bullish run that started yesterday came to a swift halt after Mr. Powell's comments as the main indices plummeted. The Dow sank 652.22 points, 1.86 per cent, to 34,483.72 points, while the S&P 500 dropped 88.27 points, 1.9 per cent, to 4,567 points. Nasdaq Composite was down 245.14 points, or 1.55 per cent, to 15,537.69.
Apart from being the least hit Tuesday, Nasdaq was also the only North American index that managed a monthly gain in November. The Dow took the biggest hit losing 3.73 per cent and Nasdaq rose 0.25 per cent. Apple, probably, had something to do with that. The AAPL stock rose 11 per cent in November. This, after the month saw all the above indices post all-time highs.
Commodities in free fall
Gold fell 0.49 per cent to US$ 1,776.50. Crude sank 5.39 per cent to US$ 66.18/bbl. Brent oil was down 3.91 per cent to US$ 70.57/bbl Tuesday.
Currency news
The loonie dipped 0.3 per cent Tuesday while USD/CAD was 1.2776. The US Dollar Index lost 0.36 per cent against the basket of major currencies to close at 95.99.
Money market
The US 10-year bond yield was down 3.06 per cent Tuesday to 1.456 and the Canada 10-year bond yield was down 2.97 per cent to 1.566.