Canada's TSX Composite Index recorded substantial gains on Wednesday, September 22, after a dovish stance from the U.S. Federal Reserve on tapering and interest rates hikes. Additionally, easing distress over China's property developer Evergrande further seems to have lifted the broader index.
The rising oil prices due to a supply-demand mismatch further bolstered the energy sector by 3.94 per cent. Moreover, continuous impetus in metal prices drove the base metal sector up by 2.58 per cent. All the major sectors climbed on Wednesday. Thus, the TSX Composite Index continued in the green zone up 157.20 points or 0.78 per cent to settle at 20,401.49
One-year price chart (as on September 22). Analysis by Kalkine Group
Volume active
Baytex Energy Corp. was the most actively traded stock where 14.88 million exchanged hands, followed by Canadian Natural Resources where 10.66 million exchanged hands, and Suncor Energy Inc. with 10.52 million shares exchanging hands.
Movers and laggards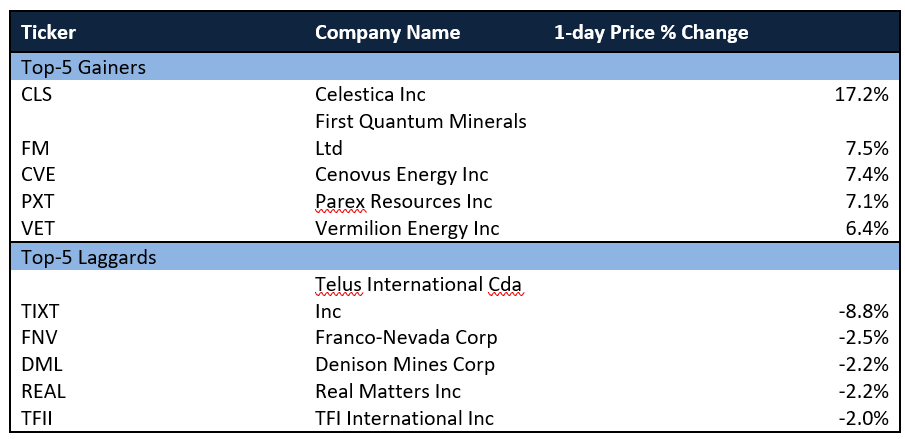 Wall Street update
The Federal Reserve stated in its announcement of its latest monetary policy decision that it may start reducing its asset purchases as soon as November. Stocks finished significantly higher on Wednesday following the Federal Reserve's widely anticipated monetary policy statement.
The Dow gained 338.48 points, or one per cent to 34,258.32, while the S&P 500 gained 41.45 points, or one per cent to 4,395.64, and the Nasdaq gained 150.45 points, or one per cent to 14,896.85.
Commodity update
Gold traded at US$ 1,767.80, down 0.58 per cent. Brent oil gained two per cent to US$ 75.85/bbl following the release of a report showing another weekly reduction in US crude oil stocks, while crude oil also jumped two per cent to US$ 71.97/bbl.
Currency news
The Canadian Dollar continued its upward momentum against the U.S. Dollar for the second straight session, while USD/CAD closed at 1.2770, down 0.35 per cent.
The U.S. Dollar stood positive against the basket of major currencies on September 22, and ended in the green at 93.49, up 0.29 per cent.
Money market:
The U.S. 10-year bond yield lost 1.79 per cent on September 22 and closed at 1.304.
The Canada 10-year bond yield also tanked on Wednesday's trade and closed in the red at 1.215, down 1.22%.