With the energy sector back up and gaining 2.2 per cent, the TSX Composite Index was up 201.47 points, a gain of nearly one per cent Thursday, October 14. At 20,819.94 per cent, the TSX was under two points shy of its all-time high.
All sectors were in the green and base metals continued its ascent by adding nearly two per cent in gains. IT was up about 1.3 per cent and so was healthcare. The index is on a seven-day green streak and traditionally, the fourth quarter is usually a good one.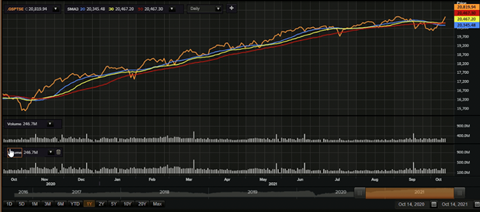 One-year price chart (October 14). Analysis by Kalkine Group
Volume active
The Toronto-Dominion Bank was the most actively traded stock with 17.3 million shares exchanging hands. It was followed by the Bank of Nova Scotia where nearly 9.95 million shares exchanged hands, and Trevali Mining Corporation with 9.4 million shares exchanging hands.
Movers and laggards

Wall Street update
Wall Street too had a pretty good day with indices skyrocketing on market open and generally edging higher till close.
The Dow gained 534.75 points or 1.56 to 34,912.56 points, and the S&P 500 gained 74.46 points or 1.71 per cent up to 4,438.26 points, and the Nasdaq was up 251.79 points or 1.73 per cent to 14,823.43 points.
Commodity update
Gold rose 0.18 per cent and traded at US$ 1,797.90. Brent oil was up 0.99 per cent to US$ 84.00/bbl, while crude oil gained 1.08 per cent to US$ 81.31/bbl.
Currency news
The Canadian dollar continued to gain against the US dollar on October 14, while USD/CAD ended in the red at 1.2367, down 0.59 per cent.
The US Dollar Index was worse off against the basket of major currencies Thursday and ended at 94.04, down 0.04 per cent.
Money market
The US 10-year bond yield fell 1.69 per cent on Thursday's trade and ended at 1.516.
The Canada 10-year bond yield fell 4.06 per cent on October 14 and ended at 1.537.