The broader Canadian index edged higher on Thursday, July 15, driven by the gains in consumer staples, metals and industrials stocks.
While the consumer staples sector gained 2.0%, the industrials sector went up 0.51% on the back of rising railway stocks and base metals sector rose by 0.30% amid rising gold stocks.
The healthcare and energy sectors, however, fell by 1.22% and 1.48%, respectively.
The S&P/TSX Composite Index was up by 0.18%, or 36.48 points, to close at 20,183.72 on Thursday.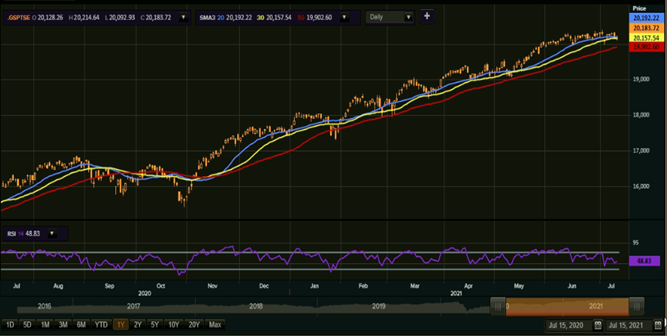 1-Year Price Chart. Analysis by Kalkine Group
Gainers and Losers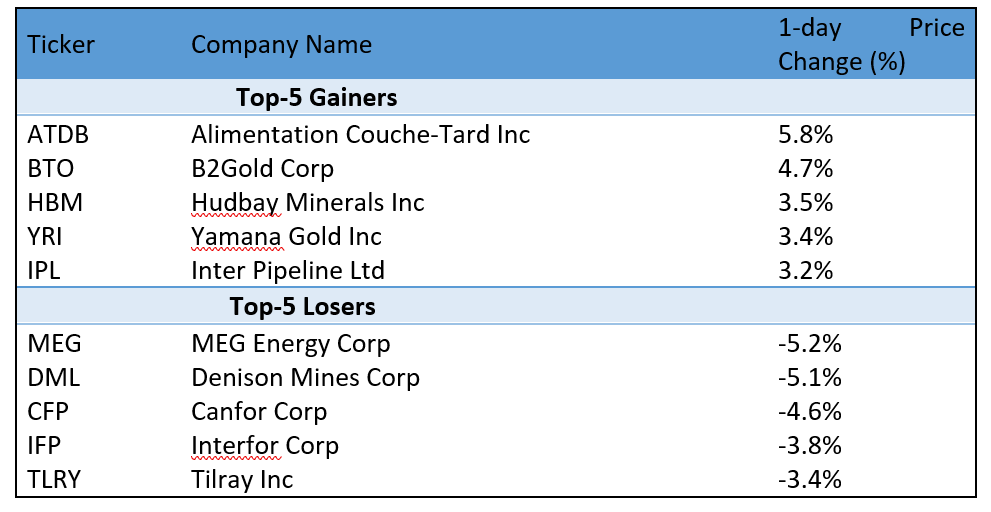 Actively Traded Stocks
The most actively traded stocks on the TSX on Thursday were Enbridge Inc, with a trading volume of 8.61 million, followed by Bank of Nova Scotia, with that of 7.82 million, and Toronto-Dominion Bank, with that of 7.25 million.
Wall Street Update
Stocks at Wall Street posted a downward trend on Thursday, following a disappointing performance in the previous session. Both the Nasdaq and S&P 500 ended the day in the red, although the Dow ended the day slightly higher.
The Dow climbed 53.79 points to 34,987.02, while the Nasdaq sank 101.82 points to 14,543.13 and the S&P 500 dropped 14.27 points to 4,360.03.
Commodity Update
Gold traded flat with positive biasness at US$ 1,829.00, up 0.22%.
Amid uncertainty over an OPEC+ deal to boost supply, Brent Oil fell 1.73% to US$ 73.47/bbl, while WTI Crude Oil fell 2.02% to US$ 71.65/bbl.
Forex Update
Canadian dollar lost some ground against its US counterpart on Thursday, while the USD/CAD traded 0.69% higher to 1.259.
US Dollar index traded 0.24% higher against the basket of majors at 92.631.
Money Market Update
US 10-Year Bond Yield traded 2.55% higher at 1.334 on Thursday.