Canadian main stock index snapped its losing streak on Friday, September 2, after closing at 19,270.85, noting a triple-digit surge of 128.13 points or 0.66 per cent, aided by commodity stocks, particularly precious metals. The market recovered slightly ahead of the expected interest rate decision on September 7.

The energy sector jumped by 2.09 per cent, while the base metals sector gained by 0.48 per cent. The financial sector also climbed higher by 0.64 per cent. On the other hand, the healthcare sector dipped by 1.79 per cent. The information technology (IT) sector lowered by 1.12 per cent. The industrial, utilities and telecom sectors were also in the red zone.

One-year price chart of TSX Composite Index along with SMA 20-day, SMA 30-day, SMA-50-day (September 2). Analysis by © 2022 Kalkine Media®).
Volume Active
Suncor Energy (TSX: SU) was the first in the top active stocks as it noted 14.09 SU shares switching hands. Considering the trading volume, Enbridge (TSX: ENB) was the second after Suncor, with 7.6 million ENB shares exchanging hands. Following this was the Bank of Nova Scotia (TSX: BNS), which saw a trading volume of 7.22 million shares.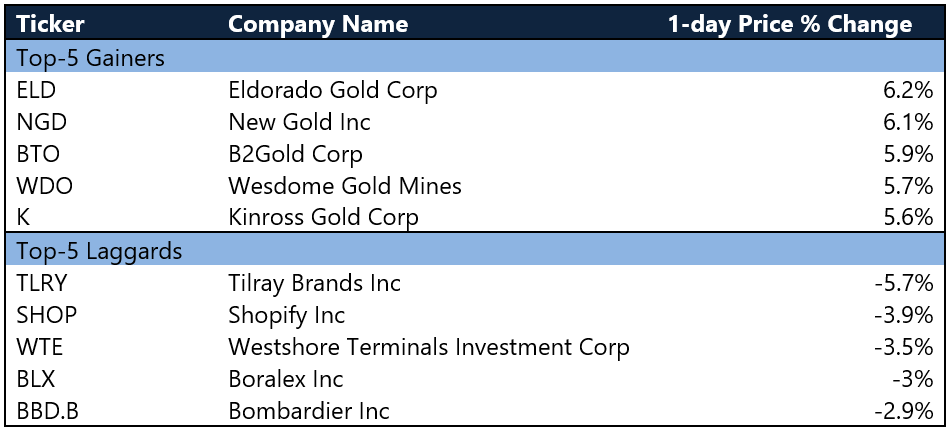 Wall Street update
Contrary to the TSX, stocks of Wall Street closed lower on September 2. The NASDAQ Composite Index slipped by 1.3 per cent. The NYSE Composite Index moved down by 0.55 per cent. The Dow Industrials index noted a drop of 1.07 per cent. Meanwhile, the S&P 500 sank by 1.07 per cent.
Commodities
Gold closed at US$ 1,722.6 per troy ounce, up by 0.78 per cent. The Crude WTI Futures for October 2022 rose by 0.3 per cent to settle at US$ 86.87 per barrel. The Brent Oil Futures for November 2022 gained by 0.71 per cent, reaching US$ 93.02 per barrel.
Currency news
The CAD/USD climbed 0.17 per cent to 0.76. The CAD/EUR expanded by 0.09 per cent to 0.76. On the other hand, the US Dollar Index Futures for September 2022 lowered by 0.15 per cent to close at 109.51.
Bond Market
The 10-Year Bond Yield in Canada dropped by 2.56 per cent to 3.11 at market close on September 2. While the US 10-Year Bond Yield also was 3.19, down by 1.96 per cent.