The TSX Composite Index lost 69.41 points, 0.33 per cent, to 21,205.16, Wednesday, January 19, and is in the negative year-to-date (YTD). Technology, healthcare and financials took major losses.
Meanwhile, industrials and base metals were in the green. The S&P/TSX Capped Information Technology is in the negative 14 per cent YTD. All the day's biggest gainers were metal stocks
One-year price chart (January 19). Analysis by © 2022 Kalkine Media®
Volume actives

Enbridge Inc saw 9.7 million shares traded, making it the most active stock. It was followed by Barrick Gold Corporation that saw 7.8 million shares switch hands, and Cenovus Energy Inc saw 7.7 million shares traded. Barrick Gold gained about nine per cent.
Movers and laggards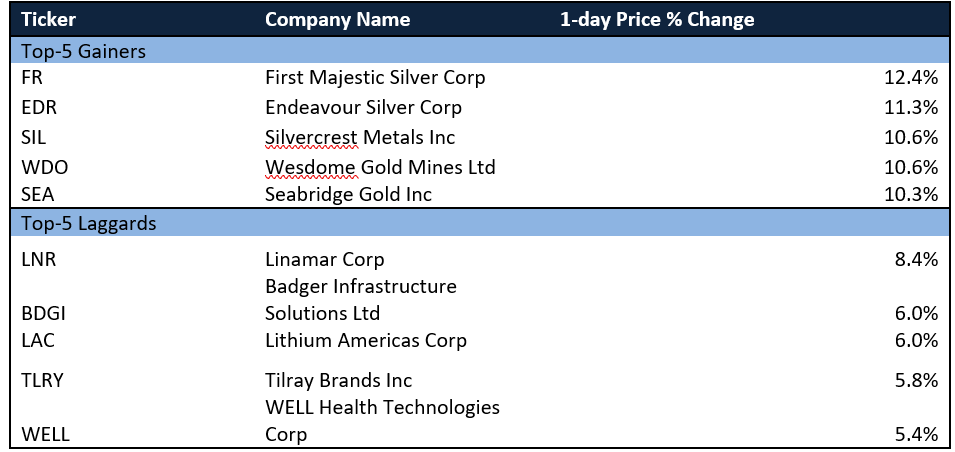 Wall Street update
So too on Wall Street, it was a second consecutive day of notable losses. A couple of hours into trade the main indices sank and never truly recovered.
The Dow lost 339.82 points, 0.96 per cent, to 35,028.65 points, while the S&P 500 was down 44.35 points, 0.97 per cent, to 4,532.76 points. Nasdaq's benchmark further sank 166.64 points, 1.15 per cent, to 14,340.26.
Commodities update
Gold gained 1.7 per cent to US$ 1,843.20. Brent oil gained 1.06 per cent to US$ 88.44/bbl. Crude oil was up by 1.79 per cent to US$ 86.96/bbl.
Currency news
The loonie posted a negligible 0.01 per cent loss Wednesday while USD/CAD ended at 1.2513. The US Dollar Index was at 95.51 against the basket of major currencies, down 0.23 per cent.
Money market
The US 10-year bond yield fell 1.14 per cent to 1.854 and the Canada 10-year bond yield was down 0.48 per cent to 1.881.