Canada's broader TSX Index on Tuesday, September 21, lifted post the re-election of Prime Minister Justin Trudeau as investors see it as largely a continuation of the present economy although few jitters might be witnessed due to the bankruptcy of Chinese property developer, Evergrande. Thus, the TSX Composite Index closed with a gain of 89.75 points or 0.45% to settle at 20,244.29.

The one-year price chart (as on September 21).
Volume active
Canadian Natural Resources was the most actively traded stock where 16.46 million exchanged hands, followed Cenovus Energy Inc. where 10.30 million exchanged hands, and the National Bank of Canada with 6.31 million shares exchanging hands.
Movers and laggards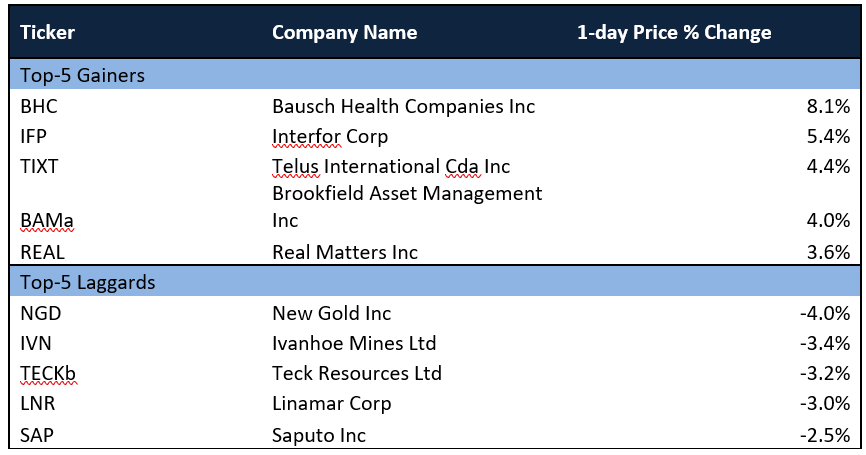 Wall Street update
Wall Street was turbulent as traders awaited the Federal Reserve's monetary policy statement on Wednesday. Following the sell-off observed during trading on Monday, stocks exhibited a lack of direction throughout Tuesday's trading session.
The Dow Jones Industrial Average was down 50.63 points or 0.2% to 33,919.84, while the S&P 500 fell 3.54 points or 0.1% to 4,354.19, while the Nasdaq climbed 32.50 points or 0.2% to 14,746.40.
Commodity update
As Evergrande concerns continued, gold climbed 0.82% to $1,778.20. Brent oil rose 0.60% to US$ 74.36/bbl as the aftermath of the US hurricane Ida squeezed supplies, while Crude oil rose 0.38% to US$ 70.56/bbl.
Currency news
The loonie stood higher against the U.S. dollar on Tuesday, while USD/CAD closed at 1.2815, a slide of 0.08%.
The U.S. Dollar Index was down against the basket of major currencies on September 21, and ended in the red at 93.22, falling 0.06%.
Money market:
The U.S. 10-year bond yield traded higher on September 21, and ended in the green at 1.328, up 1.17%.
The Canada 10-year bond yield also gained on Tuesday's trade and closed at 1.229, up 0.49%.