The main Canadian index fell below the 20,000 mark for the first time since 18 June on Friday, July 16. The decline came as several sectors suffered amid lingering concern over the highly infectious Delta COVID-19 variant.
Energy and base metals sectors fell by 3.2% and 3.7%, respectively, while the healthcare sector dipped 2.9% .
The S&P/TSX Composite Index was down by 0.98%, or 198.18 points, to settle at 19,985.54 on Friday.

1-Year Price Chart. Analysis by Kalkine Group
Gainers and Losers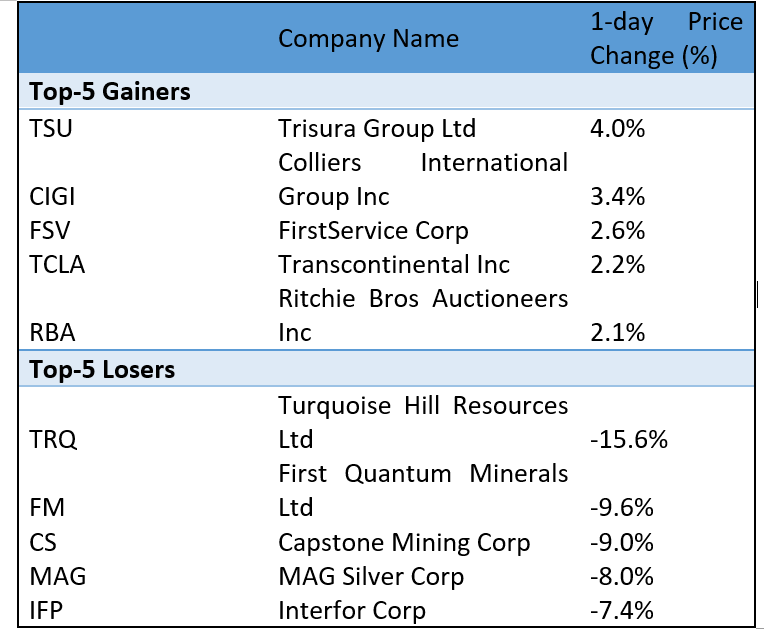 Actively Traded Stocks
The most actively traded stocks on the TSX on Tuesday were Royal Bank of Canada, with a trading volume of 9.21 million, followed by Suncor Energy Inc., with that of 5.79 million, and Crescent Point Energy Corp, with that of 5.14 million.
Wall Street Update
US stocks noted an early rise on Friday, fueled by the Commerce Department's latest report indicating an unexpected gain in retail sales for June. The stock markets, however, failed to sustain the early rise through the day, and the main averages slipped into negative territory.
The Dow Jones shed 299.17 points to 34,687.85, the S&P 500 fell 32.87 points to 4,327.16, while the Nasdaq slid 115.90 points to 14,427.24.
Commodity Update
Gold traded in the red territory at US$ 1,815.00, down 0.77%.
Brent Oil traded flat on positives biasness at US$ 75.59/bbl, up by 0.16%, while WTI Crude Oil was up by 0.22% at US$ 71.81/bbl.
Forex Update
The Canadian Dollar stood weak against the US Dollar, while USD/CAD ended at 1.2611, up 0.15%.
The US Dollar gained against the basket of major currencies and closed at 92.69, up 0.07%.
Money Market
The US 10-year bond closed at 1.300, with no change from the previous closing.
The Canada 10-year bond yield slid for the third straight session on Friday to close at 1.241, down 1.66%.