Canada's TSX Composite Index closed in the green, up 131.18 points or 0.65 per cent Tuesday, October 5. The energy sector continued to gain after the OPEC+ declined calls for increasing oil production even more, and grew another 2.8 per cent. Bar utilities, every sector gained to land the index at 20,193.43 points by market close.
Recent laggers healthcare and technology rebounded 1.62 per cent and 0.55 per cent respectively. Healthcare had posted a fair few days in the red recently with the sector facing serious labor shortages. Per StatsCan, as many as 46.5 per cent of nursing jobs have been vacant for more than 90 days.
One-year price chart (as on October 05). Analysis by Kalkine Group
Volume active
Toronto-Dominion Bank was, for the second day in a row, the most actively traded stock where 19 million stocks exchanged hands, followed by TC Energy Corporation where nearly 16 million exchanged hands, and Cenovus Energy Inc saw nearly 10.5 million shares exchange hands.
Movers and laggards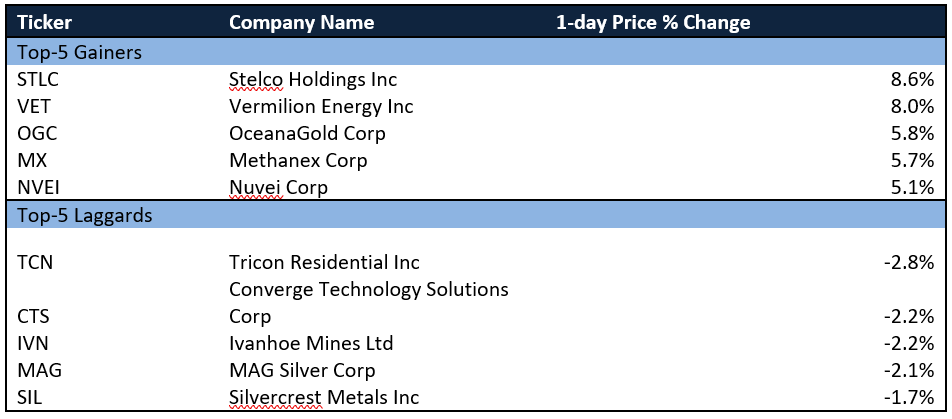 Wall Street update
On Wall Street, indices began the day by rallying in the morning and holding their positions during the trading day before dipping ever so slightly before the day's close.
The Dow Jones Industrial Average gained 311.75 points or 0.92 per cent to 34,314.67, and the S&P 500 45.26 points or 1.05 per cent up to 4,345.72 points, and the Nasdaq rose 178.35 points or 1.25 per cent to 14,433.83.
Commodity update
Oil prices were at a seven-year high after the OPEC+ countries extinguished hopes of any plans to raise production. They said they are sticking to the summer plan of a gradual increase in production.
Brent oil gained 1.60 per cent to US$ 82.56/bbl, while crude oil advanced 1.69 per cent to US$ 78.93/bbl. Gold traded at US$ 1,760.90 down 0.38 per cent.
Currency news
The Canadian dollar stood higher against the U.S. dollar on October 5, while USD/CAD ended in the red at 1.2584, down 0.03 per cent.
The U.S. Dollar Index strengthened against the basket of major currencies on Tuesday and ended at 93.99, up 0.23 per cent.
Money market
The U.S. 10-year bond yield climbed on Monday's trade and ended 3.76 per cent higher at 1.536.
The Canada 10-year bond yield grew 3.44 per cent on October 5 and ended at 1.533.