The S&P/TSX Composite Index climbed by 0.07% or 15.14 points on Friday, June 25, as crude oil prices rose on the back of the trillion-dollar US infrastructure deal. Sectors of energy, industrials and base metals showed positive momentum.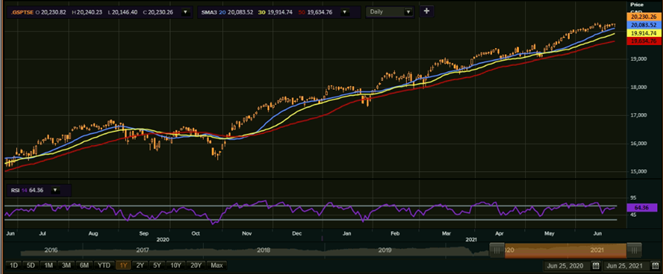 1-Year Price Chart. Analysis by Kalkine Group
Gainers and Losers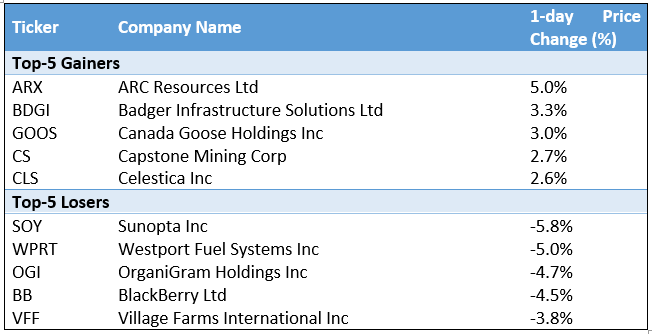 Actively Traded Stocks
The most actively traded stocks on the TSX on Friday were TC Energy Corporation, with a trading volume of 18.90 million, followed by Bombardier Inc, with that of 10.54 million, and BlackBerry Limited, with that of 6.15 million.
Wall Street Update
US equities closed higher on Friday as confidence around robust economic growth outweighed fears about inflation.
The Dow closed 237 points or 0.69% higher at 34,434, the S&P 500 jumped 14.21 points or 0.33% at 4,281 while the Nasdaq closed almost flat at 14,360, down 9.32 points.
Commodity Update
Gold traded flat with in the green territory at US$ 1,777.80, up 0.06%.
Crude prices continued the gaining momentum as Brent Oil traded higher at US$ 76.18/bbl, up 0.82%, and WTI Crude Oil rose 1.02% to US$ 74.05/bbl.
Currency News
The Canadian Dollar gained the US greenback on Friday, while USD/CAD closed at 1.2294, down by 0.23%.
The US Dollar Index stood flat against the basket of major currencies, with a marginal growth of by 0.04% to 91.85.
Money Market
The US 10-year bond yield appreciated for the third straight session and ended at 1.524, up 1.69%.
The Canada 10-year bond yield made a strong recovery on Friday and closed at 1.459, up 3.04%.