Highlights

The S&P/TSX composite index jumped up by 1.3%, to close at 19,183.63 on Monday.
The gains came after the index saw its largest weekly drop since March 2020 on Friday.
The TSX energy sector rose by 2.5% as oil prices rallied.
The S&P/TSX composite index clawed its way back to the green territory on Monday, June 20, after incurring major losses last week. The gains came as oil prices inched up and Rogers Communications (TSX: RCI.B) announced its plans of selling Shaw's Freedom Mobile segment to Quebecor Inc (TSX: QBR.B).
After dwindling to its lowest closing point since March 2021 and its largest weekly decline since March 2020 last Friday, the Canadian benchmark stock index jumped up by 253.15 points, or 1.3%, to close at 19,183.63 on Monday.
Notably, stocks around the world rallied on Monday, while Wall Street remained closed for Juneteenth.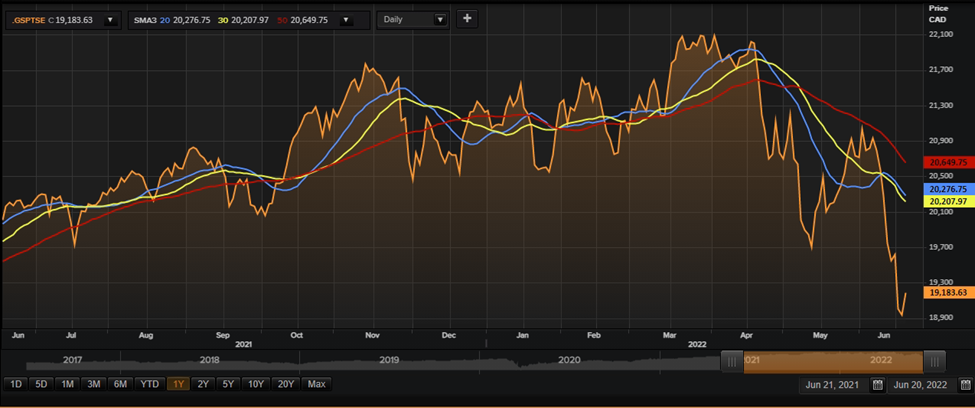 One-year price chart of TSX Composite Index along with SMA 20-day, SMA 30-day, SMA-50-day (June 20).
Analysis by © 2022 Kalkine Media®
Also read: CVE, CPG, SU: 3 TSX energy stocks that are soaring this year
The TSX energy sector rose by 2.5% as oil prices rallied. The financial sector also galloped by 1.4%, boosted by a 1.6% jump in Fairfax Financial Holdings shares after it announced its plans of selling its pet insurance business to JAB Holding.
The communications sector also shot up by about 3.6 per cent as plans of Freedom Mobile's sale to Quebecor gave way to speculations about the Rogers-Shaw merger finally getting regulatory approvals.
Active Volume
Athabasca Oil Corporation (TSX: ATH), Suncor Energy Inc (TSX: SU) and Baytex Energy Corp (TSX: BTE) were among the most active stocks on the TSX on Monday from the volume standpoint.
Movers and Laggards
Also read: 3 TSX natural gas stocks to buy right now & hold forever: TOU, ENB, CVE
Commodity
Gold traded lower at US$ 1,840.55 per ounce on Monday.
On the other hand, oil prices fell to a three-week low amid rising investor fears about rate hikes impacting energy demand.
Brent futures were up by about 0.13% to US$ 114.13 on Monday, while West Texas Intermediate (WTI) crude fell 0.9% to US$ 108.84.
Currency
The Canadian dollar, after noting a stark deterioration last week, strengthened against the US greenback on June 20, rising 0.2% at 1.30.