Canada's TSX Composite Index moved up Monday, September 27, amid surging oil prices, which drove the energy sector by 3.14%. Additionally, the healthcare and base metal sectors were up ~2.35% and 1.88%.
However, the gains in the TSX Index were capped by falling technology stocks, the TSX Composite technology sector lost 1.23%. The TSX Composite Index shifted into the green zone, gaining 60.76 points or 0.29% to settle at 20,463.42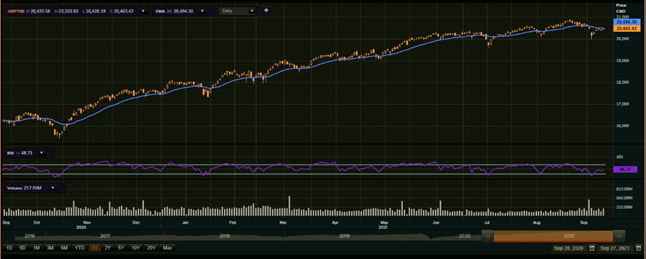 One-year price chart (as on September 27). Analysis by Kalkine Group
Volume active
TC Energy Corp. was the most actively traded stock where 17.22 million exchanged hands, followed by Suncor Energy Inc. where 10.61 million exchanged hands, and Cenovus Energy Inc. with 9.88 million shares exchanging hands.
Movers and laggards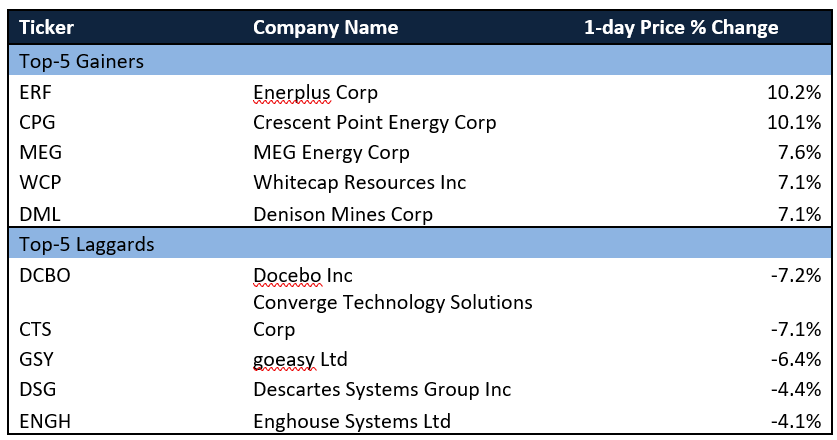 Wall Street update
Bond rates in the United States briefly reached 1.5% on Monday as investors fretted about inflation. Since June, yields have been at an all-time high. Investors sought to evaluate the impact of increasing bond rates on US markets, which were mixed.
The Dow finished at 34,869.37, up 71.37 points or 0.21%. The S&P 500 fell 12.37 points or 0.28% to 4,443.11, while the Nasdaq was down by 77.73 points or 0.52% to 14,969.97.
Commodity update
Gold traded at US$ 1,752.00, up 0.13%. Brent oil rose 1.96% to US$ 79.53/bbl, while Crude oil rose 0.83% to US$ 75.45/bbl.
Currency news
The USD/CAD closed at 1.2627, down 0.17%, also the U.S. Dollar index edged higher against the basket of major currencies on September 27, turning green at 93.381, up 0.05%.
Money market
The U.S. 10-year bond yield traded higher on September 27, and ended in the green at 1.491, climbing 1.78%.
The Canada 10-year bond yield also surged on Monday and closed at 1.411, growing 2.62%.