The primary Canadian stock index hit its lowest level in about three weeks on Wednesday, August 18, as rising panic around Delta COVID-19 cases put added pressure on oil and other commodity prices.
The energy sector declined by 1.99%, while the commodity sector fell by 2.51%.
The S&P/TSX Composite traded 0.30% or 61.48 points lower at 20,302.11 on Wednesday.
Technical Price Chart (as on August 18, 2021). Source: Refinitiv, Analysis by Kalkine Group
Most Active Stocks
Manulife Financial Corporation, Suncor Energy Inc. and Bombardier Inc. were among the most actively traded stocks on the Toronto Stock Exchange on Wednesday, with daily traded volumes of 14.30 million, 8.55 million and 6.38 million, respectively.
Movers and Laggards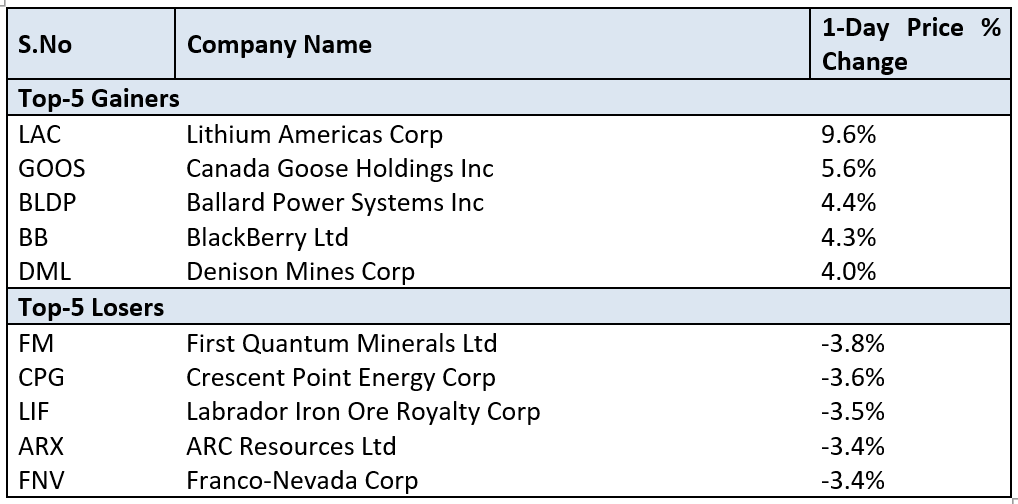 Wall Street Update
Following the release of the minutes from the most recent Federal Reserve meeting on Wednesday, US stocks noted a lot of volatility before falling significantly at the close. The main averages continued their significant decline from the previous session with a late-day sell-off.
The Dow Jones Industrial Average fell 382.59 points or 1.1% to 34,960.69, the S&P 500 plunged 47.81 points or 1.1% to 4,400.27 and the Nasdaq was down by 130.27 points or 0.9% to 14,525.91.
Commodity Update
Gold traded at US$ 1,784.40/oz, down by 0.19%.
Oil traded lower for the fifth straight session as Brent oil fell to US$ 68.23/bbl, down 1.16%, and Crude oil was down by 1.70% at US$ 65.46/bbl.
Currency News
The Canadian Dollar stood low against the US Dollar on Wednesday, while USD/CAD closed at 1.2655, up 0.20%.
The US Dollar index retained its gaining momentum for the third straight session against the basket of major currencies and ended at 93.22, up 0.10%.
Money Market
The US 10-year bond yield lost some grounds on Wednesday, down by 0.53% at 1.260.
The Canada 10-year yield, on the other hand, retained its previous day's level and closed at 1.155.