Copper prices surged to a 10-year high on Tuesday, April 27, with copper futures hitting US$ 4.48 per pound after Chile port workers declared a strike. The strike was called in response to President Sebastian Pinera's bill for early withdrawals from the pension funds.
Besides copper, most commodity prices recorded gain on Tuesday, driven by rebounding global economy. Hence, the S&P/TSX Composite Index settled 0.02% higher at 19,175.09.
1-Year S&P/TSX Composite Daily Price Chart (as on April 27, 2021). Source: Refinitiv (Thomson Reuters)
The TSX Venture Index rose by 0.34% to 946.61.
Movers and Laggards on TSX Composite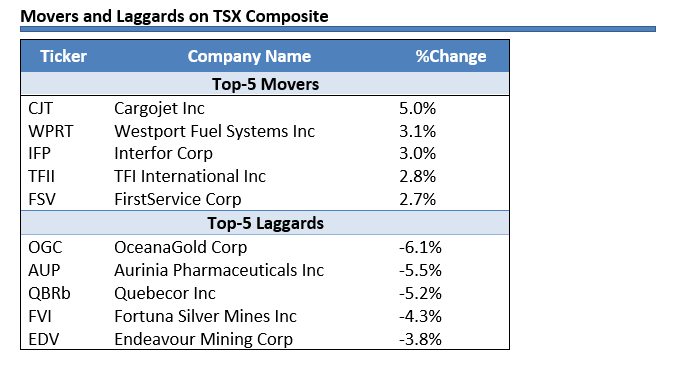 Source: Refinitiv (Thomson Reuters)
Active Volume Leaders
The most heavily traded stocks were Cenovus Energy Inc, with 16.87 million, Roxgold Inc, with 8.19 million, and Royal Bank of Canada, with 7.34 million.
Wall Street
In the latest upbeat economic data, US consumer confidence jumped to a 14-month high in April as more services businesses reopened on the back of increased vaccinations and additional fiscal stimulus. The indices ended flat ahead of earnings. The Dow Jones Industrial Average rose 0.01% and closed at 33,984.93 points, while the S&P 500 lost 0.02% to 4,186.72. The Nasdaq Composite slumped 0.34%, to 14,090.22.
Commodity Update
Gold futures traded in a red territory on Tuesday, down US$ 1,778.00 or 0.07%.
Crude, meanwhile, caught a momentum, as Brent Oil improved by 1.17% to US$ 66.42/bbl and WTI Crude Oil climbed 1.66% to close higher at US$ 62.94/bbl.
Currency News
On April 27, 2021, the US dollar gained against its Canadian counterpart, and USD/CAD gained 0.08% at 1.2407.
The US Dollar Index (DXY) made a slight recovery on Tuesday, climbing 0.10% to 90.90.
Money Market
Strong sentiment continued across the bond market, and US 10-year bond surged 3.16% to 1.622 on April 27.
Canada 10-year bond also gained 1.89% to 1.563 on Tuesday's trade.