Highlights

Rate hike anxieties and the Ukraine war have triggered a bearish phase in variable assets
One NFT gaming token, WonderHero, has gained of late, and Immutable X was gaining traction
Immutable X supports NFTs, and its native token, IMX, has lost considerably this year
From the stock market's biggest stocks Apple and Alphabet to the cryptoverse's biggest assets Bitcoin and Ethereum, a bearish trend had gripped most of the variable return assets at the time of writing.
According to CoinMarketCap, while BTC and ETH had both lost over 5 per cent in the past 24 hours, an asset, WonderHero or WND, had jumped over 3,000 per cent in the same timeframe.
WND token is into gaming, non-fungible tokens (NFTs), and a marketplace for digital assets. Another crypto asset that trended as of writing was Immutable X.
Let's know what Immutable X NFT services are.
What is the Immutable X Layer 2 solution?
According to its official website, the project is into Layer 2 blockchain support, particularly for NFTs. Immutable X claims to support the minting and trading of these digital assets on its Ethereum-based Layer 2 network.
The highlight seems to be the "zero gas fee" promise for P2P NFT trades. It is stated that the users can have their private keys stored with themselves to thwart any custodial risks. What may pique the interest of some is the project's claim that all NFTs on its network are "carbon-neutral".
Immutable X network can help mint both ERC-721 (NFT standard) and ERC-20 (native tokens standard) assets.
The project also states that it is unlike other "centralized" side chains, in that Immutable X is unaffected by any so-called 51% attack. Instant trades of minted assets and use in gaming and marketplaces are the other features highlighted.
Also read: 3 reasons why cryptos could be crashing
What is Immutable X (IMX) token?
Though IMX token was gaining traction at the time of writing, it had not translated into any rise in the value of the token.
With a market cap of nearly US$400 million, IMX token is one of the top 150 assets, and the circulating supply is nearly 235 million tokens.
The price of IMX token was nearly US$1.7 as of writing. On a year-to-date (YTD) basis, the token had lost substantially, more than even BTC and ETH.
The price of IMX was nearly US$5 at the start of the year, which has continuously slid over the past nearly four months.
Also read: What are Alchemix crypto loans and how has ALCX token fared?
Notably, IMX token even touched nearly US$9.5 in November 2021. Considering the volatility of this asset, the price prediction of IMX token cannot be accurately done.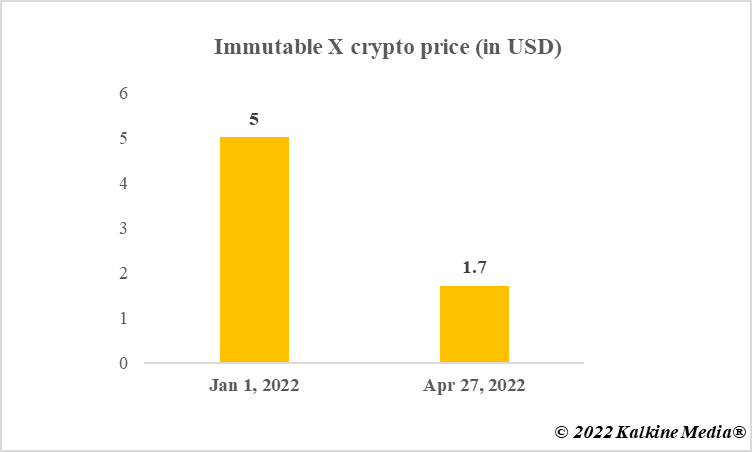 Data provided by CoinMarketCap.com
Bottom line
As Bitcoin and Ether mirrored the bearish trend in stocks like Apple and Tesla, a gaming and NFT coin, WonderHero, was rising at the time of writing. Immutable X claims to support NFTs, something which underlies multi-billion-dollar cryptocurrencies like Decentraland and Axie Infinity.
That said, IMX coin has lost immensely over the past few months, with per token price now under US$2. How it fares in the remaining months of this year is a wait-and-watch scenario.
Also read: What are Raiden Network's off-chain solutions? How has RDN token fared?
Risk Disclosure: Trading in cryptocurrencies involves high risks including the risk of losing some, or all, of your investment amount, and may not be suitable for all investors. Prices of cryptocurrencies are extremely volatile and may be affected by external factors such as financial, regulatory, or political events. The laws that apply to crypto products (and how a particular crypto product is regulated) may change. Before deciding to trade in financial instrument or cryptocurrencies you should be fully informed of the risks and costs associated with trading in the financial markets, carefully consider your investment objectives, level of experience, and risk appetite, and seek professional advice where needed. Kalkine Media cannot and does not represent or guarantee that any of the information/data available here is accurate, reliable, current, complete or appropriate for your needs. Kalkine Media will not accept liability for any loss or damage as a result of your trading or your reliance on the information shared on this website.