Summary

Nasdaq Composite index closed at 10,680.36, down by 0.81%, on 21 July 2020. On home front, S&P/ASX 200 last traded at 6075.1 points, down by 1.32% (as on 22 July 2020.
Investors rebuild/redesign their respective portfolios, amidst all the market and economic developments, through growth investing. The investors make an investment in entities that shows indications of having an above mediocre growth potential.
APT witnessed record sales in Q4FY'20 closed 30 June, with underlying sales swelling 127% to AU$3.8 billion.
Lately, Z1P's 100% owned subsidiary entity Zip Money Payments Pty Ltd executed a merchant services agreement with E-health SaaS company, Respiri Limited.
Recently, WTC finalised earn-out re-negotiations on few of its acquisitions, resulting in a one-off fair value gain of AU$8.1m, which is likely to be demonstrated in the FY'20 results.
Globally, technology stocks have been performing fairly well; the technology bellwether index, Nasdaq Composite index traded near its all-time high levels of 10,767.09 points (as on 20 July 2020). The recent rally has come on the back of the impressive performance by various growing tech stocks such as Amazon, Netflix, Facebook and many more.
Closer home, the S&P/ASX 200 Information Technology index followed suit and closed at 1,753.60, up by 5.73% on 21 July 2020. However, on 22 July, the same index settled the day's session at 1,711.8 points, down by 2.38%.
In the era of technology disruption, growth investing seems to be flavour of the season. The style of investment lay emphasis on growing the wealth of investors, who invest in growth stocks that have following characteristics:
Growth stocks are issued by entities with enormous capability for development and growth in the future, which can only be accomplished if an entity has a solid base in terms of vision, a robust business development strategy and proficient Board.
These companies tend to do without dividend payments to re-invest earnings primarily to accelerate growth in the short term.
Growth stocks are associated with high-quality, successful companies that have a high price to earnings (P/E) ratio demonstrating high returns on total investment.
Also, the Australian market is home to numerous companies that are growing their earnings swiftly.
Altium Limited (ASX:ALU)
Despite the challenges of COVID-19 crisis, the electronic design software company, ALU unveiled robust growth of 14% in its new Altium Designer seats and record growth of 17 % in its overall subscribers base to over 50k for FY'20.
Moreover, ALU noted a resilient performance across the core business units and the critical regions with strong growth of 10% in its revenue, which stood at US$189 million. This demonstrates that Altium has maintained its double-digit revenue growth record for eight consecutive years.
To keep up with the momentum of growth, ALU launched an online sales model in May 2020 to expand its reach and bolster its sales capabilities to draw up 100k subscribers by 2025.
Going forth, ALU would empower its transactional sales to concentrate on value-based selling and higher value deals completely.
Appen Limited (ASX:APX)
An innovative AI system focused Company, APX is positioned to grow strongly over the next couple of years, driven by the soared global demand for AI products. As per CSIRO, AI is believed to be worth AU$22.17 trillion to the world economy by 2030.
Do Read: 2 IT stocks at lifetime highs and with a positive outlook - Appen, Altium
Appen relies upon its robust global growth plan focussing on a range of industries such as retail, technology, financial services and automotive. APX is building up plans to amplify further growth by making a considerable investment in sales and marketing in financial year 2020.
Furthermore, the Company intends to focus on China for enumerating additional customers and revenue.
As per its May update, APX divulged that its EBITDA for the year ended 31 December 2020 is likely to be between AU$125 million and AU$130 million.
Afterpay Limited (ASX:APT)
Owing to accelerated shift to e-commerce amid pandemic, APT witnessed record sales in Q4FY'20 closed 30 June, with underlying sales swelling 127% to AU$3.8 billion.
Additionally, APT's underlying sales for FY'20 was up 112% pcp and stood at AU$11.1 billion. The soared revenue substantiated that APT is well-positioned to surpass its underlying sales target of AU$20 billion by the end of FY'22.
APT noted a considerable enrolment of 9.9 million customers across the globe, and elevated growth of 72% in active merchants reaching 55.4k at the end of 30 June 2020.
Starting mid-July, APT's customers were able to use Apple Pay to make a purchase through Afterpay in physical retail stores and online.
Notably, FY'21 is likely to be a year of increased investment for APT as it holds the well-built momentum in the business and capitalises from the opportunity to scale internationally.
APT has plans to ramp up its growth in Canada and rollout in-store in the US during Q1 FY'21.
Did you read; Significant Changes in ASX200 Stock Reshuffle
Zip Co Limited (ASX:Z1P)
Payments company, Z1P noted an impressive performance in FY'20 with boosted customer y-o-y growth of 63% to 2.1 million; bolstered sales revenue of AU$161.2 million (up by 91% y-o-y); growth of 51% y-o-y witnessed among merchants on the platform.
Of late, Z1P accelerated its global expansion strategy and announced expansion into the US market via the acquisition of the US domiciled QuadPay for AU$403 million along with an investment of ~ AU$200m from SIG (Susquehanna Investment Group).
E-health SaaS company, Respiri Limited (ASX:RSH) executed a merchant services agreement with Z1P's 100% owned subsidiary entity Zip Money Payments Pty Ltd, as announced on 20 July 2020. Lately, buy now, pay later services are developing swiftly in pharmacy market of Australia.
Nearmap Limited(ASX:NEA)
An aerial imagery technology and location data company, NEA disclosed that its Annualised Contract Value (ACV) is indicating continuous growth surpassing AU$102 million by May end.
NEA anticipates ACV in the range of AU$103 million to AU$107 million in FY'20 and closing cash balance between AU$32 million – AU$35 million.
Amid pandemic, NEA experienced boosted sales activity levels with 12-month rolling customer churn below 10%, down from 11.5% (reported at FY'19).
NEA notified that it would commercialise its Nearmap AI in Australia and the US region on 1 June via self-service exports and offline channels.
On 21 July, NEA stated that financial outcomes for the year close 30 June would be announced on 19 August.
Xero Limited (ASX:XRO)
The cloud-based business platform for small business, XRO had delivered a strengthened operating revenue of NZ$718.2 million, up by 30% for the year ending 31 March 2020.
This was driven primarily by a 29% increase in its average revenue per user metric to NZ$820.6 million, and a jump in total subscribers by 26% to 2.285 million subscribers.
On 8 July 2020, XRO disclosed its present workings on global plans such as:
Working on a new machine learning search functionality in Xero App Marketplace featuring over 800 applications to aid small businesses in growing from moving sales online to forecasting cash flow & controlling inventory.
Numerous updates made over past month such as sending bills to Xero file via email, report creation and maintain best practice security.
WiseTech Global Ltd (ASX: WTC)
WTC's end-to-end logistics cloud-based software is used by over 15,000 logistics firms across the world.
On 8 July 2020, WTC completed earn-out re-negotiations on few of its acquisitions, resulting in a one-off fair value gain of AU$8.1m, which would be demonstrated in the FY'20 results.
Throughout the second half of the FY'20, WTC had been working with its 17 acquired businesses primarily to lessen and close-out future earn-outs and swap major cash payments with equity.
While this method reinforced its balance sheet and liquidity, WTC is believed to have had prioritised its acquisitions to speed up expansion and growth of the CargoWise platform.
Notably, WTC would undertake necessary actions to prioritise essential technology development, propel cash and capital efficiency, and establish its competitive position worldwide throughout this year and into FY'21.
Did you read; Winning Streak for ASX Tech Stocks: PPH, SZL, XRO, DTC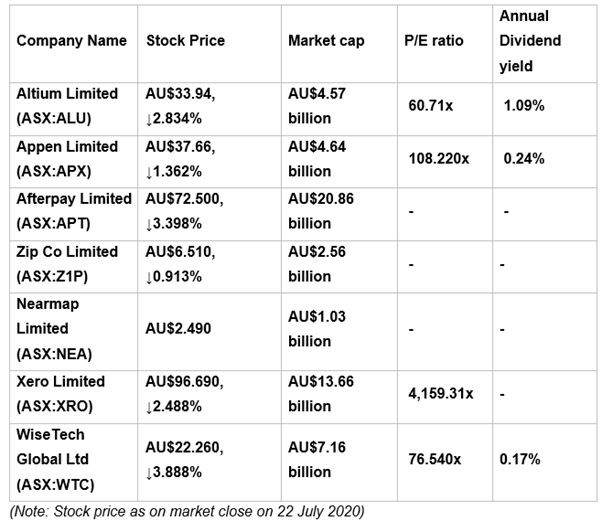 (Note: All Currency in AUD unless specified otherwise)