Summary

REFFIND Limited's intelligent employee recognition platform, WooBoard is a revolutionary way of generating, rewarding, and managing employee incentives.
WooBoard is a simple, fun, technologically enabled employee recognition platform with features such as unified rewards, gamification, and social features to encourage daily interaction.
In the quarter ended 30 June 2020, WooBoard's new trial account signups grew by 179% as compared to the previous quarter.
RFN has also taken a strategic decision to extend its trial periods from 14 days to 90 days based on feedback from trial participants, especially for large organisations.
As said by American businessman Douglas Conant:

This might make sense for some, but there are numerous organisations that overlook this wisdom. Present-day technologically driven business atmosphere and highly competitive market have compelled organisations to develop competence to overcome these challenges. Moreover, organisations are walking the extra mile to ensure enhanced employee performance through exciting employee recognition and rewarding tools.
Interesting Read: 3 Reasons Why Recognition is Important at Workplace; A Look at REFFIND's Recognition Tool WooBoard
Given this backdrop, let us explore the key functionalities of REFFIND Limited's unique offering for modern-day employers.
Software-as-a-service solutions company revolutionising employee peer recognition, REFFIND Limited (ASX:RFN) offers employee experience technology platform, WooBoard. It allows employees to send recognition and share updates promptly through a gamified, social cloud-based platform.
WooBoard is a technology-driven solution that helps in developing a positive culture of recognition at the workplace, celebrating victories and rewarding employees while encouraging to achieve more.
What has WooBoard got to Offer to its Users?
A fun and simple way to keep employees happy and engaged, WooBoard offers numerous advantages to its users. Some of these are discussed below.
Related: REFFIND's WooBoard to Gain from Deployment as Essential Service in Fast-Growing Industries
Prominent features of WooBoard include the following:
Authentic recognition through peer-to-peer recognition that mimics real-life without quotas
Social & fun platform where employees can like and comment on recognition posts, and add emojis and hashtags
Company values can be brought to life by tagging, promoting and tracking organisational values
White labelled so that users can add colours and branding to make it feel like personalised software
Gamification allows for a points system, badges and leader board to help run daily recognition
Mobile apps ensuring employees, wherever they are, remain engaged, recognised and motivated
Through optional rewards system, employees get the chance for gift card redemption within the platform
Reports & analytics offered by the platform include activity reports, search functionality and custom reports
TV Mode for viewing the latest recognition posts on a TV in large screen mode at the workplace
Officials can make extraordinary announcements that are pinned to the top of the feed for full visibility
Recognition of team segments by arranging and managing teams built on location, department, interests or activity.
Did you Read: Looking to Stay Ahead of Increasingly Competitive Market for Talent? Check REFFINND's WooBoard
Prominent Advantages of WooBoard
REFFIND's WooBoard is a ground-breaking solution in producing, rewarding and managing employee incentives by using the modern technological innovations and solutions. Furthermore, the innovative peer to peer recognition, gamification, integrated rewards and social features allow daily interaction that make WooBoard modern way to appreciate employees, connect teams, retain top talent and increase productivity.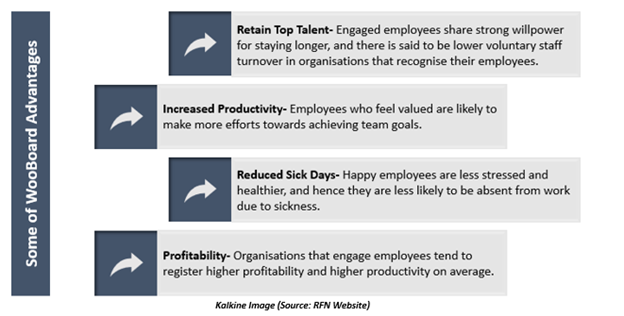 Related: Skimming Through Stance of REFFIND's Employee Engagement Platform in Remote Working Environment
New Trial Account Signups for WooBoard Increase By 179%
Interestingly, new trial account signups for WooBoard grew by 179% in June quarter as compared to the previous quarter, indicating increased interest in the platform and growing relevance of WooBoard to target customers, especially during current times influenced by COVID-19.
REFFIND acquired three new paid accounts/customers during the quarter, indicating a 1.38% conversion rate of trial accounts to paid accounts for the quarter. The platform is reported to have twenty paying business accounts/customers at the end of 30 June 2020, with each customer having a varying number of users.
Moving ahead, RFN's actions for enhancing these conversion rates are well-underway.
June Quarter Update: REFFIND Releases June Quarter Report, A Productive Period for Flagship WooBoard
Furthermore, RFN has also taken a strategic decision to extend its trial periods from 14 days to 90 days based on feedback from trial participants. The decision has been taken in light of the feedback received from trial participants, especially bigger organisations that need more time to obtain the Senior Management authorisation to convert to a paid subscription for their complete staff.
Previous Update: REFFIND Extends Trial Periods for WooBoard, Looks Forward to Capturing Commercial Opportunities
RFN share price quoted at $0.002 on 10 September 2020.