Summary

Cirralto launches the SpendaCollect Platform, which allows customers to view and pay one or varying outstanding invoices through a single payment transaction.
SpendaCollect, in combination with integrated EFTPOS offering, SpendaPay assists Cirralto's business customers in boosting their productivity and ensuring significant cost savings.
SpendaCollect payments platform is expected to go live before the end of July. would be Initially launching in Australia, with global expansion plans in the future.
Adding another notch to its belt, Australian software-as-a-service provider, Cirralto Limited (ASX: CRO) has launched SpendaCollect Platform, which forms the core of its Spenda digital payment stack. The platform offers customers an online statement-based payment service which they can include on their website on invoices and statements via clickable hyperlinks.
The platform delivers improved invoice collections for businesses and appears to provide a competitive edge to the technological and solution-oriented offerings of Cirralto directed at enhancing the productivity of its client businesses.
On the back of notable development and the latest update, CRO stock rose by 50% on 9 July 2020 to close at $0.009 whereas it ended 13 July 2020 at $0.015.
While the current customers have started to upgrade to SpendaCollect, the Company is also engaging new customers who are in the process of SpendaCollect implementation into invoicing and debt collection processes, go-live being expected before the end of July 2020.
Commenting on the latest launch, Cirralto's Managing Director Adrian Floate indicated that the Company, with its technology suite and expanding payment capabilities, is well placed to fulfil the needs of its existing customer base. He states SpendaCollect, coupled with SpendaPay, will provide a considerable productivity boost and significant cost savings for businesses. . Mr Floate says the SpendaCollect product has immense revenue potential and is expected to drive substantial revenue along with growth in customer acquisition.
Notably, SpendaPay bundling with SpendaPOS is an integrated EFTPOS offering and provides Virtual Pin Pad service that allows online processing of payments via eCommerce or phone. The first SpendaPay customers went live recently and are transacting.
Lens Through SpendaCollect Platform
Overview of Functionality
SpendaCollect, through its dynamic payment solution, enables the customers to view and pay one or multiple outstanding invoices via a single payment transaction. The platform encapsulates applications across many industry verticals, solving one of the core problems of businesses and ensuring they receive timely payment and improved cash flow.
The platform owing to its flexibility is highly unique, and the customers using them can either group or split their invoices into a payment arrangement suited to their needs. Businesses receiving payment through the SpendaCollect platform can quickly and conveniently reconcile the inbound payments against the invoices within the platform, without the trouble of manually reconciling each payment against each invoice.
The platform promises improved invoice collections as customers are provided with an online statement-based payment service, included on their websites or on their invoices and statements through hyperlinks.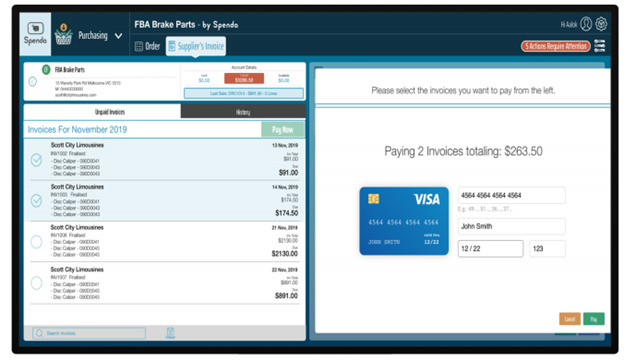 Source: CRO ASX Update
Catering Business Needs through Effective Solution
Many businesses experience productivity drain due to the manual effort and associated costs incurred while managing and reconciling accounts receivables. As per Cirralto, 53% of invoices are paid late in Australia, with 20% involving wrong account payment and another 20% comprising of the entirely wrong amount.
The SpendaCollect platform launched is intended for simplifying and reducing such operational and administrative burden. It does this by securely linking the customer directly to the payable ledger of merchant's accounts via an interface. The interface enables them to select the invoices that they want to pay, and a payment remittance advice is generated directly.
Expanding Payment and Product Portfolio
The Spenda payments portfolio is horizontal in application allowing the Company to concentrate on direct recurring revenue growth from a wide cross-section of various industries such as toys, pharmacies, pets and care, food manufacturing, general trade service, pool retail and service, bikes and café or hospitality.
The Company delivering a wide range of capability across the diverse industry has incorporated a disciplined market approach with clear cut orientation on distributors in verticals with retailing customers that aligns perfectly with the Company's 'POS + eCommerce + payments' bundles.
The SpendaCollect payments platform remains a critical element component of Cirralto's customer acquisition and revenue profile. It will be launched initially within the Australian market with plans to expand the product globally in the future..
Road Ahead
Cirralto is focusing on upgrading current retail customers, along with onboarding new customers to one or several payment services offered by the Company. Meanwhile, it is also finalising the payment stack which would incorporate:
Tokenised and Authority based payment services- The customers using this can grant access for charging their account depending upon established rules such as infield job completion or following workflows like signing for a package or delivery from a supplier.
Banking System payment services- Will expand Cirralto's B2B and B2C payments footprint, facilitating merchants to process real-time payments from the bank accounts of customers through the Australian Government New Payments Platform direct banking system.
Trade Finance – Real-time access to B2B trade finance along with the business-focused buy now pay later services would be further facilitated through integrating Invigo services into the payments stack.
Debt Collection and Payment Arrangement- The Company plans on offering services which shall enable merchants to create collection agreements with their customers and settle them through the bank account, card, or different trade services payment channels.