Summary

ASX has an abundance of small businesses, and many overseas companies have made public market debuts in Australia. Over the past years, technology sector has found some footing in the country.
With the launch of S&P ASX All Technology Index earlier this year, aspiring companies have found a way for recognition. Growth seeking investors now have a benchmark for listed technology businesses in the country.
The index has also provided passive investors with an opportunity to take part in the technology sector growth.
Introduction of S&P/ASX All Technology Index has provided a single index of technology-based companies spread across sectors. With the affection for technology growing rapidly now among customers, the index has provided a benchmark of leading technology-based companies listed in Australia.
Specifically, in the US, markets had seen a strong contribution from technology-based companies in equity market returns over the last decade. It has also shifted indices' dominance of traditional businesses like energy, industrials, or retailers.
Given Australia's historical dominance in financials and resources sectors, the technology sector has lagged to catch up with other countries, and the information technology sector weightage in the top 200 index continues to be small.
Over the last five years, Australian investors have found a new shelter for growth-focused investing in technology companies, and high growth technology-based companies have emerged in the listed world.
Read: Shedding light on 7 ASX Tech Titans that have rebooted Growth Investment Style
Perhaps in the unlisted markets, Australia has some unicorns in the technology sector as well. But highly successful Australian technology companies like Atlassian chose to list in US markets. With the introduction of All Technology Index, it has provided a capital avenue for many technology-based companies.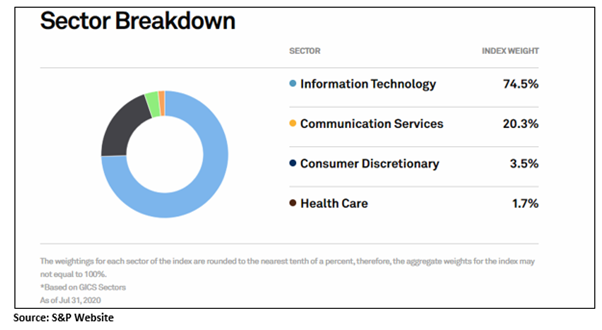 As of 31 July 2020, S&P/ASX 200, the benchmark for Australian equity performance delivered a return of -11.31%, while S&P/ASX All Technology Index delivered a return of 11.71%, on a year-to-date basis.
Australia Needs More Room for Diverse Businesses Driven by Technology
At the end of July, the index was heavily allocated to information technology, but other sectors will likely catch up over time as other ex-index companies emerge and make way into the index.
Australian capital markets have seen strong interest from overseas businesses, partially due to its growth capital and investors abundance, leaner financial disclosure requirements, and highly liquid capital markets.
Communication services stocks have also made a place in the index with cyclical businesses like SEEK Limited (ASX: SEK) and REA Group Limited (ASX: REA) present among top constituents. Consumer discretionary businesses like Kogan.com Ltd (ASX: KGN) are also making place for themselves.
Do Read: Stocks to Watch Next Week: IAG, REA, NWS, CRN, RMD
There are many promising technology companies on ASX with no place in the all-tech index. It remains a possibility that more index providers may launch further indices to capture a large range of technology businesses.
But the launch of the technology index in Australia has provided recognition to many ambitious technology businesses developed in the country. At the same time, this shift has also highlighted the need to build infrastructure for successful and sustainable technology companies.
Australia's highly developed healthcare sector also has its constituents in the technology index. And, health tech businesses may need to play a large role in the post-pandemic world with greater emphasis on long-term capability building and development.
Good Read: What Could Be the New Technology Trends Post-COVID-19?
With a huge number of small listed businesses that require cash burning and capacity building, small businesses tap investors frequently for capital. Most of the small listed companies in Australia are engaged in the resources sector, which is also supported by some technology businesses.
While passive investing has been popular, it has resulted in capital flows to the companies, especially to ones with higher weightage. As ETFs have grown popular over time, the index constituents have found more source of capital, especially large weighted companies.
There are many index agnostic investors who continue to prefer investing companies actively and indices. Active investing also presents an opportunity for investors to try outperforming the underlying benchmark.
Technology sector has seen decent investor traction since March, and technology indices are outperforming other benchmarks in many countries. As we approach further into reporting season, there will be more information available with market participants for their estimates.
In the COVID 19 period, Australian companies raised a record amount of capital, and it is very likely that more companies will confront investors with a plan and offer to invest more in the business.
Good Read: Capital Raising and Share Purchase Plan: Is Bigger, the better?
But the irony is that some companies will ask for capital to survive and reach to the other side of this crisis, while some will present investors with their ambitious growth plans and investment decisions for the near term.
Businesses with large debt and negative influence on cash flows due to COVID 19 are more vulnerable to raise capital, while a vaccine remains a strong tailwind for markets as well as for the economy in the future.
In the US, favourite technology companies have recently released their quarterly results. Except for Google or Alphabet, the technology pack of Facebook, Amazon and Apple has delivered strong revenue growth.
Related: Apple & Google Collaborate on COVID-19 Contact Tracing Technology
In the days to come, the technology darlings of Australian markets are about to reveal their numbers from the pandemic-hit world. Investors are perhaps gearing up for reporting season with very valuable information flow as companies reveal their plans to come out of the crisis.
Good Read: COVID Diary: Strategies that helped these 100 Companies create History