The first six months of 2020 have been entirely shaped by COVID-19 pandemic and its aftermath. COVID-19 has wreaked havoc across the world derailing businesses and livelihood of many.
In this backdrop, here is a company whose underlying sales in Q4FY20 has gone up over 2x, registering the best quarter ever in the company's operating history. The company has been able to capitalise on the shift towards e-commerce spending since the impacts of COVID-19 emerged globally. Just in the past three months, the stock on ASX has zoomed 7.5x since it made a low on 23 March 2020.
ASX's fintech darling Afterpay Limited (ASX: APT) has been in the spotlight for its stupendous rally on the stock exchange. The stock is up over 25x (2400%) since it started trading in 2017. The stock performance has reflected the fundamental growth in business. The company's revenue increased at a CAGR of 448.55% in four years.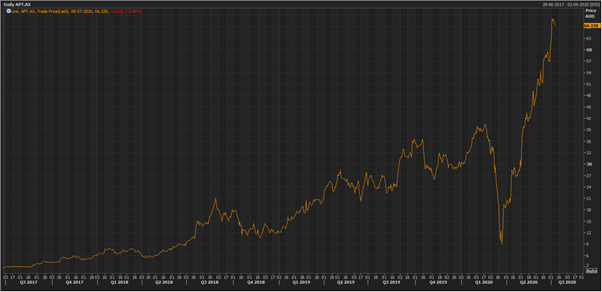 APT Daily Chart (Source: Refinitiv Eikon Thomson Reuters)
The COVID Pandemic has doomed a lot many businesses, but in case of Afterpay, it has propelled the business growth prospects considerably because of liquidity crunch and inclination towards digital contactless transactions. No wonder the stock is up ~7.5x since it made a low on 23 March 2020. Valuation and target price estimation seem to be on a bubble in view of the developments and key updates that keep on pouring in from APT while the price run-up has been quite strong over the past few months.
Summary:
Since listing on ASX in July 2017, APT is up 2400%.
APT's operating model allows quick funding to customers and easy payment through 4 instalments leading to an increased customer base of 9.9 million worldwide since its inception.
The business continues to grow in its key markets backed by strong customer acquisition and increased merchant onboarding.
Management is focusing on creating a strong balance sheet backed by debt facilities and financing to foster growth in sales and expand to new geographies.
The company recently reached new milestones in its new markets the US and the UK by registration more than 5 million and 1 million customers respectively.
Founded in 2014 in Australia, Afterpay's journey had been astounding in the past five years with the company growing its aspirations beyond Australia by spreading its wings to promising geographies such as the US, the UK, and New Zealand. The company currently serves 9.9 million active customers through 55.4k active merchants. The market seems to have validated its business prospects and the Company is trading close to its all-time high at $68.00 with a market capitalization of $18.23 billion.
The business model
Afterpay is a buy now pay later player and operates by providing credit to customer on zero interest to make payments to merchants who are a part of the Afterpay platform. The company earns revenue by charging a nominal fee from the merchant during purchase. Once the transaction is done, the customers payback the purchased amount in four instalments without any interest if payment made on time. In case of late payment from customers, the company charges late fees.
The business model may seem risky as customer integrity may falter, leading to bad debts and increased account receivables. However, one should also consider the average order value, which was $153 in FY20. The business risk stemming from high ticket value vs low is considerably different.
The staggering revenue growth since inception
Over the four years to FY19, the company has grown its revenue to $264 million from $1.4 million in FY16 at a CAGR of 473.52 %. The underlying sales in 2016 was a meagre $37.3 million as against $5.2 billion in FY19, a CAGR of 418%. During the same period, gross profit increased by CAGR of 470.83% to $204.6 million from $1.1 million. Net profit (loss) decreased further to -$43.8 million from -$3.6 million.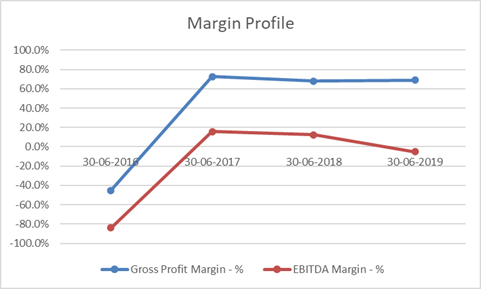 APT has been able to maintain its gross margin, in line with the business model that it is operating under, and the EBITDA margin is still under pressure. However, the company expects the EBITDA for FY20 to be between $20-25 million, excluding significant items.
Increasing customers and Active Merchants propelling business growth
Within 5 years of operations, the company has onboarded 9.9 million customers. In the past year alone, the customer base jumped by 116% because of the tremendous growth experienced in its US and UK operations. In FY2020, the US customer base increased to 5.6 million and UK business registered 1 million active customers.
Growth Engine Continues to Fire- A Spectacular FY20 Annual Performance
On 7 July 2020, the company announced a spellbound annual performance with a record increase in sales and customer count. Its underlying sales hit $11.1 billion in FY20, up by 112% from FY19. Key highlights are:
The growth in the revenue was led by Afterpay's established market Australia and New Zealand, recording an upsurge of 52% from FY19.
The underlying sales from the US geography jumped by 330% annually, backed by onboarding of new global retailers to the platform and increase in e-commerce spending.
The UK Operations contributed $0.6 billion to FY20 sales.
Online sales jumped by 46% in FY20 over FY19 while in-store volumes went up by 81%, despite COVID-19 related impacts in H2 FY20.
FY20 Merchant revenue margins are expected to be better than or in line with H1FY20 and FY19. FY20 EBITDA, excluding significant items, is estimated to be between $20-25 million.
June quarter 2020 recorded underlying sales of $3.8 billion, a 127% increase over pcp. The June quarter 2020 sales demonstrated Afterpay's highest quarterly performance till date backed by a rise in customer preference towards e-commerce spending as the COVID-19 emerged globally.
Active customers jumped by 116% to reach 9.9 million on account of strong customer acquisition in new markets, 5.6 million in the US and 1 million active customers in the UK.
Afterpay has collaborated with eBay Australia in 2020, leading to an increasing number of customers joining the Afterpay platform with the majority being male and older than Afterpay's average customer.
Afterpay to Invest in Accelerating Underlying Sales- Goes for Capital Raising
On 7 July 2020, the company was put on a trading halt as the company is intending to raise $800 million capital to maintain its sales growth in online shopping and expand into new markets such as Canada. The capital raising will be split in two ways – $650 million institutional placement and $150 million share purchase plan to eligible shareholders. The funding will boost its balance sheet and along with the current debt facilities in hand, builds a financial capacity to pursue M&A opportunities in the short to medium term.
Sell-down by co-founders of Afterpay
Afterpay co-founders, Anthony Eisen and Nicholas Molnar have decided to sell 10% of their shareholding in Afterpay which is 2.05 million shares of worth $126 million each. Both will still remain the largest shareholders of Afterpay with ~18.4 million shares each and will not be selling any further shares till the company's 2020 AGM.
Future Plans - Global Expansion
During first quarter of the FY21, the company intends to expand into Canada and launch in-store shopping in the US through its U.S. payments. The company has also identified other geographies to expand.
Bottomline
APT has been outperforming since its inception and the COVID-19 Pandemic has fuelled it business growth further. Since expanding its business across geographies, the company has been gaining good traction with an increased number of customers recorded in new key markets such as the US and the UK. In fact, APT now has more customers in the US than in its home market Australia.
With the economy reopening and people getting accustomed to digital payment, the business prospects now seem to be clearer. However, the future growth trajectory of APT will also depend upon other factors such as consumer confidence, unemployment scenario and severity of the second wave of infection.