Summary

Employee recognition is one of the most paramount elements of managing employees at an organisation.
Changing work culture, shift towards remote working and increasing need for motivating employees are few factors that are fuelling the eminence of employee recognition in the contemporary scenario.
REFFIND's intelligent employee recognition platform, WooBoard has witnessed 179% growth in its new trial account signups during June 2020 quarter as compared to the previous quarter.
RFN has been engaged in fast­-tracking the commercial rollout of its enhanced flagship offering WooBoard and looks forward to capitalising on the ongoing remote working environment.
Running an organisation and meeting every need can be a complex thing to do. A trickier thing can be to manage people at the workplace and awarding them with suitable recognition.
Employee recognition is one of the supreme elements of managing the workforce, as it helps in inducing the sense of connection and nurtures a positive and supportive work environment. Moreover, almost all business giants agree on the importance of employee recognition to propel economic returns skyrocket through the roof.
Let us focus on a few points that validate the significance of employee recognition, especially in the fastest growing industries in the contemporary environment.
Related: REFFIND's WooBoard to Gain from Deployment as Essential Service in Fast-Growing Industries
Employee Recognition for Motivating Employees
As quoted by American author and motivational speaker, Simon Sinek –

Motivation, undoubtedly, can be considered as the secret sauce for building a positive environment at the workplace and aiding the organisation to achieve success. However, employee motivation could be a tricky thing to do.
In today's competitive market for talent, organisations are seeking ways to entice and preserve top performers as well as boost employee productivity. However, in the race to win the best ideas and strategies, organisations might be ignoring one of the most needed and easy-to-execute strategies of employee recognition.
Recognition at workplace builds a sense of belongingness and accomplishment while making employees feel valued for their job and offers them motivation. Importantly, recognition works far beyond simply conveying gratitude and offering motivation to the distinguished employee. Recognition triggers the sense of what success looks like among other employees.
Interesting Read: Looking to Stay Ahead of Increasingly Competitive Market for Talent? Check REFFINND's WooBoard
Need for Employee Recognition in Remote World
Over the past few years, there has been a major shift in workplace habits with the emergence of technology. More lately, there has been a tremendous transformation towards remote working with the emergence of COVID-19 and restrictions on movement.
Remote working has enabled several businesses to ride out the COVID-19 storm amid a highly uncertain environment where continuing business looked like a hard nut to crack. Moreover, working from remote locations has emerged as a worldwide phenomenon across organisations. A fresh competitive spirit has been building among the employees working remotely to show their productivity among team members and seniors.
This is furthering the need for recognition at modern-day work culture amid changing workplace habits. It is said that recognition which is delayed is nothing better than recognition denied. Therefore, having infrastructure of rewarding and recognising employees as part of an organisation's culture is a key aspect in today's remote working environment.
Related: Skimming Through Stance of REFFIND's Employee Engagement Platform in Remote Working Environment
Increasing Dominance of Millennials at Workplace
Millennials account for a major part of an organisation's workforce across the globe. There is an increasing trend in the dominance of millennial workforce, and it is assumed that a major part of the employees shall be the millennials.
Notably, millennials are believed to be technologically well-versed, critical thinkers, and creative. Further, they want to have quick results of their good job and hence, demand instant recognition for their work.
Often, the relationship of an employer and employee is dragged by a traditional way of recognition once in a blue moon. However, the game of recognition is changing, and millennials are less likely to engage in traditional recognition programs.
Did you read: Unfurling Employee Recognition and Reward Space: REFFIND's WooBoard Lucrative Stance
In the highly competitive market of talent acquisition, organisations are going an extra mile to ensure that their employees are appreciated at work, and the organisation stays ahead of the curve.
REFFIND's WooBoard to the Rescue
Software-as-a-service solutions company, REFFIND Limited (ASX:RFN) is engaged in revolutionising the ways employee incentives are generated, rewarded and operated. The Company offers an innovative solution that is designed to drive meaningful recognition and increase engagement for the modern-day workforce. WooBoard is RFN's simple, fun, technologically driven employee recognition platform.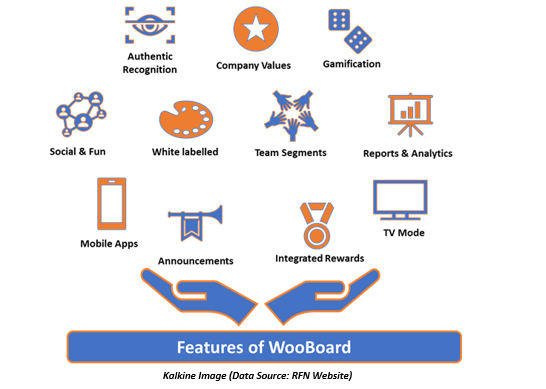 WooBoard is a simple peer recognition platform and a modern way to appreciate employees, link teams, preserve top talent, and boost productivity at the workplace. The platform has various features such as social features, unified rewards, and gamification to facilitate in encouraging daily interaction.
Previous ASX Update: REFFIND Releases June Quarter Report, A Productive Period for Flagship WooBoard
Amid the highly uncertain business environment, WooBoard is uniquely positioned to draw lucrative benefits from the evolving situation. The Company has been working against the clock to fast-track the commercial rollout of an enhanced WooBoard solution and capitalise on the ongoing remote working environment.
In the June quarter, REFFIND highlighted to have witnessed a growth of 179% in the average number of new trial accounts per month on the platform, marking a productive quarter for WooBoard. Moreover, the Company has extended the current trial period of 14 days to 90 days with a view to enhance user engagement, make trial users more sticky to WooBoard and allow Senior Management of potential organisations ample time to sign off onboarding with its paid version.
Latest Update: REFFIND Extends Trial Periods for WooBoard, Looks Forward to Capturing Commercial Opportunities
RFN share price quoted at $0.002 on 03 September 2020 (AEST 02:26 PM).