Summary

Most of the hotels owned by EVT remained open throughout the shutdown caused by COVID-19 with several initiatives implemented to address the impact of COVID-19 pandemic.
Earlier, in July, EVT notified on its decision to not pay dividend for FY20 and 1H FY20 to preserve liquidity for future business stability.
Recently, VRL's Transaction Process Deed with BGH was revised, and a 2-week extension was provided until 28 July.
In the past few months, the world has been combating COVID-19, which is a major global health crisis of the contemporary era. It has also caused financial crisis to the global economy due to closure of business activities, as per the directives of the local government to contain the spread of the pandemic. However, the normal routine is now coming back on track, as the government of the respective nations have been providing ease in social distancing restrictions.
Speaking of Australia, most of the states have got coronavirus under control, however, Victoria has been facing second wave of coronavirus, and has noted 300 additional cases, on 24 July. While on the same day NSW noted 7 fresh cases, and 2 new cases were recorded from Queensland area.
In the beginning of July, the Government of New South Wales had decided to replace the limit of 50 people in cafes, restaurants, and churches to one individual/4-square metre rule. Under the revised restriction, businesses that fell were the ones entailing seating arrangement including cinemas, theatres, and performance halls. Victoria had also revised restrictions to allow 50 people, replacing the previous limit of 20 people in restaurants and cafe.
In the following article, let us get acquainted with how the ASX listed players associated with cinema and theme parks would play out in the upcoming period:
Event Hospitality & Entertainment Limited
Event Hospitality & Entertainment Limited (ASX:EVT) is mainly involved in cinema exhibition operations in Australia, comprising technology equipment supply and servicing, and the State Theatre.
Recently, on 6 July, the Company notified on successful refinancing of its debt facilities and gave an update on the Group's mitigation actions to handle the effect of coronavirus on its businesses that are as follows:
EVT stated that debt facilities have risen by $205 million to $750 million, which resulted in available cash and undrawn debt facilities of around $320 million.
Majority of cinemas in Australia and New Zealand had reopened.
Most of the hotels continued to operate throughout the COVID-19 shutdown, with numerous initiatives implemented to lessen the influence of coronavirus pandemic.
EVT also took actions to substantially decrease operating costs at a corporate level.
Do Read: How COVID-19 has impacted the Tourism Business of Australia?
The Group also notified on its intention of not paying the final dividend for FY20 or an interim dividend for 1H FY21 to further assist liquidity. In addition, future dividend payments would depend on Board's consideration, and approval having regard to all applicable situations, comprising lender gearing requirements and the trading performance of the Group.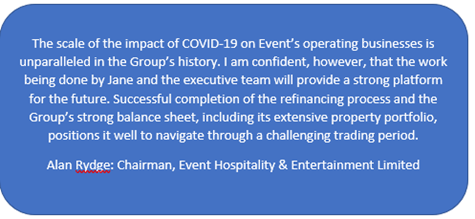 The stock of EVT closed the day's trading session at $7.87 per share, on 24th July 2020, indicating a rise of 0.511% against its previous closing price. The market capitalisation of Event Hospitality and Entertainment Ltd stood at $1.26 billion. On the same date, the total outstanding shares of the Company stood at 161.2 million. The stock of EVT has provided shareholders with the returns of -12.46% and -41.62% within the time span of one month and six months, respectively.
Village Roadshow Limited
Village Roadshow Limited (ASX:VRL) is engaged in the operations of theme park and water park, cinema exhibition, film distribution and sales promotion and loyalty program.
On 18th May 2020, the Company notified that it had received a revised, non-binding proposal from BGH (BGH Capital Pty Ltd) to acquire all the shares of Village Roadshow through a scheme of arrangement reflecting a total value of up to $2.40 per share.
VRL entered a Transaction Process Deed with BGH, as per which BGH would be given a chance to undertake confirmatory due diligence and discuss transaction documentation across 4 weeks duration on an exclusive basis.
On 14 July 2020, VRL notified that it had extended the exclusivity period to discuss with BGH by 2 weeks until 28 July.
Do Read: Changing Landscape for Village Roadshow Limited.
Further on 18 May, VRL communicated that in response to COVID-19, it had executed numerus measures to conserve capital and maintain operating liquidity, whilst ensuring the business was in a strong position to re-open venues when appropriate. This included working with landlords and other suppliers to substantially decrease operating expenditure and deferring non-essential capital expenditure.
The Company anticipated its underlying operating cash costs net of JobKeeper subsidy likely to be in the range of $10 million -$15 million per month. Operating cash costs were expected to rise while preparing for the reopening of the Company's main businesses.
As on 30th April 2020, Village Roadshow had a net debt position of around $284 million, which was comprised of $342 million of gross debt and $58 million of readily available cash. The Company was looking forward to growing its debt financing facilities, and was involved in advanced discussions, with its existing bank syndicate and Queensland Government.
As per the release dated 24th June 2020, VRL stated that its Gold Coast theme parks had reopened at up to 50% capacity. Sea World and Paradise Country also reopened on 26 June 2020. Further, cinema circuit of VRL in Tasmania reopened, as well.
The Company has been targeting to reopen its metropolitan Melbourne cinemas by late July, provided coronavirus restrictions allow them to do so.
The stock of VRL closed the day's trading session at $1.975 per share on 24th July 2020, indicating a fall of 1.25% against its previous closing price. The market capitalisation of Village Roadshow Limited stood at $390.51 million. On the same date, the total outstanding shares stood at 195.25 million. The stock of VRL has provided shareholders the returns of -8.56% and -50.87% within the time span of one month and six months, respectively.