Highlights

Australia has a good supply of both fossil and renewable energy.
With the expansion of Australia's economy and population, the demand for energy is also rising.
Australia is home to a sizeable amount of the world's coal, uranium, and conventional and unconventional gas reserves.
Australia's economic growth and prosperity depend on a reliable, ample supply of inexpensive, clean, and reliable energy. Fortunately, both fossil and renewable energy are in very good supply in the country.
The Australian energy industry supports a wide range of manufacturing industries and significantly contributes to infrastructure and employment in all states and territories. With the expansion of Australia's economy and population, there is a rising demand for energy.
Australia has a large geographic distribution of rich, high-quality energy resources and it is anticipated that these resources, except for oil, will persist for many more decades. Australia is also home to a sizeable amount of the world's coal, uranium, and conventional and unconventional gas reserves. In addition, Australia has access to a variety of abundant, high-quality, and still-in-development renewable energy sources.
In this article, we will discuss some energy stocks from ASX and their recent performance on ASX.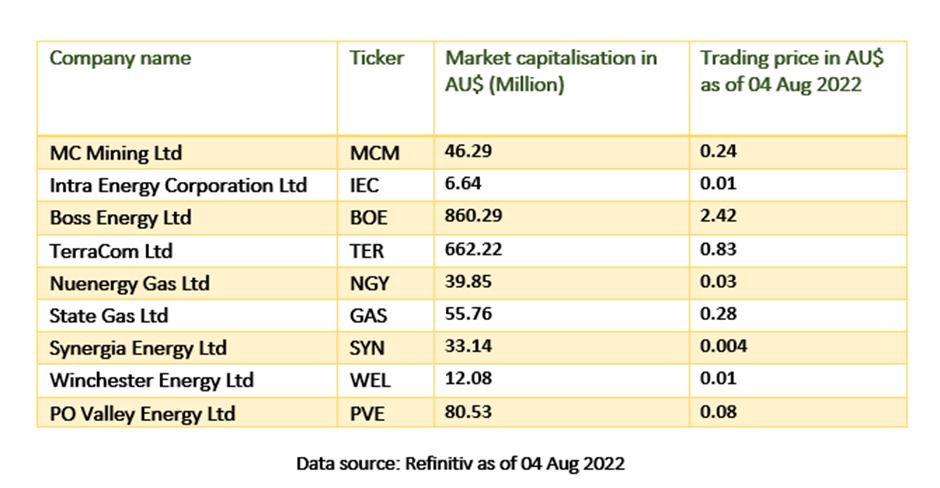 MC Mining Ltd (ASX:MCM)
MC Mining is engaged in exploring and developing coal assets with its primary operations in South Africa. In the June quarter of 2022, the company recorded 34,126t of coal sales. However, the company's revenue per ton decreased to AU$80/t compared to $85/t in the prior corresponding period (pcp).
During the quarter, MC Mining successfully completed the Makhado hard coking coal project Bankable Feasibility Study (BFS) 'base case' scenario. The accomplishment validates the project's strong economic essentials, a major factor in gaining investors' attention.
Intra Energy Corporation Ltd (ASX:IEC)
Intra Energy Corporation is a mining and energy company with operations in Australia and Africa. Let's take a look at the company's highlights from the June quarter.

Boss Energy Ltd (ASX: BOE)
Boss Energy specialises in the exploration and technical studies of Uranium in Australia. The company is working towards becoming the next Uranium producer in Australia by 2023 December quarter.
During the quarter, the company made a final investment decision regarding its 'Honeymoon' project. The decision confirms that the project remains on track for the first production in the December quarter of 2023.
Boss Managing Director Duncan Craib commented on the project, "We made the Final Investment Decision to develop the project. As a result, we are now ramping up construction, including the development of the wellfields, ordering key equipment, and refurbishing the camp."
TerraCom Ltd (ASX:TER)
TerraCom is a coal exploration company with a huge collection of operating assets in Australia and South Africa.
Terracom reported a record operating EBITDA of AU$224 million for the June Quarter of FY22. Similarly, the company delivered a record full-year operational EBITDA of AU$488 million, of which 45% was generated in the June Quarter itself. The company has received huge demands from the Japanese and South Korean energy markets and Indian sponge iron markets.
TerraCom ended the quarter with a cash balance of AU$86 million, and it is expected that the company would declare dividends in September 2022.
Nuenergy Gas Ltd (ASX: NGY)


Nuenergy is a clean energy company engaged in hydrocarbons with a major focus on unconventional gas and coal seam gas. The company aims to supply safe, reliable, and sustainable clean energy to meet the growing demands of Indonesia. Indonesia is one of the world's fastest-growing economies and energy-consuming markets.
During the June quarter, Nuenergy focused on implementing its Plan of Development (POD) for its Tanjung Enim Production Sharing Contract (PSC). The company is also carrying out environmental impact studies required for the POD.
State Gas Ltd (ASX: GAS)
State Gas is an Australian company focused on gas exploration of the Bowen basin of Central Queensland.
Recently, State Gas received a new exploration permit ATP 2068 in a joint undertaking with Santos QNT Pty Ltd. During the June quarter, the company diverted its efforts to bringing new gas supplies to the market. It particularly stressed on fastest possible delivery. Further, State Gas is also exploring alternatives to lessen infrastructure and hasten deployment to facilitate early delivery and sales.
Synergia Energy Ltd (ASX: SYN)
Synergia Energy Ltd specialises in natural gas. The company has its operating segments in India, Indonesia, and United Kingdom. Synergia is also focused on carbon-neutral gas production and targets to become a contributor to carbon dioxide (CO2) emission reduction by developing carbon capture and sequestration (CCS) projects.
Following are the highlights of the company from the June quarter:
India – In June, a workover rig was mobilised to the C-77H wellsite. The workover rig was mobilised with an aim to prepare the well for the re-frac operation in July
United Kingdom – The company advanced its Medway Hub Carbon Capture and Storage (CCS) project. It is also preparing to apply for CCS licenses
Synergia ended the quarter with a cash balance of AU$4.84 million.
Winchester Energy Ltd (ASX: WEL)
Winchester, operating in Australia and the United States, is an oil and gas company and it recovered oil from the first Group Prospect workover well recently. Its second workover well is currently in progress.
During the June quarter of FY22, Winchester reported a nearly 84% increment in positive cash flow compared to the previous quarter. Its working interest quarterly revenue was AU$2,628,419.
Winchester's sales revenue for the reporting period was AU$2,628,419. The average sale price per barrel of oil witnessed a 13.8% increase from the March 2022 quarter.
PO Valley Energy Ltd (ASX: PVE)
Po Valley Energy owns a portfolio of natural gas fields in northern Italy. The company has more than 20 years of experience. It is now focused on progressing its "Selva Malvezzi" project to manufacture and grow into a significant domestic supplier of energy in Italy.
During the June 2022 quarter, PO Valley was granted approval for production at the Podere Maiar gas field.
Po Valley ended the quarter with cash reserves of AU$979k.