Highlights:

The Group's revenue grew 27% annually to AU$22.5 billion.
The company declared a dividend of 88 cents a share for the six-month period. This was 10% higher than pcp.
Wesfarmers Limited (ASX: WES) shares reacted positively to the earnings announcement.
Wesfarmers Limited (ASX: WES), one of Australia's biggest retailers having operations across sectors like beauty and wellbeing to home improvement released its half-year results ended 31 December 2022 today. (15 February 2023).
During the six-month period, the company's revenue jumped 27% annually to AU$22.5 billion, up from AU$17.75 million last year, while its EBIT was 13.4% higher at AU$2,160 million. NPAT was at AU$1,384 million, rising 14.1% from AU$1,213 in pcp. Basic earnings per share was 122.3 cents, 14% higher compared to 107.3 recorded in the year-ago period.
WES stock reacted positively to the earnings announcement and was trading higher in the second-half of trade today.
Company Name
Market Price
(AU$)
Market Cap
(AU$)
Yearly Return
(%)
Dividend Yield
(%)
PE Ratio
(x)
YTD
(%)
52W High
(%)
52W Low
(%)
WESFARMER FPO [WES]
49.44
56.096B
-9.60
3.65
23.75
6.08
55.19
40.03
*Data powered by Morningstar®. Data delayed 20 minutes unless otherwise indicated. Read More
as of 15/02/2023, 04:15:43 PM AEDT
Wesfarmers Limited (ASX: WES) interim dividend
Wesfarmers declared an interim ordinary, fully franked dividend of 88 cents a share, which has increased 10% from 80 cps declared in the pcp. The record date for deciding the eligibility of shareholders for this dividend is 21 February 2023, and the stock goes ex-dividend on 20 February 2023. The dividend amount is payable by 28 March 2023.
Divisional performance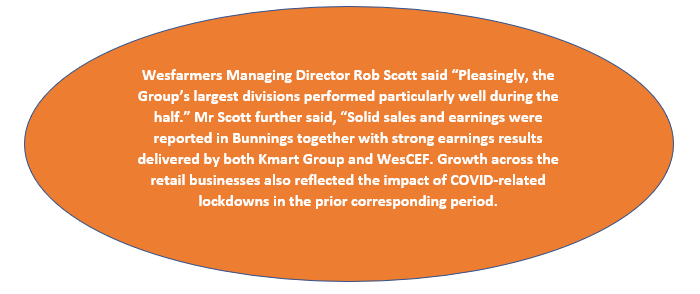 Bunnings' revenue rose 6.3% to AU$9,792 million during the interim period, with earnings before tax (EBT) growing 1.5% to AU$1,278 million. Kmart Group's revenue elevated by 24.1% to AU$5,714 million in the reported period, and its EBT grew 114% to AU$475 million.
Revenue for WesCEF rose 30.2% to AU$1,402 million in the six-month period, with EBT rising 48.6% to AU$$324 million. Revenue from Officeworks was up 4.5% to AU$1,651 million in the six months period, and EBT grew 3.7% to AU$85 million. Industrial and Safety revenues registered 3.6% increase to AU$978 million, while EBT improved 14.6% to AU$47 million. The company's Health division noted revenue of AU$2,778 million and EBT of AU$27 million.
Outlook
The company expects higher interest rates along with elevated inflation to impact demand and make households in part of Australia value conscious. However, its value credentials and low-cost business model is likely to keep its retail business well-positioned to meet changing customer demand and handle cost pressure, the retail giant said.
Wesfarmers will keep on making an investment in its current operations and in the progress of platforms for lasting growth and stakeholders' value creation. The company anticipates net capital expenses to fall in the range of AU$1,000 million and AU$1,200 million for the 2023 fiscal year.
The company expects cost pressures to persist in the second half of the fiscal amid higher inflation and staff cost.