Summary

Global markets have been experiencing gold rush with yellow metal prices skyrocketing amid the pandemic induced volatility.
The gold rush has positively influenced the business prospects of some of the penny players experiencing double digit surge in share prices over the last six months.
ASX All Ordinaries Gold Index recently hit its 52-week high at 9031.4 on 9 July 2020, marking more than 75% increase from March's market low of 5140.9.
While, ASX All Ordinaries Gold stock index declined by 1.65% on 10 July amidst record rise in COVID-19 cases in Australia.
Second wave of infections, economic revival and market sentiments need to be closely monitored to chart out the trajectory of these penny players in gold space.
The broader equity market revival since March crash is being closely watched amidst resurgence in coronavirus cases in Australia. Victoria, Australia's second-largest state, reported a record single-day jump of 288 new cases in the second week of July.
ASX All Ordinaries Gold Index which was experiencing record highs also slipped by 149 points or 1.65% by the end of last week amid rising virus cases. The dip came a day after the index recorded 52-week high on 9 July at 9031.4, marking a 75.7% increase from 52-week low of 5140.9 on 16 March 2020.
On that backdrop, let us cast our lens over few Gold penny stocks:
Interesting Read: Gold Stocks with latest business updates!
Aruma Resources Limited (ASX: AAJ)
Aruma Resources is an exploration and development company focused on its gold project portfolio in the Eastern Goldfields of Western Australia.
On 7 July 2020, Aruma Resources announced expansion of its Saltwater Gold Project by identifying a large priority exploration target in the Pilbara region of Western Australia. The company has applied for Exploration Licence E52/3846 covering an area of 96 km2 which is located on the eastern extent of the Saltwater project area.
AAJ claims that the Saltwater Project presents the company with an exciting early stage gold exploration opportunity in an area which is under explored.
Earlier a week before, the company announced identifying three priority drill targets at its Scotia South Gold Project, located on 20 km strike extension from Panda Gold discovery of Pantoro Limited
In the last six months, AAJ stock appreciated by 33.33%, trading at A$0.005 (+25%) by the close of trading on 13 July 2020.
Red Mounting Mining Limited (ASX: RMX)
Red Mountain Mining focuses on new energy metals with assets located in DRC. The company is currently working on exploration at its Mukabe-Kasari copper-cobalt project.
On 6 July 2020, the company entered a binding term sheet for 100% acquisition of Mt Maitland Gold Project in Western Australia. The company also received exploration licence with 19km Archean greenstone belts holding significant prospects to host high-grade shear-hosted gold deposits. The Gold at Mt Maitland has historic production record of averaging 19g/t Au. According to the results received from the high-grade surface and sub-surface assay, the belt looks prospective for hosting a significant gold mineralizing system.
On 29 June 2020, the company announced that it has applied for 3 tenements comprising 100% ownership of Koonenberry, prospective for gold in northwestern New South Wales (Koonenberry Gold Project), which covers ~657 km2 with a geologic setting considered analogous to the prolific Victorian Goldfields located in south-eastern Australia.
On financial front, the company announced raising A$540,000 split into $240,000 through Placement and A$300,000 through SPP last month.
In the last six months, RMX stock has generated 20.00% return, trading at A$0.006 by the close of trading on 13 July 2020.
Pantoro Limited (ASX: PNR)
Pantoro Limited is focused on gold production with assets including 100% owned Halls Creek project in Western Australia's Kimberley Region, Nicolsons Project, Nicolsons Regional Projects, Mary River, Grants Creek, and exploration of minerals in the Gariana Project at Papua New Guinea (PNG). Nicolsons Gold Project and PNG Exploration are the primary segments of the Company.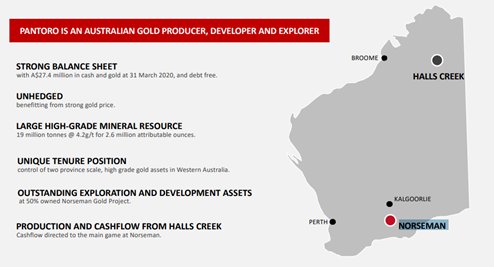 Source: Investor Presentation June 2020
PNR enjoys strong cash position with A$27.4 million in cash and gold and being debt free. The company also revealed itself to be unhedged backed by strong gold prices. PNR also drew attention to its large high grade mineral source which stands at 19 million tonnes @4.2g/t for 2.6 million attributable ounces.
Resource estimates are as follows:
The 50% owned Norseman project has an underground resource estimate of 4.2 million tonnes with a grade of 15.3 and 2.1 Moz contained AU. Out of which, 0.3 million tonnes is measured, 1.3 million tonnes is indicated and 2.5 million tonnes is inferred.
At surface level, the Norseman project has resource estimate of 31.35 million tonnes with a grade of 2.34 and 2.3 Moz contained AU. Out of which, 4.3 million tonnes is measured, 11.4 million tonnes is indicated and 15.7 million tonnes is inferred.
The Halls Creek project has a resource estimate of 1.6 million tonnes with a grade of 7.5 and 394 Moz contained AU. Out of which, 0.31 million tonnes is measured, 0.88 million tonnes is indicated and 0.44 million tonnes is inferred.
On 16 June 2020, PNR provided an update on its underground drilling program results for the high grade OK Underground Mine located at the 50% owned Norseman Gold Project. The company has completed ~7,586 metres of diamond drilling at the OK Underground Mine.
In the last six months, PNR stock gained 68.97%, closing at A$0.240 on 13 July 2020.
Also Read: Gold Rush and Eight ASX Momentum Gainers- SAR, NST, NCM, EVN, RMS, WAF, GOR, PRU