Highlights:

ReNu Energy inks a subscription agreement with Australia's renewable energy tracer, Enosi.
Under the agreement, ReNu is set to invest up to AU$1 million into Enosi and increase its stake up to 14%.
Google is using Enosi's flagship Powertracer technology to trace clean energy in Australia.
ReNu Energy Limited (ASX:RNE), on 29 September 2022, announced that it will invest up to AU$1 million in its clean energy tracing investee business named Enosi Australia Pty Ltd. Under the deal, ReNu will provide Enosi with an AU$500k investment split into two parts, AU$250k on 1 October 2022 and the second on 1 December 2022. The remaining AU$500k will be paid to Enosi on 31 January 2023 (precedent to financing conditions).
As per the company, on the completion of the first AU$500k investment, ReNu will hold the authority to nominate a non-executive director to the board of Enosi. And lastly, ReNu will increase its stake to approximately 14% in Enosi's issued capital upon completing all three subscriptions.
What instigated ReNu to sign subscription agreements with Enosi?
In the agreement announcement, the company (ReNu) talks about a partnership between Enosi and Google, in which both companies have decided to test Google's Sydney campus's energy consumption using Enosi's Powertracer technology. This cooperation will facilitate important research and aid in Google's understanding of new models for the procurement and tracing of clean energy. Enosi and Google are partnering up as part of the RACE for 2030 Cooperative Research Center's EnergyTag demonstration, which is being directed by UNSW.
In addition, this collaboration seeks to evaluate accounting procedures and other tools for certifying carbon-free energy around the clock in order to enhance contracting for clean energy and demand-shifting. The UNSW Research Centre will receive real-world case studies using Enosi's Powertracer technology, which will be used to follow sustainable energy from source to customer and analyse them.
Talking about the agreement,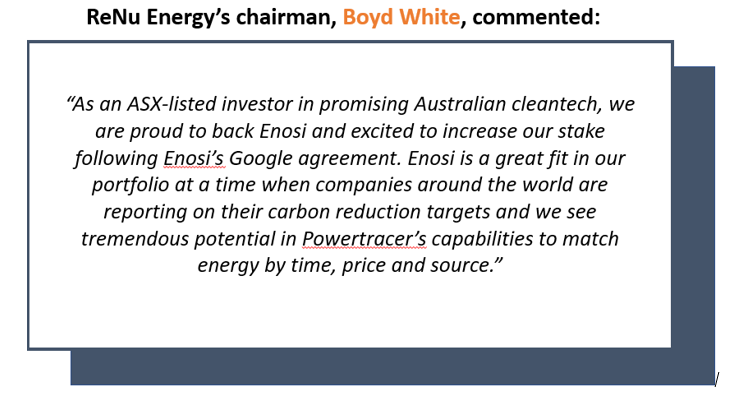 What is ReNu Energy Limited into?
ReNu Energy seeks to strategically transition Australia into a low-carbon future. To achieve this, ReNu is making investments in clean and renewable energy technologies, sourcing and developing hydrogen projects to create strong stakeholder value and collaborating with low carbon future-focused projects. Moreover, the company envisions being a clean and renewable energy market pioneer by having several domestic and international projects at hand.
What is Enosi?
Enosi represents itself as a developer of Energy-as-a-service (EaaS) technology and is backed by numerous cleantech investors, ReNu being one of them. Enosi's one-of-a-kind product, Powertracer, is a scalable clean energy traceability solution designed to address the need for clean energy in the future of global sustainability.