Highlights
Lithium miner Sayona Mining's share price has added another 4% today.
Sayona Mining shares are up 775% in a year and 100% on a year-to-date basis.
SYA share price is aligning to the broader materials sector gain.
Lithium producer Sayona Mining's (ASX:SYA) share price has gained about 775% in a year. Adding on to the gains SYA share price has moved up another 4% in early trade hours today (20 May, 10:33 AM AEST).
Meanwhile, today, the Australian Markets are also showing positive signs. The Materials sector has advanced 1.63%, being the second-highest gainer till morning. Sayona Mining's share price appears to be aligning itself to the sectoral and broader market upside.
Sayona Mining's share price performance
On ASX, Sayona Mining holds a market capitalisation of AU$1.93 billion.

Image Source © 2022 Kalkine Media®, Data Source-ASX
Being a still loss-making company, Sayona Mining does not pay any dividends to its shareholders. However, the share price appreciation shown by the lithium miner in a year seems to be attracting investors' attention towards it.
What pushed Sayona Mining's share price up 775% in a year?
Sayona Mining is a Lithium producer having operations in the two world-renowned Lithium exploration areas- Quebec, Canada and Western Australia. The company thus is placed well to take advantage of the ongoing growth in Lithium demand, especially from EV manufacturers.
Sayona has also been advancing well with its resource exploration activities.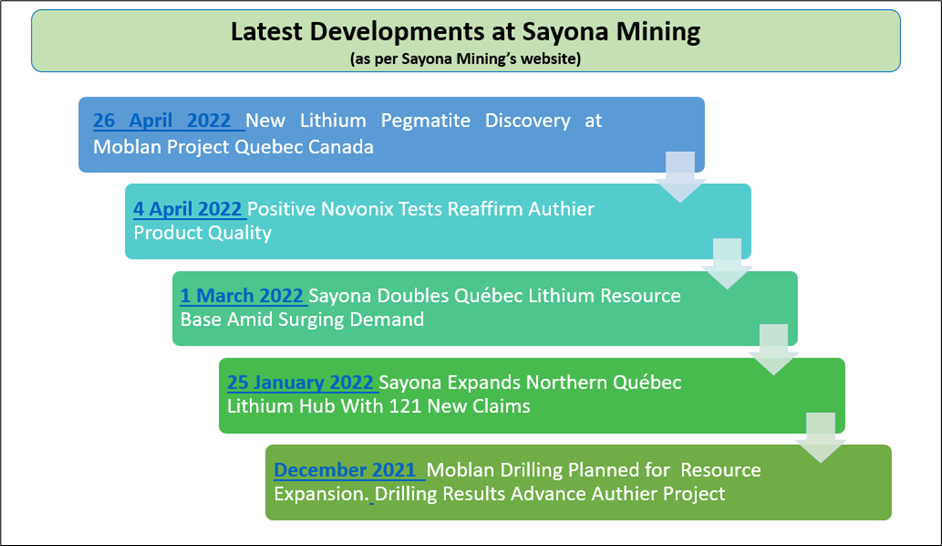 Image Source © 2022 Kalkine Media®, Data Source- company's website
In its Northern Québec lithium Hub Sayona has acquired 121 new claims at Lac Albert Project, close to its existing Moblan Lithium Project. The JORC resource base has also doubled for Sayona's North American Lithium (NAL) and Authier Projects. In Australia, it is preparing to complete its 60-hole air-core drilling at Deep Well Project. It is also advancing well on its 100% owned lithium tenure plans.
Another positive for Sayona Mining's share price is its inclusion in the ASX 300 Index. On 22 March 2022, Sayona got included in the ASX 300 index, which caused a notable increase in its market value. While inclusion is a major milestone for Sayona Mining, it has uplifted the miner in global investors' eyes, specifically funds and portfolio investors.
Are commodity prices helping Sayona Mining shares?
Besides the operational efficiencies being portrayed by Sayona Mining in its updates, the company also benefits from commodity prices. Lithium's price has advanced by over 400% in a year; they are still predicted to remain high with a push for a transition from fossil fuels to energy-efficient sources.
Bottom line
Demand for lithium and new resource additions and discoveries seem to have pushed Sayona Mining's share price higher in the past year. However, how well the share price sustains the momentum is worth watching. Another interesting thing to observe could be how far the share price can move in future.
More from ASX- STO to BPT: How have ASX oil stocks fared amid a flip-flop in oil prices?