Summary

The US Government plans to revive & strengthen the uranium mining industry, support conversion services and end reliance on foreign enrichment capabilities while restoring world-class workforce to make the nation globally competitive.
GTI Resources has acquired highly prospective uranium and vanadium properties in Henry Mountains, Utah, USA. Most recently, it announced it will acquire two State of Utah mineral leases from Anfield.
The Company has recently acquired an extensive package of historical data to aid in planning GTI's next phase of exploration.
Regarding itself well-positioned to add value to the US domestic uranium supply squeeze, GTI Resources Limited (ASX:GTR) has been gaining massive market attention. During the last week, the Company completed an aeromagnetic survey at the Niagara (Kookynie) Gold Project, raised $ 1.81 million via capital raising and was granted a 5-year extension of term on its Kookynie gold exploration licence E40/0342.
Subsequent to these significant accomplishments, the Company recently updated that it has secured a significant data package to enable rapid evaluation of the new leases it is acquiring and currently held ground. It will also provide valuable insights for planning the next phase of exploration in Utah.
Unveiling GTI's Extensive Historical Data Package
The significant data package secured by GTI was identified during its due diligence enquiries into the two mineral leases that it is acquiring from Anfield Energy Inc.
The package contains valuable data for the two new state leases, Jeffrey, Rats Nest and Moki claim groups plus other ground of potential interest. The data package includes:
Drill hole logs, maps, assay reports, resource maps as well as project level exploration, evaluation reports.
Drill intercept maps and an evaluation report for GTI's Moki project.
The company's review of the data package serves to further reinforce interpretations and validate GTI's recent acquisition of two State of Utah mineral leases from Anfield.
Significance of Historical Data Package: Moki Project
According to Executive Director Bruce Lane, the historical data package gives GTI a head-start in planning the next phase of exploration in Utah. The data allows for accelerated evaluation of the currently held ground, assessment of adjacent ground and much greater refinement of drill targets.
Moreover, it is of particular interest for the Moki project for which it offers drill intercept information, maps and an evaluation report. Significant historical drilling took place on this property.
GTI believes that acquisition of this data for the Moki project may help in understanding the local mineralisation and determining if there is a trend relationship with known ore-grade mineralisation at the Tony M Mine.
Acquainting with Moki Project: Last year in September 2019, GTI Resources acquired eight properties prospective for uranium and vanadium mineralisation in Utah which have a total of 181 claims and a total area of 1,505 hectares. Moki was part of this acquisition and is located near Ticaboo, Utah, positioned immediately east of the Tony M Mine owned by Energy Fuels Inc.
In late 1970s, the Tony M Mine was developed. Production has been reported as recently as 2008 by then mine owner Denison Mines (USA) Corp. In 2012, the mine was bought by Energy Fuels Inc as part of a larger transaction.
Close to 1 million lbs of U3O8 was extracted from the mine via intermittent mining through 1979 and 2012. A global resource (Indicated and Inferred) of over 20 million lbs U3O8 is the recent resource estimate from June 2012 reported by Energy Fuels Inc (for Tony M Mine and adjoining mineral resources).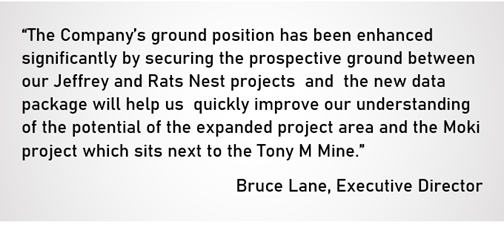 Significance of Historical Data Package: Anfield Acquisitions
On 7 July 2020, the Company announced the acquisition of two State of Utah mineral leases from Anfield. The acquisition joins the Jeffrey and Rats Nest projects into a far bigger contiguous tract covering 5.5km along interpreted strike of mineralised trend.
Initial review of historical data package serves to further reinforce this interpretation as well as validate GTI's acquisition of these mineral leases with the following characteristics-
Contains historical drilling and underground production workings
Prospective for uranium and vanadium: evident from recent sampling conducted during acquisition due diligence, which yielded in-field XRF measurements of up to 81,745ppm U and 28,375ppm V
Jeffrey Project Update
The Company is currently awaiting drill core assay results from drilling completed at the Jeffrey project in June 2020. The reconnaissance stage drill program at Jeffrey-
Targeted known shallow mineralisation in a near-surface sandstone unit of lower Salt Wash Member of Morrison Formation in the northern portion of mineralised trend
Explored slightly deeper (to circa 20m from surface) sandstone units within the fluvial depositional sequence
Identified uranium mineralisation of economic interest in a second, slightly deeper, sandstone unit
This discovery increases potential of the Jeffrey project to host significant uranium and vanadium resources, similar to that historically produced.
Near-Term Outlook
Near term activities for Jeffrey, Rats Nest, and acquired leases comprise of ground truthing acquired drill data, underground mapping, channel sampling within mineral leases, and potential geophysical logging of specific historical drill holes.
Data generated in this work will support the generation of drill targets for the planned next phase of exploratory drilling.
GTR quoted $ 0.030, up 3.45% on 23 July 2020.