Summary

Element 25 aims to become a globally significant manganese producer that produces clean, low cost, ethical manganese products for world markets.
The Company is currently developing the Butcherbird Manganese Project, a world class manganese resource with current JORC resources in excess of 263 Mt of manganese ore.
Quarter ending 30 June 2020 saw excellent progress for Element 25- publication of a PFS returning outstanding economics, a $5 million capital raising initiated, Access agreement signed, Mining Lease 52/1074 granted, and potential high-grade manganese concentrate zone identified at Coodamudji deposit.
The Company has recently closed a heavily oversubscribed SPP having received applications for over $3.2 million.
Recent confirmation of sufficient process water supply for planned production at the Project is an important de-risking step for Project development.
The stock of Element 25 Limited (ASX:E25) saw a high of 3.659 % before it closed at $0.425 on 3 August 2020. The surge in stock performance possibly seems to be built around positive investor sentiment for the Company's latest announcement about the completion of pump testing of a water production bore. The testing has confirmed ample process water supply for scheduled production at the Company's 100% Butcherbird Manganese Project.
According to E25 Managing Director Mr Justin Brown, the positive outcome from pump testing is an important de-risking step for Butcherbird development.
Water Bore Pump Test at Butcherbird
Pump testing of a water production bore was concluded within a shallow (6 m to 16 m depth) aquifer at the Butcherbird Project.
Yields from the aquifer were higher. Besides, depths were shallower than assumed previously.
This potentially allowed sufficient water to be recovered from shallower, fewer bores. Consequently, it reduced operating and capital costs for the borefield.
The Company further intimated about several standard pump tests that were conducted to test the aquifer potential. Results from constant rate tests as well as the step test were examined via Cooper-Jacob Method (for unconfined aquifers). Post analysis, a transmissivity at the BBPB03 site of 1,000 m2 per day was adopted for modelling purposes.
With the test results, samples from test bore BBPB03 were also examined for salinity. Reportedly, groundwater is categorised as Marginal Potable (salinity 1,200 mg per litre) Total Dissolved Solids, ideally suited to the suggested processing method at the Project.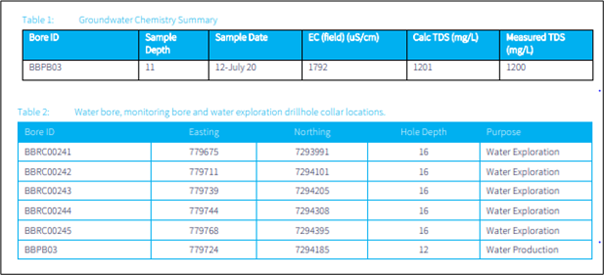 (Source: Element 25 Report)
What's in Store?
According to the Company, the next phase of work is likely to undertake groundwater flow modelling. This will help analyse a number of potential borefield designs. Possible pumping scenarios include-
4 x 15 litres per sec - dropping to 25 litres per sec total (for six months)
3 x 15 litres per sec - dropping to 25 litres per sec total (for six months)
Long term pumping rates of 45 litres per sec to back future expansion in concentrate manufacture.
Recent Corporate Update
Element 25 ended the quarter ending 30 June 2020 with $2,698 k worth cash and cash equivalents. The quarter also saw the Company initiate a capital raising of $5 million.
To know about the impressive progresses made by Element 25 during the quarter, PLEASE READ- Element 25 Reports "Excellent Progress" in June Quarter, Stock Riding High
Besides, on 23 July 2020, the Company intimated that its Share Purchase Plan announced on 6 July 2020 closed on 21 July 2020. The SPP was heavily oversubscribed with Element 25 has received applications for more than $3.2 million, while the SPP booklet had previously outlined that the Company was seeking a target of $1.5 million.
Funds raised from the SPP are likely to support Element 25 to fast-track developments at Butcherbird Manganese Project.
For more insight into the SPP, PLEASE READ: Element 25's Share Purchase Plan Oversubscribed, Funds to Accelerate Butcherbird Development
Element 25 seems to be on the right path of developing the Butcherbird Manganese Project to produce high quality manganese concentrate and high purity manganese products for traditional and new energy market.