This real estate investment trust (REIT) has delivered strong returns to shareholders since listing. It has successfully undertaken crucial capital allocation exercises and generated decent returns in the form of capital gain and income for more than 25 years.
Mostly operating and developing industrial properties, its past investment decisions in supply chains, logistics, warehouses have proven extremely successful. The recent push to digitisation and e-commerce has pushed demand for these industrial properties.
GMG shares have outperformed the benchmark index by a wide margin. On a Year till date basis, GMG shares have appreciated by 48% while, the bench-mark index ASX200 has delivered loss of 8%. During the same time frame, S&P ASX 200 A REIT index has witnessed a loss of 12%.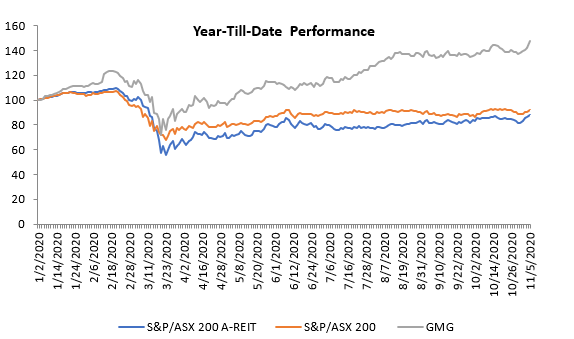 Source: Refinitiv, Thomson Reuters
Goodman Group generates income via three primary sources: rental income, management income, and development income. It is the most valuable real estate investment trust in Australia. The group has proven its mettle with a solid performance of over 25 years.
Goodman Group is led by Greg Goodman. It has grown from one industrial property in South Sydney, Australia to 392 properties across five regions in the world.
The first property was purchased for less than $20 million in the mid-1980s, and now Goodman Group assets are worth over $51 billion (FY20). For the last six years, the group has upgraded its full-year earnings guidance at the half-year.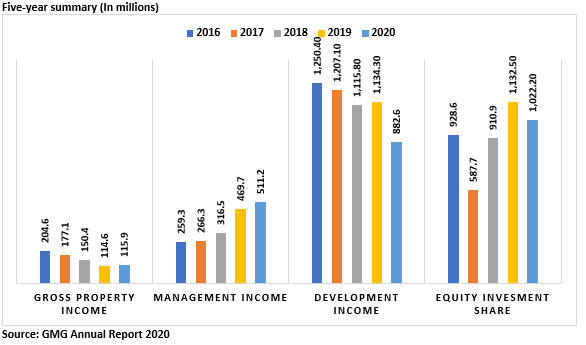 Over the past five years, the group has transitioned its income mix largely towards management income, partnership investments from rental property income. During this period, its development income has also remained stable.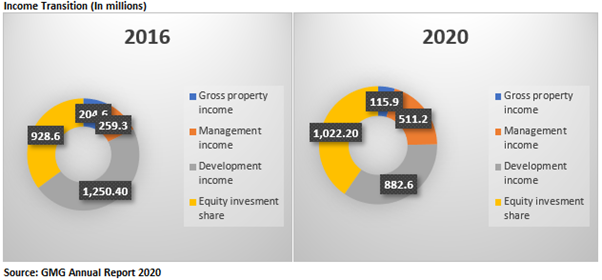 Goodman group shows operating profit (non-IFRS) as a metric to evaluate its core performance. Operating profit excludes property valuation movements, fair-value adjustments, FX movement, and includes non-cash/non-recurring items.
Distribution per security grew from 24 cents in 2016 to 30 cents in 2020. And non-IFRS based, operating profit per security grew from 40.1 cents in 2016 to 57.5 cents in 2020. Goodman guided 62.7 cents operating profit per security in 2021.
FY20 full-year results
For the full-year ended 30 June 2020, Goodman Group delivered an operating profit of $1.06 billion compared to $942.3 million in the previous year, a 12.5% uptick. Distribution per security for the year was flat at 30 cents.
Statutory net profit for the year was $1.5 billion compared to $1.62 billion in the previous year. In FY20, operating earning per security was 57.5 cents, up by 11.4% over the previous year. At the end of the year, net tangible asset per security was $5.84, up by 9.4% on FY19.
Property income increased to $425.2 million from $372.1 million in the previous year. Management income increased to $511.2 million from $469.7 million in FY19. And development income increased to $575.7 million from $509.2 million in the previous year.
Net borrowing cost for the year was $70.8 million against $45.9 million in the previous year. Tax expense was $88.8 million compared to $95.1 million in FY19.
Interest-bearing liabilities at the end of the year stood at $2.93 billion compared to $2.97 billion in the previous year. As of 30 June 2020, the group had liquidity of $2.8 billion, which excludes partnership debt and equity. This included $1.8 billion in cash and $1 billion in available lines.
Weighted average debt maturity was 5.8 years. It had an investment-grade credit rating across the group. Goodman Group expects to undertake development over the next few years, therefore more capital would be allocated towards development and partnership investments.
Q1 FY21 Operation Update
Goodman Group said the current environment continues to accelerate the adoption of the physical infrastructure to support digitisation, including e-commerce, data centre, warehouse. The integrated property group is supporting strong customer demand across its markets.
At the end of September, the group had assets under management of $51.7 billion. There was a 2.9% like-for-like net property income growth in managed partnerships. Development work-in-progress (WIP) was $7.3 billion, with 83% in partnerships.
More importantly, the group has reaffirmed forecast FY21 operating earnings per security of 62.7 cents per share, up by 9% over FY20.
Real estate fundamentals continue to support leasing activity in its markets. A push to online and digital activity is driving customer demand. Occupancy of 97.8% is supported by limited supply and growing demand.
Over the year to 30 September, the group leased 3.4 million sqm across the platform, equating to $447.3 million of rent per annum. Weighted Average Lease Expiry of 4.4 years.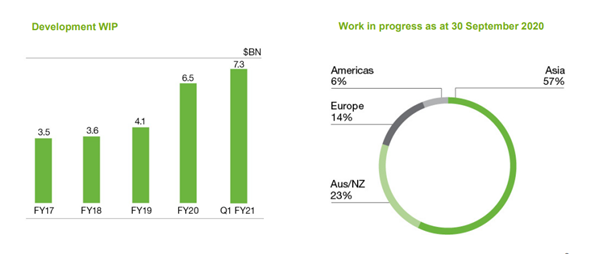 WIP, which was $7.3 billion in Q1, is expected to grow in FY21. This was across 47 projects largely in Asia, followed by 23% in ANZ. Development work is driven by demand and limited supply of land in Goodman's markets.
It includes multistorey industrial property and data centres. For Q1, the yield on cost was stable at 6.7% in WIP. The group continues to acquire new site globally for opportunities. On pre-committed projects, Goodman has a WALE of 14.9 years.
Assets under management at the end of the quarter were $51.7 billion. Asset sales were offset by revaluation gains and completions. It expects current demand levels to support pricing with further cap rate compression likely in the near term.
Bottomline
The group believes the logistics and warehousing sectors continue to provide essential infrastructure for the digital economy. As a result, there is high utilisation of warehouses with occupancy at 97.8% and consistent rental growth.
The rising demand is also reflected in WIP of $7.3 billion with further expectations in FY21. Goodman has liquidity and a strong balance sheet and continues to retain profits for future investments. With partnerships, it has the financial capacity to support development works for increments in AUM.