Summary

Australia wants to restart the domestic travel industry as it contributes significantly to the nation's economy.
UNWTO has released guidelines to restart the tourism sector.
ACCC wants domestic airlines to cooperate on the regional routes.
Regional Express Holdings is considering alternative funding options to begin domestic jet operations.
Qantas has extended SPP by two weeks to 5 August 2020.
The global travel sector is one of the hardest-hit industry during the unprecedented COVID -19 crisis. The virus outbreak has stopped the entire world from moving from one place to another. All economic activities have been halted, and due to the government-imposed travel restrictions, the aviation sector has witnessed a drastic fall in demand, and most of the airlines' fleets have remained grounded for months.
Now, it is clear that the duration of this crisis is unpredictable, and the harsh impact on economies and people cannot be ignored. Apart from imposing restrictions, various countries are also trying to live with the virus. It means running economic activities with adequate precautions. It might hamper productivity and revenue but will not entirely stop the businesses from functioning. Australia has decided to follow the trend and is aspiring to restart the domestic travel industry. Tourism contributes significantly to Australia's economy and creates jobs for many. It has a lot of potential to grow further and add more to the country's income.
Some factors that work in favour of the Australian tourism sector are the appealing scenic natural places, a safe environment, closeness to Asia and low-cost airlines services.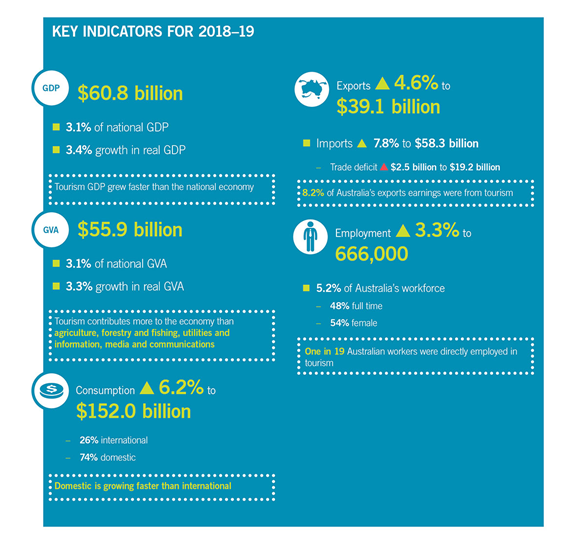 Image source: tra.gov.au
The UNWTO Global Tourism Crisis Committee is now working to formulate the ways to restart the sector, and it has released the guidelines for it. As per the guidelines, the key aspects to focus on the tourism industry for recovery are:
Protecting jobs and increasing liquidity.
Recovering travellers' confidence through adequate precautions and safety.
Public and private organisations to come together for efficient recovery.
Borders must be opened with responsibility, and well-defined and coordinated protocols and procedures.
Consolidating the national and international innovation ecosystem.
ACCC Proposes to Let Airlines Keep Cooperating on Regional Routes
As per the ACCC's recommended authorisation released on 30 July 2020, Regional Express Holdings Limited (ASX:REX) is granted to continue to coordinate flight schedules with Qantas Airways Limited (ASX:QAN) and Virgin Australia Holdings Limited (ASX:VAH) on ten regional routes in response to the COVID-19 pandemic. The permission is extended until 30 June 2021.
ACCC Deputy Chair Mick Keogh's Comments
Australian Competition and Consumer Commission (ACCC) has attempted to address the significant challenges airlines are facing, including deficient demand amid the ongoing pandemic outbreak. ACCC has given permission to airlines to coordinate the air travel on the ten regional routes within themselves. This will eventually assist passengers as well as aid to continue the essential air services. The coordination between the rival airlines might raise the competition concern, but in these exceptional conditions, schedule coordination is needed, and it is in the public interest.
This arrangement will allow each carrier to operate one daily service on a route, with profit shared among carriers, or one airline may have to suspend services on a route to allow another airline's services. There is also one condition with the permission that the airlines cannot charge fares more than those decided on 1 February 2020.
Regional Express Considering Funding Options to Begin Operations
Regional Express Holdings is the biggest independent domestic airline in Australia, operating a fleet of 60 Saab 340 aircraft (pre-COVID) on some 1,500 weekly flights to 60 destinations across the country. On 29 June 2020, REX board announced that it could successfully embark on its domestic jet operations. The board approved a plan to raise a minimum of AUD 30 Million to launch limited local services. They are also considering alternative funding options and will take some final decision on this before the end of July 2020.
Must read: Regional Express Raises Flights in Response to Qantas Link Increases
On 7 July, it confirmed that it had received term sheets from three separate lesser for sale-and-lease-back of about 15 aircraft from Rex's fleet of 60 unencumbered SAAB 340 aircraft for AUD 30 Million. On 31 July, at AEST 1:32 PM, REX was trading at AUD 1.085, with a market cap of 120.07 million, down by 0.459 per cent.
Recently, REX was in the news for seeking federal government intervention on Qantas announcement of its new Sydney-Orange route. REX had released a statement for the government to review if Qantas has received any financial assistance as QAN had announced to commence services in this route for the first time.
Also read: Are Investors Happy to have Travel Stocks Back in Portfolio; Glance at REX, VAH, QAN
Meanwhile, on 14 July, Qantas Group confirmed that the Share Purchase Plan (SPP) announced on 25 June 2020 is extended by two weeks to 5 August 2020. Consequently, all eligible shareholders will get additional time to participate in the SPP.
On 31 July, QAN last traded at AUD 3.23, with a market cap of 6.26 billion, down by 3.869 per cent.
Virgin Australia on 26 June announced that Bain Capital entered into an agreement with VAH's administrators to become the new operator of Virgin Australia.
Related: Virgin Australia's Voluntary Administrators Entered Into Sale & Implementation Deed with Bain Capital
On 31 July, VAH last traded at AUD 0.086, as on 9 April 2020.