Summary

Imugene experienced a significant change and growth in its deep product pipeline in FY20.
The Company attained a remarkable milestone during the year with the acquisition CF33, a promising oncolytic virus technology.
Work towards the clinical development of CF33, HER-Vaxx, B-Vaxx and PD-1 Vaxx continued.
Imugene is likely to initiate four clinical trials in the coming financial year.
The Company is determined to remain vigilant regarding cost control and retaining a robust balance sheet.
In a latest update, the biotech company Imugene Limited (ASX:IMU) has published its Annual Report for the year ended 30th June 2020 on the ASX. The financial year 2020 has been a remarkable one for Imugene, experiencing significant change and growth in its deep product pipeline.
Imugene's spectacular performance during FY20 is evidenced by:
five-time increase in its share market capitalization
acquisition of a substantial oncolytic virus (OV) program from the City of Hope Cancer Centre (COH) in Los Angeles
$26 million new capital raising
prospect of having four clinical trials underway in the coming financial year.
With that said, let us quickly scroll through key developments that defined the financial year 2020 for the immuno-oncology company:
Completed Acquisition of Vaxinia Pty Ltd and an Exclusive License to CF33
Imugene completed the acquisition of Vaxinia Pty Ltd and secured a worldwide exclusive license to CF33 in November 2019. CF33 is a promising oncolytic virus technology, developed at City of Hope, based in Los Angeles, California. The acquisition of OV technology firmly positioned the Company in the exciting immuno-oncology space.
During the end of 2019, an OV Scientific Advisory Board was also established at Imugene, encompassing a team of highly eminent OV scientists, led by Professor Yuman Fong as Chairman. Professor Fong is a noted expert in the oncolytic virus field and Chair of Surgery at City of Hope, who developed the chimeric vaccinia poxvirus, CF33.
As per Imugene, the relationship with Professor Yuman Fong and his team at COH is highly productive and a source of deep scientific & technical knowledge and expertise for the Company.
Continued Clinical Development of CF33
Imugene continued to work towards the clinical development of CF33 during the last financial year. In March 2020, Professor Fong and his colleagues published in the Oncoimmunology journal titled, "Oncolytic poxvirus CF33-hNIS-ΔF14.5 favorably modulates tumor immune microenvironment and works synergistically with anti-PD-L1 antibody in a triple-negative breast cancer model".
Notably, CF33 has been developed in two different constructs: CHECKvacc (CF33+hNIS+antiPD-L1) and 'VAXinia' (CF33+hNIS).
Despite the challenges posed by COVID-19, Imugene is on track to commence Phase 1 clinical trials of both VAXinia and CHECKvacc constructs, with CHECKvacc study based on triple negative breast cancer and VAXinia on advanced solid tumours.
In April 2020, Imugene's Oncolytic Viral therapy medical director, Dr Seymour Fein, presented the clinical plan for the initial trial of VAXinia construct at AACR (American Association for Cancer Research) 2020 Virtual Annual Meeting, as demonstrated in the below figure:
Notably, Imugene has recently received guidance from the US FDA on the development pathway for VAXinia.
Progressed Development of HER-Vaxx
During the year, Imugene continued to scrutinise the enrolment and data collection for the Phase 2 clinical trial of its B-Cell immunotherapy, HER-Vaxx. The Company is continuing with the recruitment of patients under HER-Vaxx's Phase 2 clinical trial across centres in Eastern Europe and India.
In January 2020, the Company received a core US patent for HER-Vaxx. The Company attained a Notice of Grant from the United States Patent and Trademark Office (USPTO) for Patent Application 15/316868, which protects HER-Vaxx. Subsequently, in May 2020, the Independent Data Monitoring Committee (IDMC) validated HER-Vaxx safety, recommending Phase 2 study continuation without modification.
At present, HER-Vaxx is in Phase 2 trial for HER2-positive gastric cancer, which has been initiated following the successful completion of Phase 1b stage of the study. To date, Imugene has presented Phase 1b study results of its HER-Vaxx at various domains, including:
ASCO (American Society of Cancer Oncology) in Chicago, Illinois in June 2019
European Society of Medical Oncology World Congress Gastrointestinal Cancer (ESMO GI) in Barcelona, Spain in July 2019
ESMO International conference in Barcelona, Spain in November 2019
ESMO Asia in Singapore in December 2019
Imugene expects additional patient data from HER-Vaxx's Phase 1b trial to be published and/or presented at international conferences in 2020.
Advancements in Other B-Cell Immunotherapies
During the past financial year, the Phase 1 clinical trial results of Imugene's B-Cell Immunotherapy, B-Vaxx, were also published in the prestigious oncology journal Clinical Cancer Research. The results demonstrated the following traits of B-Vaxx:
It is safe,
It shows antitumor activity,
It provides primary indication that peptide vaccination may avert therapeutic resistance and present an encouraging alternative to monoclonal antibody therapies
At present, the Phase 2 recruitment with an optimal dose from the Phase 1 trial of B-Vaxx is continuing at the Ohio State University James Cancer Center.
Besides these B-Cell immunotherapies, Imugene is also in advanced stages of planning for a Phase 1 clinical study of PD1-Vaxx in lung cancer. The Company expects to open this study in Australia prior to Christmas.
The study is anticipated to commence in the second half of 2020 and is planned to be undertaken at up to 6-10 sites in North America and Australia under a US FDA Investigational New Drug (IND) application.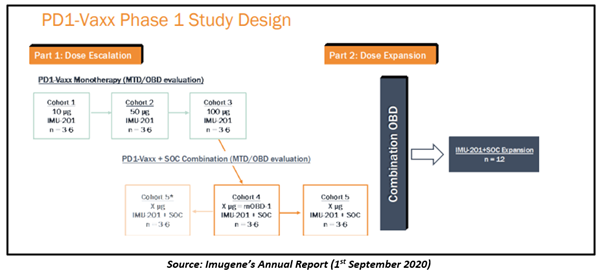 Subsequent to the financial year, Imugene has attained three ethics approval from the Human Research Ethics Committee (HREC) to kick-start Phase I clinical trial of PD1-Vaxx in Australia. The ethics approval has been granted to:
Imugene informed that local site initiation activities have commenced and completed for one of the sites approved by HREC. This site is presently screening for eligible patients.
Financial Updates
Following the acquisition of Vaxinia Pty Ltd and successful $24.6 million capital raise during the last financial year, Imugene's net assets increased to ~$60 million by the end of June 2020. The Company's cash reserves valued at ~$30.1 million as on 30th June 2020.
Owing to a substantial increase in research and clinical trial activities undertaken by the Company during the period, Imugene recorded a loss of $10.5 million for the year ended 30th June 2020. However, the Company is determined to remain vigilant regarding cost control and retaining a robust balance sheet.
Imugene's initial focus over the short to medium term will be targeted at the development of PD1-Vaxx and CF33 in the first-in-human studies and continued enrolment of patients under the HER-Vaxx Phase 2 study.
IMU traded at $0.054 mid-day on 2 September 2020.