Summary

GE Healthcare to exclusively distribute Osprey Medical Technology in Russia, Middle East, Central Asia, Europe, Africa, and Turkey.
For the fourth quarter of FY20 CLINUVEL has cash receipts approximately A$10.40 million.
Clinuvel continues to work with the TGA for evaluation of SCENESSE®, with the regulatory body anticipated to complete the assessment at the end of CY20.
Ramsay Health Care and the Western Australian Department of Health have decided to terminate the cooperation agreement for making available Ramsay's WA facilities & services during the COVID-19.
During these unprecedented challenges created by the ongoing COVID-19 pandemic, hospitals and medical facilities are under immense pressure to manage the rising cases. Worldwide, healthcare companies are racing to find a suitable cure to combat this deadly coronavirus.
The Australian healthcare sector offers a range of products and services through its constituent companies, including healthcare services providers, equipment or medical device companies, and pharma & biotechnology players, among others. Healthcare service providers are the frontiers for providing patient care and delivering appropriate healthcare services to patients.
HAVE YOU READ: Your Complete Guide: Companies Hitting the COVID-19 Vaccine Charter
Other than medical emergencies like COVID-19 pandemic, the demand in the healthcare sector is being driven by an ageing global population along with ongoing advances in healthcare & supporting technologies. The Australian healthcare system is robust and boasts a considerable number of healthcare players listed on the ASX.
In this article, we are discussing three ASX-listed healthcare companies- Osprey, Clinuvel, Ramsay.
GE Healthcare to Distribute Osprey Medical's Technology
Medical device technology company Osprey Medical Inc (ASX:OSP) is into the development of heart imaging procedures for patients having inadequate kidney function. OSP's proprietary dye reduction and monitoring technologies are meant to support physicians for dye usage reduction as well as monitoring the dose of dye in real-time throughout the procedure.
DyeVert™ System of Osprey Medical lowers contrast at the same time maintaining the quality of the image in a self-modifying easy-to-use model that examines dye usage.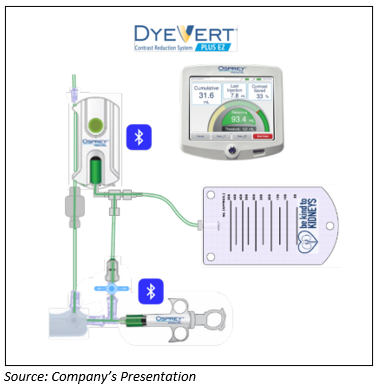 On 30 July 2020, OSP and GE Healthcare announced a strategic partnership under which the latter will solely distribute Osprey's product portfolio in Europe (including Russia), Middle-East, Africa, Central Asia, and Turkey.
The Company's DyeVert™ contrast minimisation devices, supplemented by a variety of iodinated x-ray contrast media from GE Healthcare, offer healthcare professionals (HCPs) a technology platform to handle the growing complications of acute kidney injury after the interventional coronary angiograms in patients with chronic kidney disorders.
Osprey's President and CEO, Mike McCormick, commented:

This agreement is for four years, and under this agreement, GE Healthcare will commercialise DyeVert portfolio of Osprey's which lowers the amount of contrast reaching to the kidney (~40% average drop) without compromising the image quality.
This exclusive distribution agreement permits GE Healthcare for the commercialisation of Osprey's products within the region. GE Healthcare will be given a right of the first denial to distribute as well as promote the new products developed by Osprey in the region.
HAVE YOU READ: A glance at post-COVID-19 future of work
Stock Performance: On 31 July 2020, OSP last quoted at A$0.040, down by 9.091% from its previous close. The market cap of the stock stood at A$65.95 million. OSP shares have generated impressive returns of 266.67% and 62.96% in the last three and six months, respectively.
Clinuvel Announced its Appendix 4C- Quarterly Cashflow Report
ASX-listed global biopharmaceutical player Clinuvel Pharmaceuticals Limited (ASX:CUV) is engaged in the development & production of therapies for patients with numerous severe inherited as well as skin disorders. Clinuvel is a forerunner in the field of photomedicine, and its R&D has headed to innovative treatments for patient populations with a need for treatment for repigmentation, photoprotection, and genetic shortcomings.
On 31 July 2020 Clinuvel Pharmaceuticals announced its Appendix 4C- quarterly cashflow report and activity report for the June quarter (ended 30 June 2020).
For the 4Q FY20, CLINUVEL has cash receipts A$10.40 million.
The net cash flow in 4Q FY20 reported at A$7.17 million.
Cash and equivalents of the company rose by 7% over the quarter.
Clinuvel expanded worldwide to support growth and continues to grow the supply of SCENESSE® in Europe.
The company disclosed that first US patients treated with SCENESSE® from April.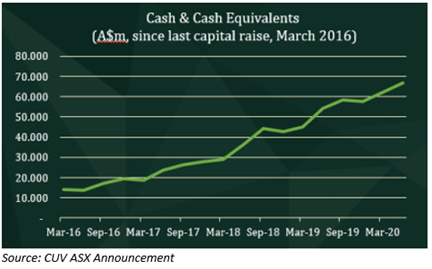 Moreover, Clinuvel continues to work with the TGA (Therapeutic Goods Administration) for evaluation of SCENESSE® under a priority registration pathway as the first proposed treatment for adult patients with erythropoietic protoporphyria (EPP) across Australia.
During the evaluation, a sequence of exchanges has happened between Clinuvel and the TGA, as is usually anticipated under a scientific review. Notably, the Group projects the TGA to complete its evaluation by the end of CY20.
Stock Information: CUV stock closed the day's trade at A$22.040, down by 1.607% on 31 July 2020. With a market capitalisation of A$1.11 billion, CUV stock has ~49.41 million shares trading on ASX.
MUST READ: COVID-19 Striking Again: 5 Reasons Shares May Witness a Rise
Western Australian COVID-19 Agreement Termination for Ramsay's Facilities
One of the largest and most diverse private health care players, Ramsay Health Care Limited (ASX:RHC) is engaged in delivering services with high-quality patient care, along with hospital management. Ramsay caters to eleven nations from its 480 facilities with primary as well as acute health care services.
According to one ASX announcement dated 1 July 2020, Ramsay Health Care disclosed that the company and the Western Australian Department of Health have decided to terminate the cooperation agreement for making available Ramsay's WA facilities & services during the COVID-19 turmoil with effect from 30 June 2020.
The decision has been made considering the continuation of elective surgery. It includes a right for the Western Australian Department to direct Ramsay for one year period from termination to sign a new agreement on the similar terms of the original contract.
Stock Information: On 31 July 2020, RHC stock settled the day's trade at A$61.980, down by 1.961% from its previous close. The market capitalisation of RHC stood at A$ 14.47 billion, with ~228.88 million shares trading on ASX.