Summary

The healthcare sector has been a bright spot in the otherwise dull IPO market in 2020 with seven IPOs already and more in the pipeline.
4DMedical, the Melbourne-based MedTech player, is the latest entrant with ASX listing slated for 7 August 2020.
The Company came under the spotlight after receiving the US FDA nod for XV Technology, a patented tech that offers a 4D assessment of functional lung impairment.
4DMedical will be listing earlier than expected following the completion of its IPO worth A$55.79 million.
Melbourne, Australia-headquartered medical technology company, 4DMedical is all set to join the ASX on Friday, 7 August 2020. The Company, formerly known as 4Dx, will join a small, albeit a significant list of healthcare players that have made their respective ASX debuts this year.
While COVID-19 has created myriad challenges for the world, it has acted as a boon for sectors including healthcare and technology. During the first half of CY2020 healthcare companies witnessed an unprecedented demand for face masks, gloves, COVID-19 testing kits, and PPEs among others, and the businesses started ramping up production to meet the growing demand.
4DMedical is one such healthcare player that is all set to make the most of the situation and is focussed on tapping the US market.
DO READ: ASX welcomes healthcare player: MedTech firm 4DMedical rolled out IPO two weeks earlier
Let us know more about the Company and its famed patented technology.
About 4DMedical
Australian MedTech company 4DMedical is engaged in creating respiratory imaging solutions (non-invasive) that support physicians in effectively identifying and treating patients suffering from respiratory diseases. The MedTech player has offices in Melbourne and Los Angeles, California.
The Company was founded in 2012 with the intent to acquire XY Technology and linked IP from Monash University. Back in 2005, Mr Andreas Fouras (CEO of 4DMedical), with his team, had developed the technology.
Through its XY Technology, 4DMedical has created a pipeline of products that comprise five solutions (three software and two hardware). The Company caters to hospitals and clinics that require respiratory diagnostics and offers its services via a SaaS business model.
Focus Area – The US
The Company is focussed on the US market. It believes there is significant potential and, according to some estimates, it indicates that the country spends nearly US$14 billion annually on respiratory diseases. Also, the worsening COVID-19 situation will create further opportunities for lung imaging diagnostic technologies.
4DMedical is also concentrating on Australia, where there were ~5.3 million procedures performed last year with an approximate spend of US$281 million as per the Company's prospectus.
According to WHO, there were nearly 17.92 million confirmed cases of COVID-19 (as at 3:36 PM CEST on 3 August 2020) with 686,703 reported deaths. The number of cases has been continually rising, and 4DMedical believes the situation will lead to a considerable increase in demand for lung health assessments. Also, the second wave of infections in Australia is likely to create substantial opportunity for the Company.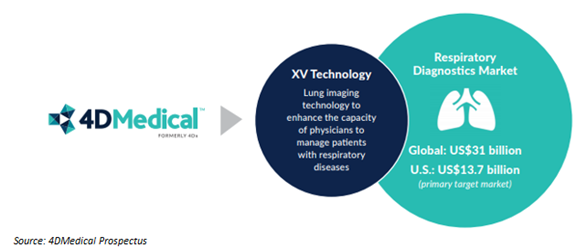 Let us now look at the XV Technology Platform in detail.
XV Technology
Developed by Mr Fauras and his team, XV Technology is a diagnostic imaging technology for the respiratory system to support physicians diagnose lung diseases efficiently. The tech platform is an X-ray imaging platform delivering quick results (within three hours) by using a SaaS (Software-as-a-Service) business model.
The patented technology is a substantially cheaper option compared to other processes requiring limited expenditure for compatibility development with current clinics and hospital equipment.
Through this technology, 4DMedical will be able to address the concerns regarding poor-quality information with the doctors and patients. Availability of higher quality information will help doctors make informed decisions and thus offer superior healthcare services.
The platform received clearance from the US FDA in May 2020 end to assess functional lung impairment via a single X-ray. XV platform is currently under development and anticipates a TGA approval this year for its imaging technology.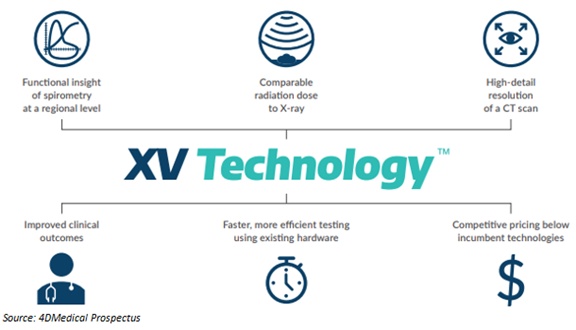 4DMedical believes its novel technology has an advantage over the existing lung-imaging techniques. The Company's technology recognises which part of the lung is getting less air. This is an advancement over current methods that can only give a broad picture of the air quantity the lung is taking in. The technology can be used to diagnose multiple respiratory indications, including COPD, asthma, and lung cancer. The early diagnosis leads to proper treatment in the early stage of the disease.
4DMedical has pending and granted patents in the EU, Australia, and Asia.
IPO Completion and Company's Plans
On 4 August 2020, 4DMedical announced that it had completed its Initial Public Offering (IPO) worth ~A$55.79 million. With the high level of interest shown, the Company will be listing on the ASX a week before what was indicated in the prospectus. As part of the IPO, the Company had issued ~76.43 million new shares at a per-share price of A$0.73. 4DMedical indicated that the IPO received significant support from existing and new investors.
To support its growth strategy, the Company intends to use the funds for:
Sales & Marketing: 4DMedical will expand its sales team in the US. The sales and marketing team will also look after the AU market once TGA approval is received.
Conducting clinical studies in the US for XV Technology. The intent is to demonstrate further the technology's sensitivity and the ability to identify and warn about the respiratory at the initial stage itself.
Development and commercialisation of its product pipeline with further products being tested for additional indications.