It's surely a prosperous new year for the clinical-stage immuno-oncology player, Imugene Limited (ASX:IMU) that has received core US patent in the largest pharmaceutical market of the world.
The United States Patent and Trademark Office (USPTO) has granted a Notice of Grant to the Company for Patent Application 15/316868, which protects its B-Cell immunotherapy - HER-Vaxx, currently in Phase II development for HER2-positive gastric cancer.
Post the announcement, IMU closed the trading session with a significant rise of 14.7 per cent on 14th January 2020, at $0.039.

HER-Vaxx Patent Granted in the US
The patent granted by the USPTO carries the patent no. 10,532,090 and is titled as "A vaccine composition and uses thereof'.
The patent protects the method of use and method of composition of the Company's proprietary therapeutic cancer immunotherapy- HER-Vaxx, for the generation of an antibody response (therapeutic) against HER-2/neu.
HER-Vaxx promotes a polyclonal antibody response to HER-2/neu - the same biomarker targeted by the USD 7 billion p.a. Herceptin® drug.
The Company has successfully completed Phase 1b trials of HER-Vaxx (IMU-131) so far, with results published in American Association for Cancer Research (AACR), American Society of Clinical Oncology (ASCO) Gastrointestinal (GI) Cancer Session, ASCO, European Society for Medical Oncology (ESMO) GI, ESMO and ESMO Asia 2019.
HER-Vaxx Phase II Study Currently in Progress
Following the successful completion of HER-Vaxx Phase Ib study in gastric cancer, the Company commenced Phase II study by dosing its first patient last year in March.
As the preliminary response data demonstrated a reduction in tumour size with 50 µg dose of IMU-131, the Company is using 50 µg dose in its Phase II study.
The Phase II study involves the recruitment of 68 HER2-positive gastric cancer patients (advance or metastatic gastric cancer) to test the efficacy, safety and immune response. The study is randomised in two arms:
Standard of care chemo: Cisplatin and 5FU or capecitabine or oxaliplatin
HER-Vaxx in combination with standard of care chemotherapy
The Phase II study is targeted at meeting the primary endpoint of overall survival and secondary endpoints of progression-free survival, immune response, safety and tolerability.
The study is being conducted at sites across Eastern Europe, India and Asia, where patients and clinicians face difficulty in accessing treatments like Perjetaâ and Herceptinâ, marketed by Swiss multinational Roche Holding AG.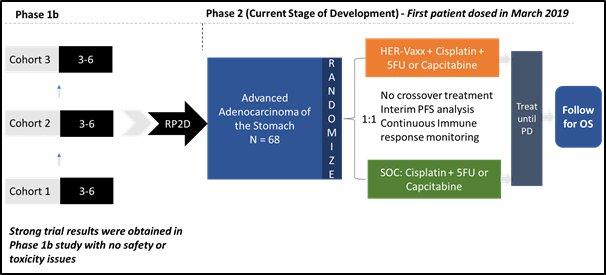 Imugene is well on track to complete the enrolment of patients under HER-Vaxx Phase II study in 2020. Moreover, the Company is poised to undertake three other clinical trials in 2020, including Vaxinia Phase I MAST (Mixed Advanced Solid Tumours) trial, CheckVacc Phase I Triple Negative Breast Cancer Study and PD1-Vaxx Phase-1 trial.
Stock Performance: IMU last traded at $0.036 on 15 January 2020. The stock has delivered a tremendous return of 160 per cent in the last six months.