Summary

Over the years, a greater number of people have gained access to trading on stock markets through intuitive online trading platforms.
Online trading platforms have changed so many things around trading with on the go access and useful insights for traders at a low brokerage.
Marketech Focus is an emerging intelligent, simple, easy to use ASX trading platform that is packed with features and offers low brokerage for traders.
Features like low brokerage, control, flexibility etc. play a major role in defining the efficiency of a trading platform.
Do you want to learn stock trading?
We are not sure who would not want to. Obviously, there are countless stories of people making a fortune out of stock trading that are compelling to develop an interest in learning stock trading.
On top of knowing the inside out of trading, one needs to keep track of where he/she stands with one's investment, and this needs to happen on the go, with several details to latest events unfolding in the market. Keeping track of these events and news helps to avoid potential losses if timely actions are taken.
Now imagine putting your money in the market and ending up a day late and a dollar short just because the power to access your investment was not in your hands. That would be quite upsetting, right?
Better late than never. Running late on responding to market events and having access to your investments are the things of gone days now. Modern-day traders don't just want to invest. They want control of their trades, latest updates, freedom to access on the go and most importantly, all that at a minimum brokerage.
Related: Marketech Focus, A Modern-Day ASX Trading Platform Benefitting from Increased Traffic on Trading Platforms
Over recent years, several online trading platforms have emerged that empower users to access online broker whenever and from wherever they wish, be it day or night. This further allows greater flexibility for the users to exercise their trading with increased convenience.
Some salient features of a contemporary online trading platform include the following:
A lot of innovation is surrounding us these days, and the momentous shift in the way we work due to COVID-19 and related uncertainties has put forward the fresh need for moving up to the next level in the game.
However, this game of transformation is not days old. It dates to years when innovation in the methods of trading has been sparking the interest of the investors. Presently, we see a more advanced version of these trading platforms that are so easy to use and understand and yet loaded with features.
Interesting Read: Technology Takeover and the Need for a Fast and Sound Trading Platform; A Lens Over Marketech
Since we are here, let us look at a modern-day intelligent ASX trading platform, Marketech Focus whose low brokerage uniquely positions it for the contemporary market scenario.
Latest trading platform for the retail ASX share investor, Marketech Focus is a combination of the charting package and is built to offer ease of trade, ease of use, and ease of customisation while offering high-end features, and some other options.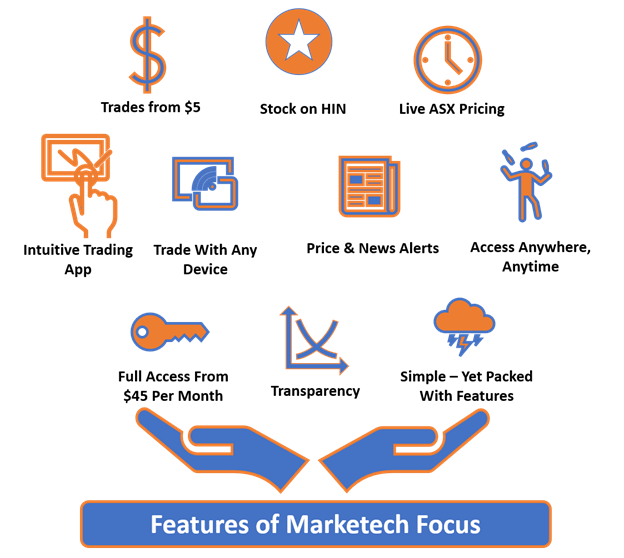 One feature that makes Marketech Focus stand out from many other online trading platforms is the similar layout and design offered throughout desktop as well mobile app. That means Marketech Focus empowers its users to access their account when they are not at home or office that too in the same format as the desktop version.
Did you watch: Introducing Marketech Limited
Moreover, costs associated with owning your own shares are kept ultra-low limits, and the interest earned on cash is transferred directly back to your account.
Often investors fail to evaluate the importance of low brokerage while opting for a trading platform. As per conventional wisdom, investors largely prefer lower brokerage trading platforms; however, there the preferences of investors depend upon their goals of investment.
Moreover, several platforms also have specific requirements like minimum trading balance in the account to be eligible for use and various approvals related to trading, especially options trading.
Overall, there may be many trading platforms that look promising; however, not many of them offer reliability, responsiveness, product quality and offer analysing tools and charts. Beyond this, user-friendly interface and one-click trading are the icings on the cake for investors.
Related: Getting Acquainted with Marketech Limited and its Modern Trading Platform, Marketech Focus
In essence, contemporary traders looking for ASX trading platform have a lot to consider in a trading platform, and one may not end up holding all aces. At the same time, Marketech Focus being an intelligent trading platform offers a considerable range of features that modern-day investor might be aspiring for.