Summary

Consumer Staples has been one of the sectors that benefitted from the pandemic with essential items witnessing a surge in demand amid COVID-19-induced lockdown.
Retail chain major Coles Group shares have been in the limelight post the favourable FY2020 results amid various challenges during the period.
During the fiscal year marred by bushfires, droughts and the ongoing pandemic, the Company delivered sales revenue growth of 6.9% and an EBIT growth of 4.7%.
The liquor sales remained elevated, trading at CBD and shopping centre store were adversely impacted while online sales performed strongly.
The implementation of priorities played a vital role in the Company's FY2020 result.
Amid one of the most challenging financial years for Australia, a few sectors managed to emerge as winners despite several headwinds in their path. One such sector is Consumer Staples that has had a limited impact from the pandemic compared to the others. Panic buying during the initial stage of lockdown saw the sector players witness a sudden surge in demand.
ASX 100 listed Company Coles Group Limited (ASX:COL), a constituent of the Consumer Staples sector, is an Australian retailer of products such as fresh food, groceries, household goods, liquor, fuel and financial services. The Company delivered a strong result in FY2020 which has brought the stock under the limelight.
GOOD READ: 5 Fortunate Retail Businesses Amid COVID-19 - WES, COL, WOW, CCX, KGN
Coles Group reported a 6.9% growth in its total sales revenue and delivered a net profit of A$951 million in FY2020. In the last six months, the shares have provided a decent return of 20.86% and 14.53% in the previous three months. On 1 September 2020, Coles share price stood at A$17.440 (at 02:57 PM AEST), down 1.636% from its previous close. COL has a market cap of A$23.65 billion and 1.33 billion outstanding shares.
In Q4 FY2020, COVID-19 had an impact on both the level and mix of supermarket sale. After soft and socially distanced Easter, the Company noted an increase in sales as a result of increased in-home consumption. Its hole cooking categories like as meat and poultry were benefitted which got balanced by the drop in impulse, food-to-go and prepared salads.
Coles' Business During COVID-19:
The liquor sales stayed elevated all over the Q4 as government restrictions on the opening of hotels, pubs, clubs, and licensed venue operators were in place for most of the quarter across most states. The trading at CBD and shopping centre store were adversely impacted. Online sales were strong, improving more than 70%. The liquor segment remained consistent with Supermarkets, and it incurred incremental COVID-19 related costs of nearly A$5 million which includes thank you payments to team members, of which ~A$2 million are non-recurring.
Coles' Express segment, c-store sales were robust as a few customers finished their 'top-up' shops at Express sites instead of visiting a supermarket. Sales in ambient groups were solid as were tobacco sales with the business profiting from lower CBD footfall. With the ease in the government restrictions in the second half of Q4 FY2020, the Company witnessed an improvement in its core convenience and impulse categories like food-to-go and confectionery.
INTERESTING READ: Supermarkets in Fast-Growing Digital Business and B2B Model
FY2020 Result at a Glance:
FY2020 sales revenue rose by 6.9% to A$37.4 billion as a result of an increase in the sales revenue across all segments.
Q4 FY2020 is the 51st consecutive quarter of Supermarkets comparable sales growth, rising by 7.1%.
Coles' witnessed liquor comparable sales growth of 20.2% in Q4 FY2020.
Express convenience (c-store) comparable sales growth during Q4 FY2020 improved by 8.3%.
Coles' attained Smarter Selling cost savings more than A$250 million.
Group EBIT growth grew by 4.7%. The Company achieved an EBIT growth for the first time in four years.
Growth of 7.1% in earnings per share during the period.
111% Cash realisation and A$0.4 billion worth of net debt, giving substantial capacity for future growth.
The Company declared a final dividend (fully franked) of 27.5 cents per share. The dividend represents a growth of 14.6% as compared to the previous dividend declared during FY2019.
Provided a 31.7% total shareholder return for FY2020.
Do Read: Coles reports retail profit uplift | ASX Market Update
Strategic Highlights:
Inspire Customers: Improvement in customer satisfaction across Supermarkets, Liquor and Express in Q4 FY2020.
Smarter Selling: Attained cost savings of over A$250 million as Coles pivots to greater use of technology to drive efficiencies.
Supported communities with nearly A$1 million raised for SecondBite Winter Appeal in only two weeks.
Launched Coles Group Values to monitor the daily decisions & actions of all team members, building on the current Look ahead, Energise everyone, and Deliver with pride behaviours framework.
Improved diversity with people from Aboriginal and Torres Strait Islander in COL stores, distribution & store support centres, denoting 3.8% of the total team members.
COL bolstered the Executive team.
Coles was recognised as the Most Popular Retail & FMCG Employer in the Top100 Graduate Employers 2020 Awards.
Signed an agreement for five years to be the official supermarket to the Australian Football League and the AFLW, a new deal with Stephanie Alexander's Kitchen Garden Foundation to endorse healthy eating, and sustained sponsorship of the extremely effective MasterChef which has encouraged various Australians during the lockdown.
Building long-term relations with dairy farmers by declaring a direct milk sourcing model to South Australia and Western Australia after the rollout in locations like Victoria, Southern and Central NSW.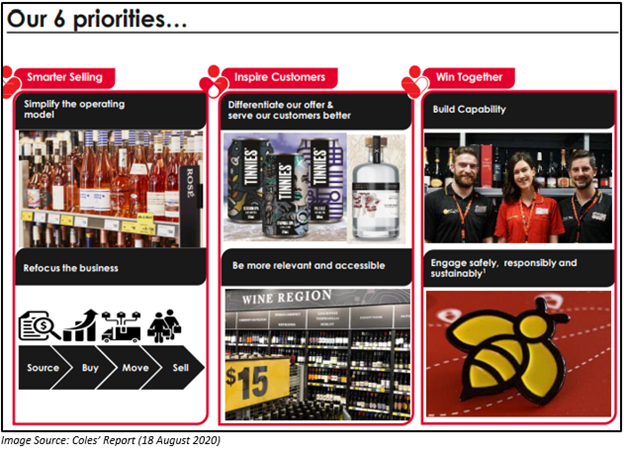 DO READ: How Has COVID-19 Impacted Brands? Are People Adopting Quality-Conscious Behaviour?
FY2021 Outlook:
In the first six weeks of the Q1 FY2021, Supermarkets comparable sales continue to remain broadly in-line with the levels attained in the second half. After the substantial increase of capacity in the 2H FY2020, sales grew nearly 60% in the first six weeks of FY2021.
Coles is likely to incur a substantial rise in COVID-19 costs in the early part of FY2021. In Liquor, sales remain elevated with any balance of sales growth reliant on social distancing restrictions for clubs, hotels, pubs, and licensed venue operators. The average weekly fuel volumes in the early Q1 FY2021 are consistent with June exit rate.
In Other, FY2021 corporate costs are also likely to be marginally above FY2020 recurring corporate costs due to a market-wide increase in insurance costs.
Coles preserves its A$1 billion cost-out targets to be attained between FY2020 and FY2023. In FY2021, the Company would focus on realising cost-out opportunities. Gross operating capital expenses are anticipated to be ~A$1 billion.
Conclusion:
Coles' shares have gained market attention post the release of its FY2020. Although the Company delivered a robust performance in FY2020, continuous uncertainty has been seen in its share price. The Consumer Staples sector, which reached near its pre-COVID-19 level on 14 August, started moving in the downward direction from 17 August 2020. The movement was also reflective on Coles Group share price which went south despite favourable FY2020 results.