Summary

Australian domestic travel and tourism industry suffered about $11.7 billion spending hit between April and May 2020.
Earnings season is closely eyed for the battered travel space wrt identifying stars and laggards.
Qantas delivered better than expected profit of $124 million in FY20;91% YoY dip.
Webjet's recorded muted revenue and loss; shares closed in green territory on the day of FY20 results.
Corporate Travel's full-year results surpassed its market update provided in May.
Surging coronavirus cases in Melbourne, along with 1H20 results, prompted Sydney Airport to raise equity.
Flight Centre Travel Group has recently cautioned investors of a several million-dollar loss ahead of its financial outcomes.
The August 2020 earnings season has largely unmasked the brutal impact of COVID-19 pandemic on the Australian travel industry, which initially came to a grinding halt with the enforcement of curfews and travel bans across the world.
The coronavirus pandemic has been a catastrophic disaster for the Australian travel and tourism industry, which suffered about $11.7 billion hit to the domestic tourism spending between April and May 2020, as per Tourism Research Australia. In fact, over $7 billion was wiped out in April 2020 alone, with Aussies undertaking 9.6 million fewer domestic overnight trips relative to April 2019.
While the nation's travel industry has begun to exhibit some prominent signs of recovery, as apparent from travel stocks' revival since March 2020 lows, government-imposed limitations and border closures have swung travel companies to massive losses in FY20.
Do Not Miss! Travel Bubbles: Knights in Shining Armour for Battered Travel Industry
While these travel companies have borne the severe brunt of travel curbs implemented in the face of virus crisis, the stocks of these firms have largely recovered from March 2020 lows, as evident from the below chart:
Interesting Read! Hey Travel Lovers! It's Time to Explore Your Own Backyards
With that said, let us quickly shed some light on the financial results of ASX-listed travel players reeling from virus crisis:
Qantas Airways Limited (ASX:QAN)
Australia-based flag carrier, Qantas Airways Limited (ASX:QAN) suffered a significant fall of 91 per cent in its Underlying Profit Before Tax to $124 million over the 12-months period ended 30 June 2020.
What's worth noting is that the carrier's Underlying Profit Before Tax for FY20 was well above the market expectations of just over $6 million profit.
While the player observed a solid first half of the year with $771 million Underlying Profit Before Tax, the coronavirus crisis and associated border restrictions induced a $4 billion decline in its revenue during the second half, along with a total collapse in travel demand.
The group declared a Statutory Loss Before Tax of $2.7 billion, majorly due to non-cash write down of assets worth $1.4 billion.
It is imperative to note that Qantas took swift action to drastically cut costs and positioned much of its flying business into a form of hibernation, which helped it diminish the financial blow from this unusual sequence of events. The quick shift of focus to preserve liquidity mitigated 82 per cent fall in Group's Total Revenue in 4Q20 through a 75 per cent reduction in net operating expenses.
Outlook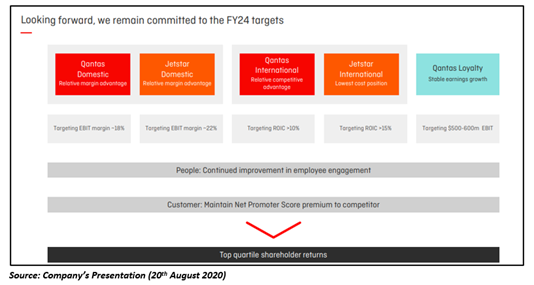 Webjet Limited (ASX:WEB)
The Australian travel agency, Webjet Limited (ASX:WEB) saw a substantial fall in booking activity in all Group businesses during the second half of FY20 following a record result in 1H20, which was backed by its WebBeds business.
In FY20, the group's full-year TTV plummeted by 21 per cent to $3.0 billion, revenue dipped by 27 per cent to 266.1 million, and EBITDA for underlying operations plunged by 80 per cent to 26.4 million. Moreover, the group's Net Profit after Tax sank by 338 per cent to $143.6 million in FY20 amid coronavirus-induced repercussions on the travel industry.
While Webjet reported muted revenue and missed profit in FY20, it appeared to come as no surprise to investors, with its shares closing 7.6 per cent higher on the day of results announcement. The group's strong capital position at the end of June 2020 ($320 million) seems to have bolstered investors' confidence in the group's stock.
It is worth mentioning that Webjet took comprehensive steps to ease the impact of COVID-19 and plan for the recovery of global travel, including cost reduction measures and an extensive reset of strategic and operating initiatives to maximise performance and market share as markets reopen.
Outlook
Corporate Travel Management Limited (ASX:CTD)
Australia-based travel management solution provider, Corporate Travel Management Limited (ASX:CTD) announced underlying NPAT of $32.0 million (excluding one-off items) and underlying EBITDA of $65.0 million for FY20 financial year.
The Company's rapid response to COVID-19 and flexible business model enabled it to deliver full-year results that surpassed its market update provided in May.
Besides, the Company's robust corporate activity led to lower than anticipated underlying EBITDA losses for 4Q20. CTM updated the market in May 2020 that its cash burn was estimated to be a loss of $5 - 10 million per month in Q4. However, CTM's underlying EBITDA loss came out to be lower than anticipated at $3.0 million per month in the final quarter of FY20.
While travel curbs and border closures drastically lowered travel spend during 2H20, with client activity touching its lowest point in April 2020, the client activity has started to recoup since that time.
Outlook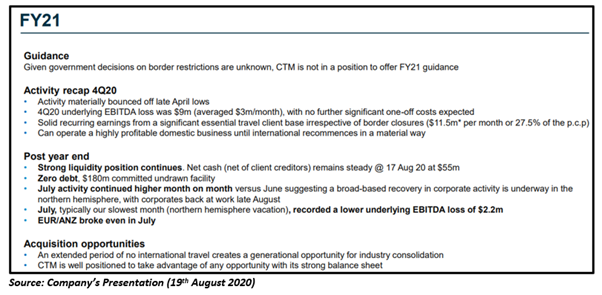 Sydney Airport (ASX:SYD)
The impact of coronavirus-driven travel curbs was also evident in Australia's largest airport, Sydney Airport's (ASX:SYD) half-year results for the period ended 30th June 2020. In comparison to 1H19, the group's total revenue plummeted by ~36 per cent to $511.0 million while its EBITDA plunged by 35.4 per cent to $300.4 million in 1H20.
The Company declared a net loss of $53.6 million for 1H20, compared with a profit of $17.3 million in 1H19.
The COVID-19 related traffic restrictions progressively implemented from February 2020, materially impacted passenger volumes in 1H20, with airport welcoming 56.6 per cent less passengers during the half year. Moreover, the airport company's total passenger traffic declined by ~92 per cent in July 2020, with just 317,000 passengers passing through the airport during the month.
Surging coronavirus cases in Melbourne, along with 1H20 results, have prompted the airport company to raise $2 billion of equity to strengthen its balance sheet
The equity raising complements already announced measures to improve the airport company's financial resilience consisting of significant reductions in both capital expenditure and operating costs, and the cancellation of the 1H20 distribution.
Outlook
In addition to these companies, travel player Flight Centre Travel Group Limited (ASX:FLT) has recently cautioned investors of a several million dollar loss ahead of its financial outcomes, stressing that the COVID-19 pandemic is still wreaking havoc on the tourism-dependent business. The Company anticipates a statutory loss before tax of between $825 million and $875 million from coronavirus impacts.
Though JobKeeper extension, COVID-19 vaccine developments, emerging domestic travel options and accelerating virtual tour experiences are offering flickers of hope for the revival of domestic travel industry, risk lingers on the continuing spread of second wave of infections, which is prompting further border closures by the Australian states.