Highlights

Lead drug candidate INV043 is leading Invion towards multi-billion dollars opportunity.
INV043 has demonstrated regression of established tumours across multiple cancer types, immune response, and protective immunity.
It improves efficacy of immune checkpoint inhibitor (ICI) treatments when used in combination therapies.
This gives Invion the opportunity to develop INV043 as a standalone and combination therapy.
Invion eyes clinical trials in multiple indications in 2022-2023 and beyond.
Invion Limited (ASX:IVX) is committed to the research & development of PhotosoftTM technology to address major disease areas including cancer, infectious diseases, and atherosclerosis. The ASX-listed company is developing this next-generation Photodynamic Therapy (Next-Gen PDT) in partnership with world-class institutions such as Hudson Institute and Peter Mac.
The Next-Gen PDT is a revolutionary technology that addresses many of the hurdles of early PDT technologies and aims to transform the treatment of a wide range of cancers.
Three major elements of Photodynamic Therapy (PDT):
Source: company update
Invion describes its lead drug candidate INV043 as a pathway to an exciting market opportunity valued at multi-billion dollars.
According to Global Market Insights, the oncology market exceeded US$270.5 billion in 2021 and is projected to grow at a 10.2% Compound Annual Growth Rate (CAGR) between 2022 and 2028.
Key characteristics of INV043
Effective against different types of cancer –INV043 successfully regressed established T-cell lymphoma, pancreatic cancer, and triple-negative breast cancer (TNBC). It can be administered via multiple routes, and treatment triggers immune response activation.
Selectively targeted and highly potent – INV043 demonstrated 600 times higher phototoxicity than Talaporfin sodium (a widely used photosensitiser). It is also 50 times higher phototoxic than IVX-P03, a previous API of Invion. Further, it is not activated by ambient light, and there was no off-target toxicity and no dark toxicity until 20 to 300 times the therapeutic dose.
A strong therapeutic profile – INV043 demonstrated selective retention in tumours in in-vivo conditions. It accumulates in tumour mass within hours and remains concentrated for more than three days. INV043 is not detectible in healthy tissue within a day.
Theragnostic potential – INV043 displays fluorescence characteristics that provide a highly visible definition of tumour mass and margins, demonstrating a diagnostic potential. Additionally, it demonstrates therapeutic potential by causing rapid death of cancer cells and tumour regression upon activation.
INV043 demonstrates complete regression against TNBC tumours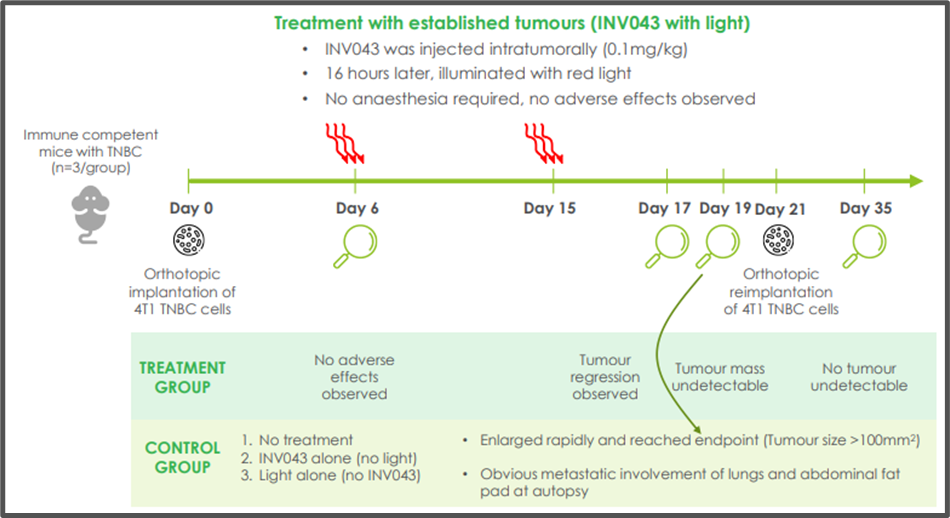 Image source: IVX investor presentation
Triple-negative breast cancer (TNBC), a hard-to-treat cancer, accounts for around 10-15% of all breast cancers. TNBC, which has a worse prognosis, tends to grow, and spread faster than other types of invasive breast cancer. TNBC has fewer treatment options and resistance to most chemotherapies.
Invion has delivered excellent results against TNBC in a Proof-of-Concept (PoC) study undertaken by Hudson Institute, with INV043. The results of the study involving PDT treatment using INV043 demonstrated:
Complete tumour recession with no reappearance of the disease
No sign of prior tumour presence and no visible scarring
No indication of metastatic increment of spread at autopsy or primary tumour
Successful development of protective immunity
Invion leveraging ICI for combination therapy of cancer
Invion has reported encouraging findings from the PoC study combining INV043 with immune checkpoint inhibition (ICI) targeting PD-1.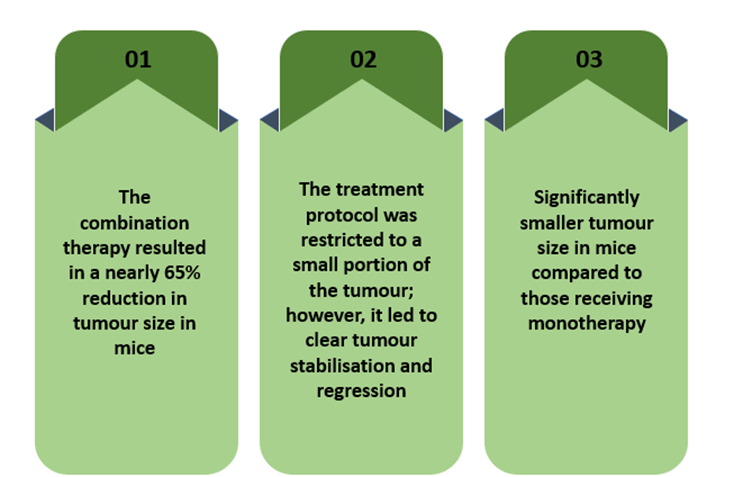 Study outcomes (data source: company update)
Learn more: Latest PoC study results set up Invion (ASX:IVX) to score big in the hot US$30bn ICI market
The road ahead
Invion is focused on
Global expansion by utilising Australian clinical trial data into later stage programs in the US and other key markets
In-vivo studies to further demonstrate safety and efficacy profiles
Establishing a base for clinical trials on a worldwide basis and in multiple indications
Carrying out clinical trials in other different indications, including skin cancer (superficial basal cell carcinoma), anogenital cancer, and other solid tumour cancers
Capacity building to scale up for global late-stage trials and commercialisation
PoC studies on other target indications- Infectious diseases and Atherosclerosis
IVX shares traded at AU$0.008 on 28 June 2022, up more than 6% from the last close.