Highlights

Vanadium Resources has given multi-bagger returns to its shareholders in the last one year.
The junior mining company is engaged in developing one of the world's largest and highest grade known vanadium projects.
Vanadium demand is expected to register multi fold growth as the push for battery energy storage systems is getting strong.
The world energy dynamics are changing swiftly with impetus on green energy sources. This clean energy transition is unleashing unprecedented demand for critical metals. As a result, mining sector players have tightened their seat belts to exploit this emerging sector.
Interestingly, Vanadium Resources Limited (ASX:VR8), holding its key vanadium asset in South Africa, has been on investors' radar, with its share price rising over 130% in the last one year, as of 18 May 2022.
The dual-listed company is developing one of the world's largest and highest grade known vanadium resources, Steelpoortdrift, in the Tier-1 mining jurisdiction of South Africa.
The project sits within the world-renowned mining location of the Bushveld Complex, which is host to several mining operations. Moreover, the project is close to existing operating processing plants and has access to power, water, and proven road & rail options to port.
Related read: Vanadium Resources (ASX:VR8) ends busy March quarter with Steelpoortdrift DFS on track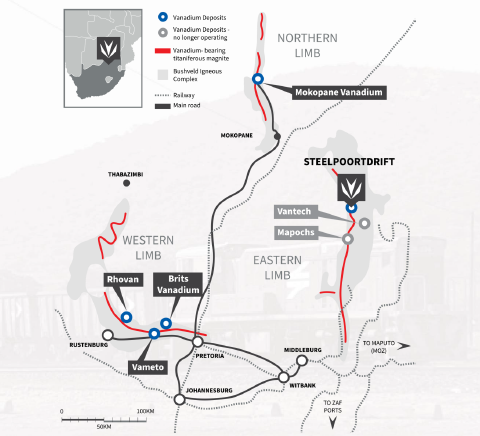 Location map of Steelpoortdrift Project (Image source: Company update)
Recently, the junior vanadium developer announced its listing on the Frankfurt Stock Exchange (DAX) to gain exposure to the European equity capital markets. The green energy related businesses are receiving huge support from European investors.
Related read: Vanadium Resources (ASX:VR8) shares soar on Frankfurt exchange listing
Vanadium – The raw material critical for green revolution
Vanadium is an important substrate in making steel and several lightweight but higher tensile strength metal alloys. They are explicitly used by the aircraft manufacturing industry. Also, the chemical industry has many applications for vanadium.
Another dimension of vanadium that has been gaining popularity is its use as a main ingredient in energy storage batteries. It is estimated that 1,200GW of battery energy capacity will be augmented by the year 2050. The demand for vanadium in Vanadium Redox Flow Batteries (VRFB) is expected to pick up the pace and grow in the range of 15-25% annually by the year 2025.
How Steelpoortdrift Project can become a gamechanger for vanadium market
VR8 is currently carrying out a Definitive Feasibility Study on the project, which is expected to get completed by the third quarter of 2022. The DFS study is designed to reassert the findings of the Pre-Feasibility Study (PFS).
Related read: Vanadium Resources (ASX:VR8) shares tick higher on DFS update
The PFS has indicated sound project financials with an internal rate of return of 45%. The project holds sufficient resources to supply products to have considerable life of mine (LOM) and has mineralogy to reduce CAPEX and OPEX.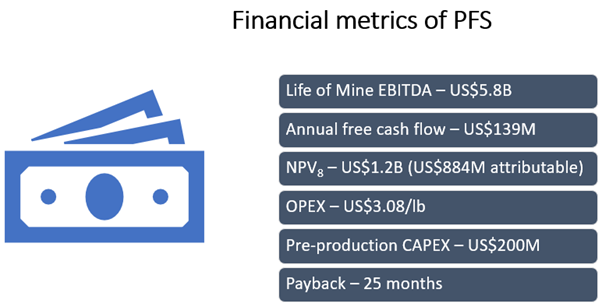 Data source: Company update
VR8 has commenced a potential project financing exercise and working towards securing binding offtake agreements.
The company is in talks with potential debt financiers to secure indicative term sheets. The project has the potential to easily support ~60% debt gearing of the total funding requirement. It is based on a 2X debt service cover ratio or DSCR over a 5-year debt loan term.
Related read: Vanadium Resources (ASX:VR8) advances on pilot plant test work post bulk sampling completion
VR8 is targeting to complete due diligence and credit approvals in the lead up to a final investment decision by early 2023.
Besides, the company is also in discussions with a range of international traders and downstream consumers for potential offtake agreements.
VR8 shares were trading at AU$0.105 in the early hours of 19 May 2022.