Highlights

Vanadium Resources (ASX:VR8) is charging ahead with highly encouraging outcomes from pilot plant test work undertaken in pursuance of the DFS of its Steelpoortdrift Project.
The results have highlighted improved overall recoveries of 84.4%, 4% higher than the metrics used for the PFS.
The magnetic separation concentrates indicate lower reagent consumption due to lower-than-expected silica content.
V2O5 recoveries in excess of 96% were achieved during magnetic separation test works with concentrate grades above 2.10% V2O5.
Shares of Vanadium Resources Limited (ASX:VR8) gained over 9.3% to AU$0.082 on 22 June 2022, on the back of promising pilot plant test work outcomes.
VR8 conducted a series of pilot plant test works on the samples collected from its Tier 1 Steelpoortdrift Vanadium Project in Limpopo, South Africa.
The company is currently advancing a Definitive Feasibility Study (DFS) to undertake mining operations and build a concentrator and salt roast plant with an initial capacity of 12,500tpa of V2O5 flake at an estimated CAPEX of US$200 million.
Interesting read: Five key catalysts fuelling Vanadium Resources' (ASX:VR8) growth
Results exceed expectations with elevated recoveries
VR8 reported improved figures in metallurgical test results from what was achieved during the Prefeasibility Study (PFS). The overall recoveries increased by 4% from the PFS to 84.4% in the recent test works.
The outcomes are likely to give a significant boost to project economics for the DFS, considering that every 1% increase in recovery will lead to approximately 400,000 pounds of increased product recovery annually, under current design capacities and without any additional cost.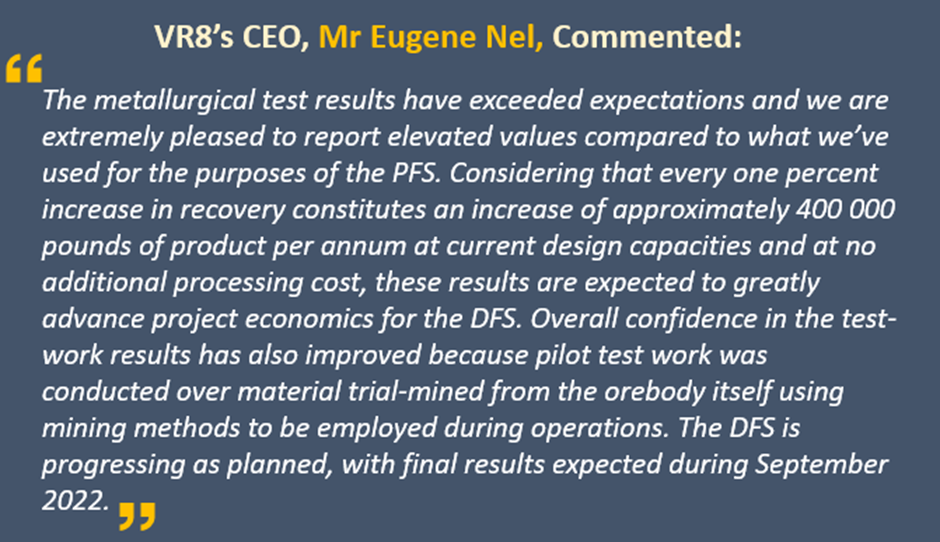 Data source: Company update, 22 June 2022
Overview of pilot plant test works
VR8 carried out a trial mining and bulk sampling campaign to extract fresh mineralised material for the purpose of pilot plant metallurgical test works. The company collected approximately 40 tonnes of mineralised material from a depth of 2-3m. Around 15 tonnes of the material were categorised as fresh high-grade material from the lower magnetite zone (LMZ).
For the concentrator pilot plant tests, the samples were sent to Multotec Minerals Processing R&D facility. The aim was to produce magnetite concentrate for downstream Salt Roast and Leach (SRL) test work.
Image source: Company update, 22 June 2022
Also read: How Vanadium Resources' (ASX:VR8) dual listing will bolster journey on Steelpoortdrift project
For the final flake product, the Salt Roast and Leach (SRL) pilot circuit included four steps:
Roasting of concentrate for four hours at 12000C in the presence of sodium salts.
The roasted material was then water leached
Desilification circuit
Precipitation of ammonium meta-vanadate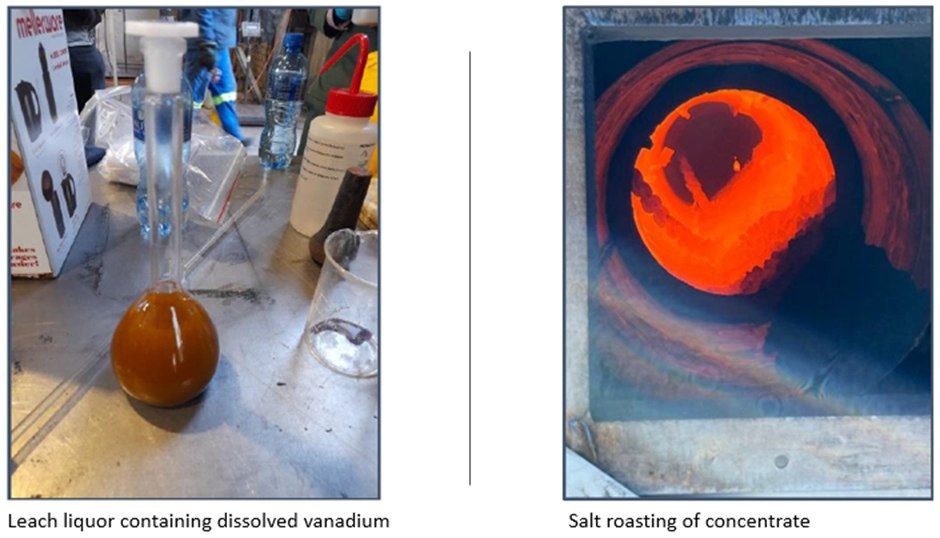 Image source: Company update, 22 June 2022
Findings of the test works

Data source: Company update, 22 June 2022
VR8 reported that the silica content of the magnetically separated concentrate was between 1.1% and 1.3%. This results in a significant improvement in downstream processing efficiencies, as well as reduction in reagent consumption.
The company is undertaking further test works to investigate low-cost opportunities to process the residue material for ilmenite concentrate recovery. VR8 re-iterated that the DFS remains on time and within budget to date.
Related read: What's fuelling the share price momentum of Vanadium Resources (ASX:VR8)?