Summary

CV Check has been making consistent progress with record financials in the past few months.
CV1's progress is underpinned by client wins as well as growing sales momentum despite COVID-19.
CV1's growth and expansion are also supported through acquisitions as well as platform integrations to enhance its offerings.
Leading online integrated screening and verification services provider CV Check Limited (ASX:CV1) has been on a winning streak, having witnessed a string of bumper months marked by record performance.
The Company has recorded substantial growth in revenue on the back of growing sales momentum and increasing demand for online screening and verification services.
In recent times, the million-dollar company has grown across regions to expand its offering through platform integrations, benefitting from the opportunities in the less explored market.
The growth of any business depends on some key resource areas that can be leveraged to tap the opportunity at the right time. Amid these uncertain yet opportunistic times, several vital elements underpinning CV1's business growth include strong financial position, partnerships and platform integrations.
DID YOU READ: CV Check (ASX:CV1) in fine fettle with strong revenue growth, acquisitions
CV1's strong cash position
At per the previous update from CV1, the Company's cash balance stood at AU$14.8 million with no external financing.
CV1's customer receipts rose to AU$3.6 million during the March quarter, indicating a growth of 11% versus the pcp driven by improving sales performance. On the other hand, strong B2B sales and timing differences in cash collections for the quarter resulted in lower customer receipts by AU$0.6 million as compared to revenues.
Previously, CV1 also concluded a share placement that raised AU$10.5 million with strong support from institutional and sophisticated investors. For this purpose, the Company issued 63,636,364 fully paid ordinary shares at an issue price of AU$0.165 per new share.
Moreover, CV1 generated AU$ 0.1 million in net cash from operating activities and has been cash flow positive from operations in Q1 and Q2 FY21.
INTERESTING READ: A hat-trick of bumper months? CV Check Limited continues to clock robust sales
Acquisition of BPT
Recently, CV1 had inked a deal to acquire Bright People Technologies Pty Ltd (BPT), with a view to establish a credentials-based workforce management capability. The deal will bring together the workforce compliance strength of BPT and highly automated verification workflows and HRIS integrations of the CV1 platform.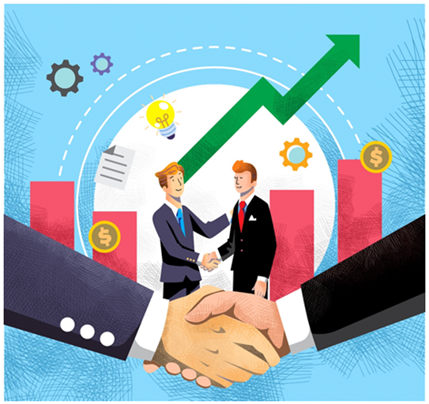 Image: Copyright © 2020 Kalkine Media Pty Ltd.
The Company concluded the acquisition after the third quarter of FY21 upon the issue of consideration shares in early April.
IMPORTANT UPDATE: CV Check Ltd (ASX:CV1) Delivers Sustainable Growth in 1HFY21, Reports Record Numbers
Strategy for revenue growth through integrations
Besides these, CV1's growth strategy is being underpinned by platform integrations with HR information systems and applicant tracking systems. Notably, revenues from these channels continue to rise strongly, with third quarter FY21 revenue recorded at AU$0.5 million, indicating an increase of 231% on the pcp.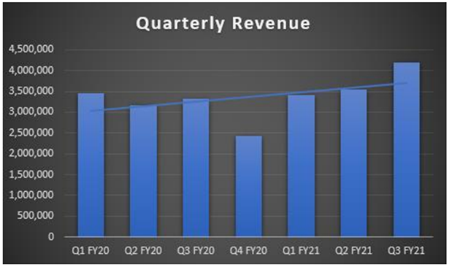 Source: CV1 Announcement 30 April 2021
In line with the company's previously declared strategic objective to white label its screening and verification services, CV1 has now reported that it has managed to ramp up its activities in spite of global disruption from the COVID-19 pandemic.
DECEMBER QUARTER UPDATE: CV Check (ASX:CV1) in sweet spot post record-setting December quarter
The CV1 stock was noted at AU$0.125 at 1:05 PM AEST on 2 June 2021.