Highlights

Platina Resources (ASX:PGM) has released its half-year report, discussing a plethora of activities undertaken on its extensive project portfolio.
The Company continued exploration activities across its wholly owned gold projects in Western Australia.
Platina commenced a number of initiatives to unlock the value of its scandium project.
The Company held robust cash and investments at the end of the period, remaining well-funded to advance its exploration endeavours.
Platina Resources Limited (ASX:PGM) continues to remain under the spotlight due to a plethora of activities undertaken on its extensive project portfolio. The first half of FY22 ended 31 December 2021 was no different, with its strong precious, speciality, and base metal project portfolio witnessing impressive progress.
With a bunch of Australian assets at different lifecycle stages, Platina's exploration portfolio offers shareholders exposure to these prospective projects across tier 1 mining jurisdictions.
The mineral resources exploration & development company holds wholly owned, large-scale Western Australia-based gold projects including Challa and Xanadu. Besides, the Company holds a 100% ownership in the Platina Scandium Project in New South Wales.
ALSO READ: Platina Resources' December quarter packed with actions across projects
Against this backdrop, let us discuss the key activities undertaken by PGM at its key projects during the half-year period.
Soil sampling program at Challa Gold Project
Platina completed more than 3,500 soil samples across target areas which were demarcated through geophysical and historical assay results.
The assay results from the soil sampling program demonstrated a strong correlation to mineralised outcropping veins previously identified in the October 2020 reconnaissance program. The significant grades returned by the rock chip samples included:

Source: Company's Interim Financial Report (16 March 2022)
The Company now plans to undertake an aircore drilling campaign at the project location, targeting bedrock gold anomalism. The campaign is subject to necessary regulatory approvals for a drilling Plan of Works.
To know more, read: Platina Resources (ASX:PGM) gears up for AC drilling at Challa gold project
Geophysical survey at Xanadu Gold Project
The first half saw the completion of a geophysical survey comprising a gradient array IP at a line spacing of 100 metres over the entire survey area with dipole-dipole IP lines around the historic Amphitheatre open pit and follow up of the Big Bend Anomaly.
The IP data identified a linear zone, defined by the margin of conductive and resistive features, mapping out a 6km strike length target zone.
READ MORE: Platina Resources' (ASX:PGM) geophysics program outlines major targets at Xanadu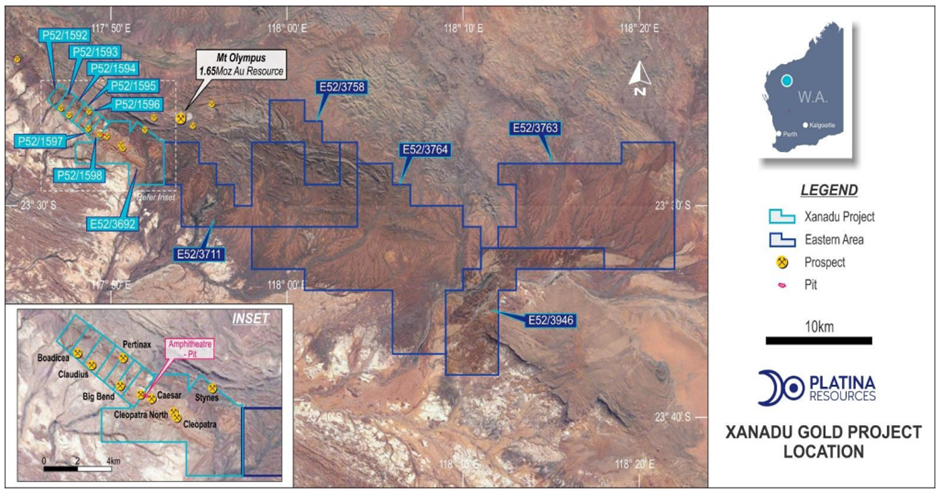 Source: Company's Announcement (10 February 2022)
Additionally, the results delineated several chargeable anomalies at the location, potentially representing sulphide and gold mineralisation.
Furthermore, PGM has also completed the reprocessing of airborne electromagnetic (AEM) data over the broader project area.
The Company plans to undertake drilling once an archaeological site clearance is completed.
Scandium Project making headway
A 2018 Definitive Feasibility Study had demonstrated strong technical and economic viability of developing the Platina Scandium Project.
Source: Company's Interim Financial Report (16 March 2022)
The Company seeks to secure an offtake agreement to facilitate project financing and finalise the required permits to begin construction.
During the period, Platina commenced a number of initiatives to advance the project including a master alloy production and intellectual property development program at Swinburne University. Additionally, the Company initiated a detailed review of the permitting process and required actions to secure a Mining License.
ALSO READ: Eye on IP, Platina Resources (ASX:PGM) produces high-grade aluminium-scandium master alloy
Agreement to sell Munni Munni Project
The period saw Platina signing a conditional Binding Heads of Agreement to divest its 30% interest in the project to Alien Metals in a cash and share deal.
The miner believes the value of its minority and non-operated interest in Munni Munni is not reflected in its market capitalisation and the sale provided a way of unlocking this value.
The transaction is expected to complete in March 2022.
READ MORE: Platina Resources (ASX:PGM) appoints new exploration manager to rev up gold quest
Strong financial footing
At the end of the period, Platina held cash of AU$1.6 million and investments valued at AU$12.96 million, including:
Source: Company's Interim Financial Report (16 March 2022)
In essence, Platina Resources achieved great deal of developments during the reported period, targeted to maximise shareholder value. The Company has a strong financial position to progress a range of initiatives across its project portfolio to capitalise on booming opportunities.
PGM shares traded at AU$0.049 on 16 March 2022.