Highlights

Platina Resources (ASX:PGM) is forging ahead to step up its gold presence in Western Australia with new projects.
The ASX-listed firm has entered into a conditional binding term sheet with Sangold Resources to acquire the Brimstone, Beete, and Binti Binti gold projects.
The company plans to finalise a capital raising to fund the ongoing development of its asset portfolio.
Platina Resources Limited (ASX:PGM) continues to expand its gold footprint in the tier 1 mining jurisdiction of Western Australia.
In a major development, the gold-focused explorer has inked a conditional binding term sheet to acquire Sangold Resources Pty Ltd. As per the conditional agreement, Platina has an exclusive option to acquire the Brimstone Gold Project.
The company will also gain complete ownership of the surrounding gold projects, namely Beete and Binti Binti, if all the conditions are satisfied. Both the gold projects are situated in proven mineralised provinces, with the Historical Beete Gold Mine situated inside the tenure under option.
Platina has indicated that the transaction will have a low acquisition cost in world-class gold districts. The company expects this new ground to deliver remarkable exploration results in the near term.
Image Source: Company Announcement
Overview of Platina's pivotal acquisition
The Brimstone Gold Project is an advanced, high-grade, near-surface gold project based 42km north-east of Kalgoorlie. The Kalgoorlie region is well-endowed with several gold processing plants and gold mines, such as Penny's Find and Kanowna Belle.
The project, spreading across 70km2, includes Garibaldi area, which is a highly mineralised mining lease and open in all directions.
The project covers six separate walk-up drill targets, including
Garibaldi prospect with a historical drill intersection of 55m @ 2.07 g/t Au
Jammie Dodger prospect with a historical drill intersection of 22m @ 1.96g/t Au.
Both prospects remain open in all directions.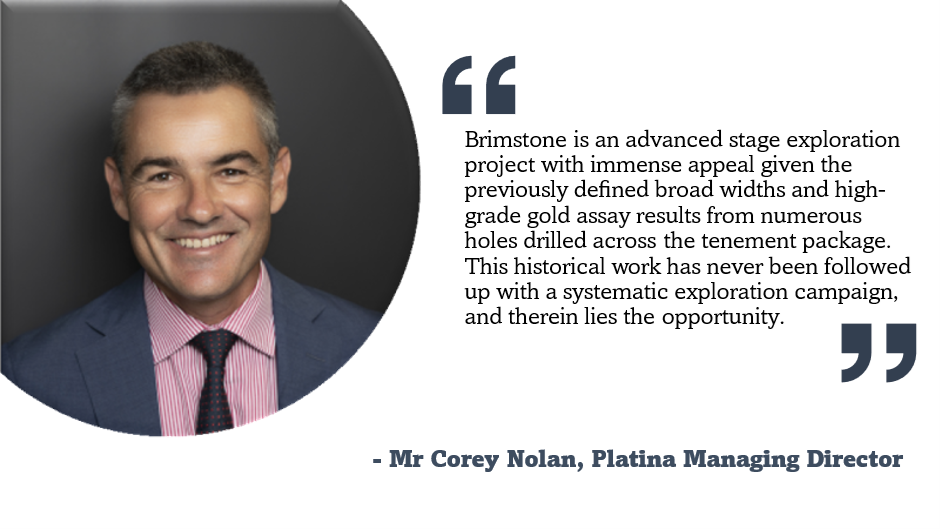 The Beete Exploration Licence, covering 139km2, sits within an emerging new gold province with nearby recent gold discoveries highlighting the significant potential of the region.
The Binti Binti Gold Project comprising two Exploration Licences remains unexplored. The project area has been re-interpreted as a potential greenstone prospect.
In-depth details of the conditional binding term sheet
The deal entails a consideration of AU$150,000 in cash and AU$2.5 million worth of PGM shares issued at 5-day volume weighted average (VWAP) price on transaction announcement. Of the total shares, AU$2.4 million of the shares will be subject to a 12-month escrow period and AU$0.1 million for a three-month period.
Additionally, shares worth AU$1 million will be issued, provided a JORC-compliant Inferred Mineral Resource above 100,000 ounces at 1.5g/t is achieved on any project within the acquisition tenements.
The acquisition is subject to a due diligence and exclusivity period of three months, funded by an option payment of AU$50,000 that expires on 31 October 2022. All the conditions are required to be fulfilled by the end of October this year.
To secure funds for the ongoing development of its asset portfolio, Platina is planning to complete a fund raising.
What's next?
A Programs of Works application has already been lodged with the Department of Mines, Industry Regulation and Safety (DMIRS). Moreover, Heritage Survey clearances for M27/501 at Garibaldi have been secured.
Once the transaction completes, Platina would apply for further permitting at the Brimstone Project, which holds great potential to progress towards a mineral resource estimate.
Platina believes the 277km2 tenement package will contribute critical mass to its gold presence in Western Australia.
PGM shares traded at AU$0.036 on 9 August 2022.