Summary

Ora Banda Mining has confirmed resource potential at the Iguana deposit through Phase 1 of an infill drilling.
Phase 1 resource definition drilling has been completed over the 27 reverse circulation holes for 3,750 metres.
OBM is continuing with open-pit mine evaluation work and initiated initial baseline environmental studies.
Ora Banda Mining Limited (ASX:OBM) is a gold explorer and producer with 100% interest in the Davyhurst Gold Project that comprises several deposits. OBM's strategic and prospective landholding is located in the globally renowned Eastern Goldfields region, and the Company looks to generate significant value.
OBM has expedited resource development activities at various deposits, and the Company has achieved various milestones lately, including the first gold pour.
INTERESTING READ: 3 things underpinning Ora Banda's (ASX:OBM) long-term future and development
Phase 1 Infill drilling program completed
Lately, OBM has declared preliminary assay results from an infill drilling program that was initiated at Iguana deposit in April 2021, where 27 reverse circulation holes over 3,750 metres were completed.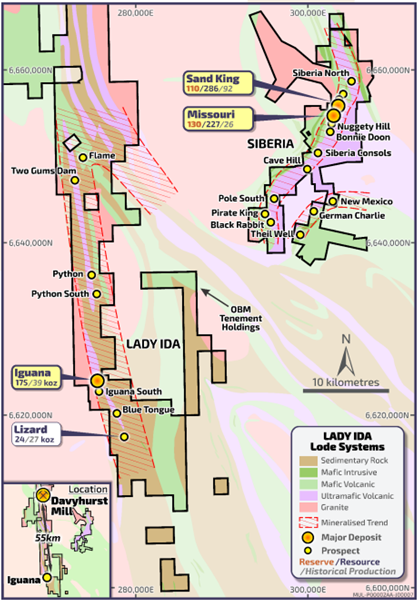 Iguana Location Plan (Source: OBM Announcement 28/06/2021)
As part of the bigger development plan for the Iguana deposit, OBM intended to upgrade and expand the existing mineral resource of 2,722,000 tonnes @ 2.0 g/t for 175,000 ounces through this program.
Iguana assay results returned to date (Source: OBM Announcement 28/06/2021)
The Iguana prospect is placed within the Lady Ida Project area, which is a host to two mineral resources, the Iguana deposit and Lizard deposit.

Source: OBM Announcement 28/06/2021
DID YOU READ: Ora Banda (ASX:OBM) strengthens its financial stance with million-dollar capital raising
Significance of the program
Located around 55km south of the Davyhurst Processing Plant, around three-fourth of the Iguana JORC 2004 resource ounces are categorised as Inferred.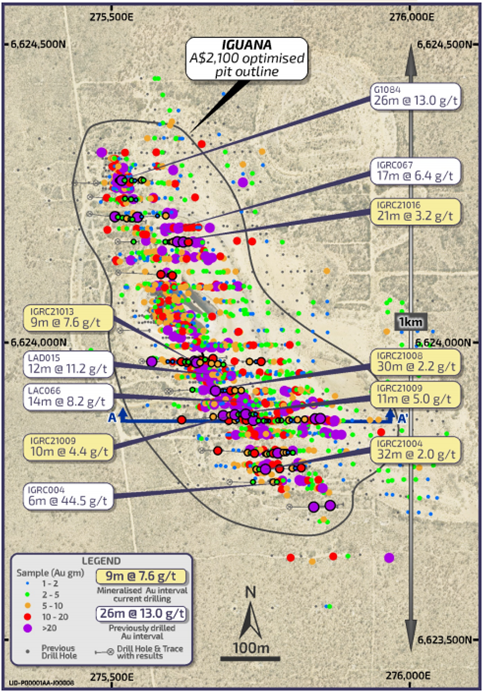 Iguana drill hole location plan with significant intercepts (Source: OBM Announcement 28/06/2021)
Through the present as well as upcoming planned drilling programs, OBM clearly intends to upgrade the resource classification and the JORC status of the Iguana deposit.
The Company believes that the upgradation of the existing Inferred material to Indicated shall enable the commencement of work on the creation of an Ore Reserve to extend the present mine life of the Davyhurst Project.

Source: OBM Announcement 28/06/2021
GROUND REPORT: Ora Banda Mining (ASX:OBM) concludes capital work program; prepares for further work
Related work progressing at Iguana
An immediate resource area, which is around 750 metres in length, 300 metres in width and around 120 metres deep, was targeted through the initial Iguana infill drilling program. Moreover, the Company undertook the bulk of the drilling inside the A$2,100 optimised resource constraint shell.
Iguana Mineral Resource wireframes showing A$2,100 constraint shell (Source: OBM Announcement 28/06/2021)
Besides this, the lately concluded Phase one drilling program is an initial phase of a larger 69-hole program spanning over 10,400 metres. The larger program comprises the following:
Phase 1 of 3,750 metres (complete)
Phase 2 spanning over 500 metres of diamond core drilling
Phase 3 of 6,150 metres of reverse circulation
PREVIOUS UPDATE: Ora Banda (ASX:OBM) expedites work across multiple prospective deposits despite challenges
With a view to upgrading the resource categorisation at Iguana, OBM's open-pit mine evaluation work continues to progress. Moreover, the Company has also set in motion initial baseline environmental studies that are mandatory for statutory mining approvals.
All in all, Iguana indicates a significant opportunity for OBM as it is a large deposit and has the potential to deliver higher-grade ore. It shall be interesting to see how things unfold for the Company in the future with progressing work.
DID YOU READ: 3 key deposits underpinning mine production for Ora Banda Mining (ASX:OBM)
The OBM stock was noted at AU$0.160, up by 3.225%, on 28 June 2021.