Summary

Krakatoa Resources (ASX:KTA) has completed a major exploration program across its Rand project and kicked off another at Mt Clere.
Since both projects are highly prospective of the respective mineralisation, the company is upbeat about the projects.
The results from the exploration at Rand returned highly encouraging assay results and confirmed gold mineralisation.
Aggressive explorer Krakatoa Resources Limited (ASX:KTA) has shown a strong commitment towards its mineral and energy projects with emphasis on high-value metals. The Company's dedication is evident from the expedited work across its gold as well as rare earth element (REE) projects.
Krakatoa has a bevy of high-potential projects under its belt, including the Rand Gold Project and the Clere Rare Earth Project.
The Rand Gold Project, which is fully owned by KTA, presents a significant gold opportunity for the Company, while its Mt Clere Rare Earth Project suggests prospectivity for REE, Heavy Mineral Sands, and Ni-Cu-(Co)-(PGEs).
PREVIOUS RAND PROJECT UPDATE: Krakatoa Resources (ASX:KTA) announces high-grade gold results at Rand Project
Lately, the Company has ramped up work across these two projects.
Exploration program kicks off at Mt Clere
In early May 2021, KTA kicked off low-impact exploration and reconnaissance over its highly prospective Mt Clere Project. The exploration program comprises extensive reconnaissance, mapping and geochemical survey over the landholding, presently held under the recently granted licence.
The low-impact exploration activities have begun on the heels of the recently undertaken seven-day field program by KTA's CEO Mark Major and consultant geologists.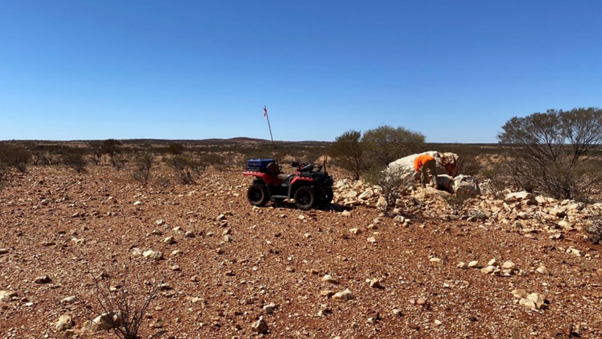 Localised outcrop and surface topography (Source: KTA Announcement 04/05/2021)
The Company has chalked out a staged exploration approach across its massive landholding. In light of this, KTA has concluded stage 1 reconnaissance mapping and initiated Stage 2 stream and rock geochemical sampling, which is expected to widen once heritage/regulatory approvals are secured.
MORE AT: Krakatoa Resources (ASX:KTA) kicks off exploration at Mt Clere REE Project
Maiden drill program completed at Rand Project
While exploration has commenced at Mt Clere, KTA recently wrapped up its maiden drill program at the Rand Gold Project. This program consisted of an extensive 806-hole auger soil sample, 2,760m of AC drilling and 1,275m of RC drilling.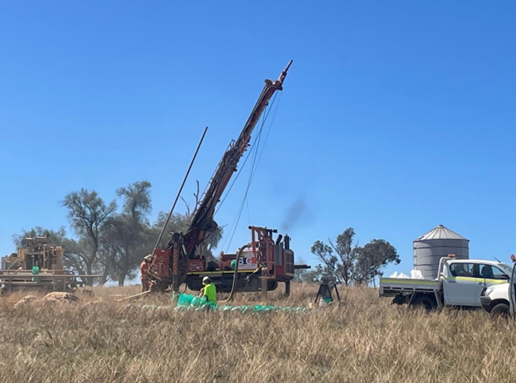 Drill rig setup over GoodWood Mine area (Source: KTA Announcement 06/05/2021)
KTA had sent all samples from the drilling program to ALS Global for assay, and the first batch of assay results was received within the next few weeks. KTA remained optimistic that the results would help in refining the targets for the Stage 2 drilling program.
FURTHER DETAILS AT: Krakatoa Resources (ASX:KTA) wraps up maiden drill program at Rand
Results indicate new gold discovery
The maiden 9-hole RC drilling program has delivered very encouraging assay results. Moreover, gold mineralisation was confirmed at many historic mines and prospects through wide-spaced, first-pass drilling.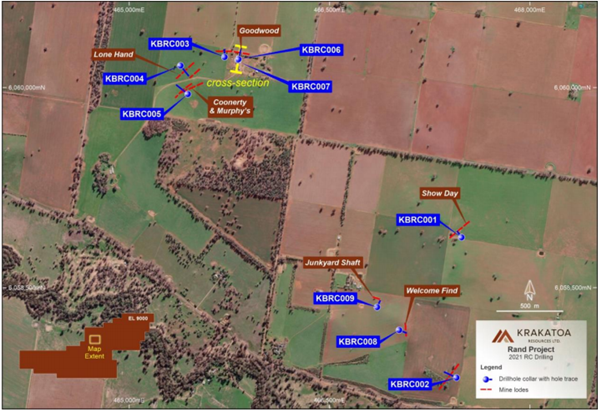 RC drillhole locations and prospect/mine locations over satellite image (Source: KTA Announcement 24/05/2021)
The program defined substantial shallow gold mineralisation, and best results include the following:
40m @ 0.22g/t Au from 60m, including 12m @ 0.52g/t and 2m @ 1.14g/t
8m @ 0.75g/t Au from 46m, including 5m @ 1.13g/t
There are several sub-parallel gold zones intersected at the Goodwood Reef Mine, while these are still open down-dip and along strike.
DETAILED DISCUSSION AT: Strong gold results validate Krakatoa Resources' (ASX:KTA) stance at the Rand Project
Overall, the gold mineralisation results reflect substantial exploration upside for the Company as roughly 90% of the highly prospective Rand project is yet to undergo exploration. KTA awaits final assays from regional auger soil and magnetic bullseye reconnaissance AC drill program.
KTA's stock was noted at AU$0.054 on 2 June 2021.