Highlights

Technology innovations are helping businesses manage and enhance safety at the workplace as well as job sites.
EarlyBirds can help businesses identify suitable innovative health and safety solutions and develop innovative solutions.
Businesses can register as innovators and early adopters on the EarlyBirds platform to identify and develop solutions that benefit everyone.
Digital transformation has been playing a critical role in altering ways of managing safety at the workplace and job sites. Technology implementation can help in minimising risks and compliance costs while enhancing productivity.
Technology advancements have also helped in safety regulations and compliance. The European Committee for Standardization's (CEN) initiative of building a standard for quality and reliability in health and wellness apps has transformed into a global effort via its cooperation with ISO. Such standards shall further enable assurance to businesses for the quality and reliability of numerous safety tools.
EarlyBirds can help solve health and safety needs at workplace
EarlyBirds can help all types of businesses solve the health and safety needs of their employees through identifying the most suitable innovative health and safety solutions and the development of innovative solutions.
EarlyBirds believes that this can be achieved by streamlining and/or eliminating time-taking processes. These involve administrative work, assessing potential safety risks at the workplace, and generating data and insights that help managers arrive at strategic decisions for every construction project as well as the business.
Source: © Prostockstudio | Megapixl.com
Moreover, EarlyBirds remains confident that it can help various organisations in developing new and enhanced health and safety solutions, which can be the best fit for their particular needs.
Businesses that are looking to enhance their technology adoption can register as early adopters with the EarlyBirds platform. For more information, visit https://earlybirds.io/en/early_adopter.
Businesses lagging innovation and digital transformation
Despite the advantages of digital transformation and acceleration in available innovative solutions, many organisations are still lagging as they find it confusing to overcome the challenges that hold back digital transformation, and also find suitable technologies for their businesses.
EarlyBirds believes that these challenges can be due to the absence of a strategy, high costs, organisational culture or even the ease of the use of technology.
Source: © Designer491 | Megapixl.com
How can EarlyBirds help?
Businesses can register themselves as early adopters on the EarlyBirds platform and have the opportunity to work with innovators and SMEs. Through this, businesses can get insights into various health and safety technologies and also select suitable ones.
Besides this, the organisations that are engaged in the development of solutions for health and safety can become a part of the EarlyBirds open innovation ecosystem and begin connecting with prospective customers. These innovator organisations along with early adopters and Subject Matter Experts can put their minds together and find solutions that benefit everyone.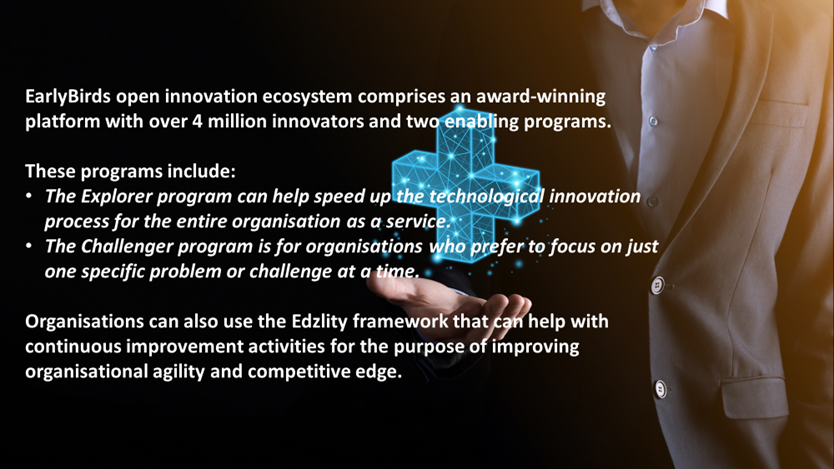 Source: © 2022 Kalkine Media | Data Source: EarlyBirds
Learn more about becoming an innovator with EarlyBirds platforms by visiting https://earlybirds.io/en/innovator.