Highlights

Calima Energy holds two de-risked oil & gas producing assets.
The company generated a free cash flow of over AU$11 million during the March 2022 quarter.
CE1 enjoys exposure to two capital markets- Canada and Australia – and the company recently raised AU$20 million through placement of shares.
With oil & gas prices on the boil, many exploration & production companies are striving to boost their capacity to secure higher market share and generate maximum value.
In the current buoyant settings, Calima Energy Limited (ASX:CE1|OTCQB:CLMEF) is advancing its projects situated in the close vicinity of the high demand market of North America. The Canada-focused oil & gas producer is generating positive free cash flow and its two assets in the Brooks and Thorsby areas are churning out production at an optimum level.
Related read: Calima Energy (ASX:CE1) keeps eyes on the prize as oil remains on the boil
Here in this article, we are discussing the five most compelling factors pushing Calima to newer heights.
De-risked asset base
Calima has two oil producing assets- Brooks and Thorsby, developed since 2014 with 60 booked locations. Brooks holds a large reserve of 10MMboe (2P) and its oil & gas production for April 2022 stood at 2,700 boe/d.
On the other hand, Thorsby's production during the same period was approximately 1,700 boe/d. The 2P reserves of Throsby assets are estimated at around 10.4MMboe. The Thorsby area, which has seen the drilling of only 15 wells so far, holds significant potential for production upside in future with more wells.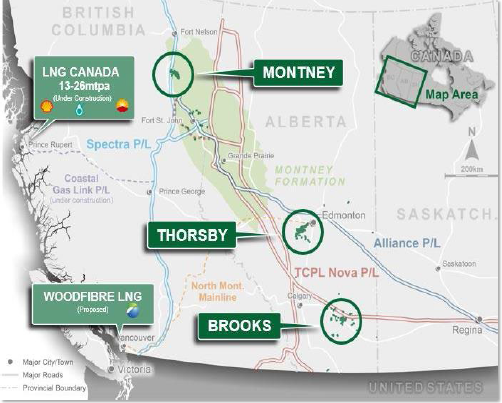 Asset portfolio of Calima Energy (Image source: Company update, 24 May 2022)
Operating Netbacks
Brooks and Thorsby provide excellent operating netback as the breakeven cost is fairly low for these assets. The wells drilled on the Sunburst formation of Brooks have a breakeven price of US$37/bbl and a netback of CA$54/boe, assuming the WTI price to be at US$85/bbl, as per the latest company presentation, dated 24 May 2022.
Thorsby's Sparky formation has a breakeven price of US$35.75/bbl with a netback of CA$59/boe at the same WTI price.
At WTI prices well above US$100/bbl, the Company reported an average netback production of AU$60.5/boe, which is estimated to increase further as oil prices continue to surge.
Free cash flow generation
Calima Energy reported a free cash flow of AU$11.094 million during the March 2022 quarter. The Company realised an average price of AU$108.54 for every barrel of crude oil produced and AU$5.56/mcf for natural gas produced during the quarter. For natural gas liquids (NGL), CE1 realised an average price of AU$77.27/bbl.
Corresponding sales volume for the quarter stood at 294,561 boe of hydrocarbons and total revenue came in at AU$30.9 million for the reported quarter.
Access to capital
Calima has access to capital in Canada and Australia. This year in February, the Company completed a fundraising of AU$20 million through the placement of 100 million new ordinary shares at a price of AU$0.2 per share.
The funding was raised for development activities on Brooks and Throsby, including drilling of new wells and water flooding activities. Water flooding is a production enhancement method applied to increase the production rate from depleting wells.
Expert Board and Management
Calima's Board boasts a rich line-up of skilled members, armed with decades of experience in the E&P and equity capital markets. Calima's Chairman Mr Glenn Whiddon has well over three decades of experience in the equity capital markets, while Managing Director and CEO Mr Jordan Kevol comes with a wealth of experience in the oil & gas sector. Mr Kevol has more than 15 years of experience working in the public and private Canadian E&P industry.
Related read: Calima Energy (ASX:CE1) on high-growth path amid robust crude oil market
With oil & gas prices hovering around US$120/bbl and an energy crunch in the European market, the prices are expected to rise further. Apart from Brooks and Thorsby, Calima has a 100% interest in the Montney gas asset. Montney is estimated to hold 160.5MMboe of contingent resources and is a development-ready project. It is also expected to add significantly to the revenues of the Company in the near term.
CE1 shares were trading at AU$0.175 in the early hours of 29 June 2022.