Highlights

Chimeric rounded off the June quarter with key agreements, production and clinical milestones.
The company advanced with the first-ever trial studying NK cells in combination with IL-2 and Vactosertib.
CHM expanded its licence agreement with Penn and joined hands with Wuxi Advanced Therapies.
The company remains in a solid financial position to advance its portfolio of four Phase 1 clinical trials.
Chimeric Therapeutics Limited (ASX:CHM) recently released its last quarter report, highlighting significant milestones for the period ended 30 June 2022.
The ASX-listed leading player in the cell therapy space established new partnerships, expanded existing technology licence agreements, secured funding, and made serious strides to clinical programs.
The company ended the June quarter with AU$18.4 million in cash and equivalents.
Chimeric believes that novel cell therapies hold the potential to treat cancer. The company is steered by its mission to discover, develop, and commercialise cell therapies with the most curative potential.
Let us dive into the major activities of the company's action-packed June quarter.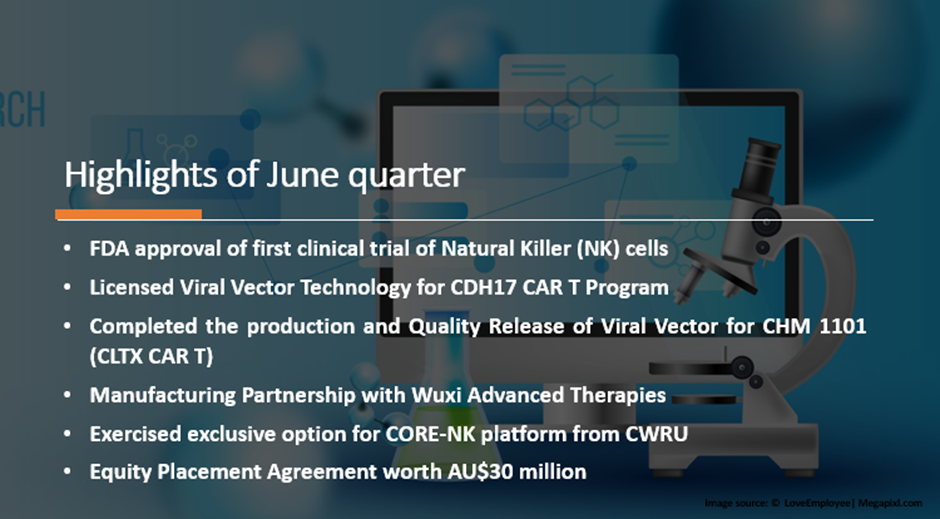 Image source: © Alexandraklestova | Megapixl.com, data source: CHM reports
FDA approves clinical trial of Natural Killer (NK) cells
In June, the U.S. Food and Drug Administration (FDA) approved a new clinical trial studying Chimeric's CORE NK cells with IL-2 and Vactosertib.
It is the first-ever clinical trial of NK cells in this combination and will enrol 12 patients with either locally advanced/metastatic colorectal cancer or relapsed/refractory blood cancers.
Licensed Viral Vector Technology for CDH17 CAR T Program
Chimeric expanded its licence agreement with the University of Pennsylvania (Penn). Under the agreement, Chimeric has gained a non-exclusive know-how licence to use Penn's third-generation lentiviral vector plasmid system.
Chimeric will pursue the development and commercialisation of CHM 2101 (CDH17 CAR T) with this system, a critical component used in producing Chimeric Antigen Receptor (CAR)-T cells.
Production and Quality Release of Viral Vector for CHM 1101 (CLTX CAR T)
The quarter saw the production and quality release for CHM 1101 (CLTX CAR T) viral vector. It was a critical milestone for Chimeric, given the current crisis of vector manufacturing capacity, which challenges the development programs of commercial producers.
Chimeric is committed to the expansion of the CHM 1101 (CLTX CAR T) clinical program with new clinical sites for the Phase 1 glioblastoma trial.
Manufacturing Partnership with Wuxi Advanced Therapies
In April, Chimeric sealed a strategic production collaboration with WuXi ATU, a global contract testing and manufacturing organisation.
This partnership will enable Chimeric to speed up clinical manufacturing readiness for new CAR T assets. Further, the collaboration will aid in scaling up CAR T manufacturing to provide for several concurrent, multi-centre CAR T clinical trials in the future.
Under the agreement, Chimeric will focus on two autologous CAR T-cell therapies for solid tumours: CHM 2101 (CDH17 CAR T) and CHM 1101 (CLTX CAR T).
Exercised exclusive option for CORE-NK platform from CWRU
Chimeric exercised its exclusive option for the CORE-NK platform from the Case Western Reserve University (CWRU) in May. The company anticipates using the CORE-NK platform while leveraging its current range of CARs to conduct new clinical trials in blood cancers and solid tumours in 2023.
Equity Placement Agreement worth AU$30 million
During the quarter, Chimeric bolstered its balance sheet by establishing an equity funding agreement for up to AU$30 million with L1 Capital Global Opportunities Master Fund, a renowned global investor.
Stock information
Chimeric has a market capitalisation of AU$55.28 million, and its stock price was noted at AU$0.125 midday on 3 August 2022.